Doesn't a high bounce rate mean your website visitors are not engaging with your site?
Well, not always. High bounce rates don't always mean your website isn't performing.
High bounce rates can mean a lot of things—and that's what I'll cover in this guide.
I'll explain the nuts and bolts of bounce rates and why you shouldn't immediately panic when your bounce rate starts rising.
What is a 'bounce rate'?
Before panicking that you have a high bounce rate, you first need to understand what a bounce rate is.
Bounce rates in Universal Analytics are a little different to GA4.
In UA, a bounce is a visitor who leaves the entry page to your website without interacting with other pages on your site.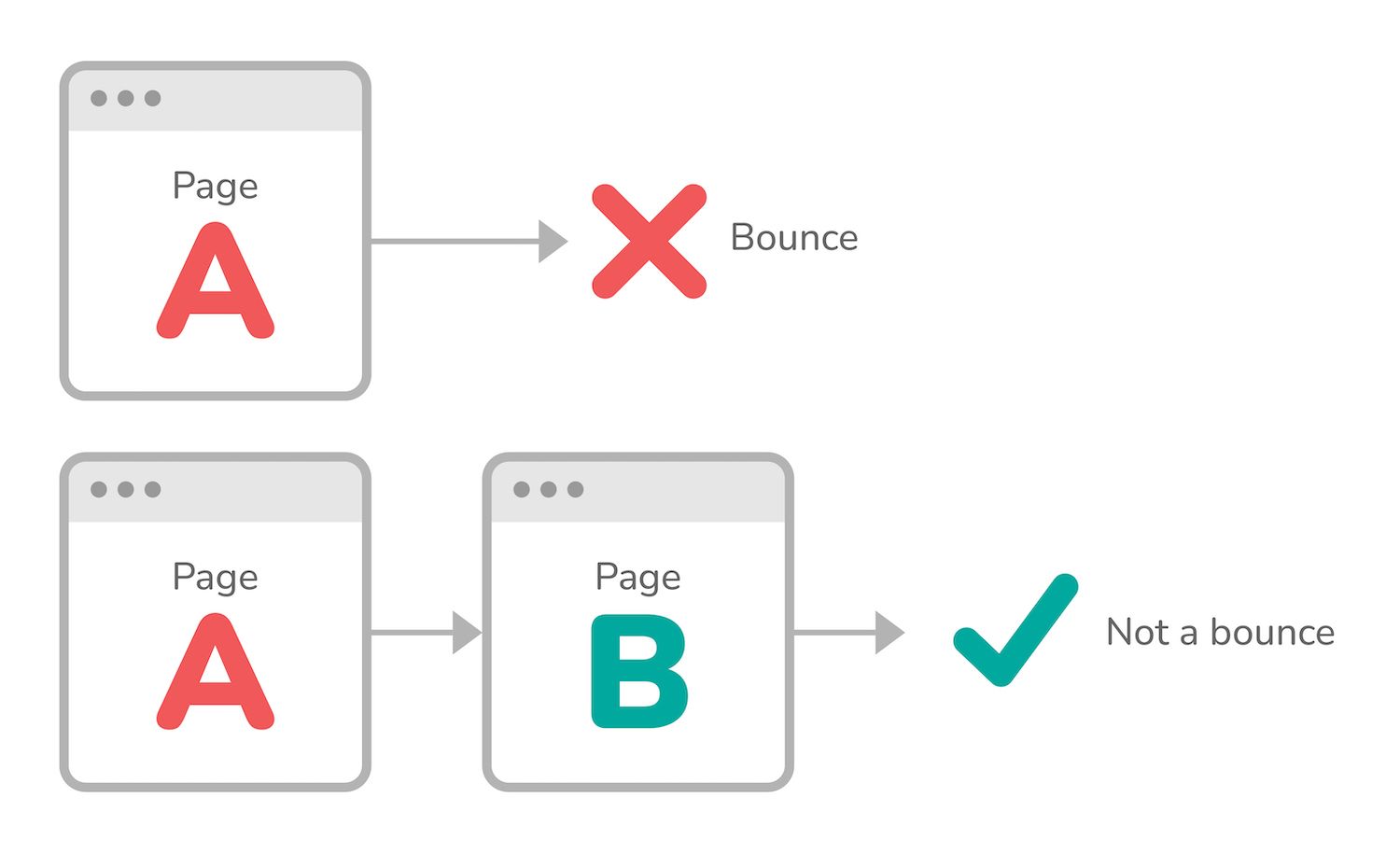 If you have 100 visitors and 80 leave before visiting another page, then your bounce rate is 80%.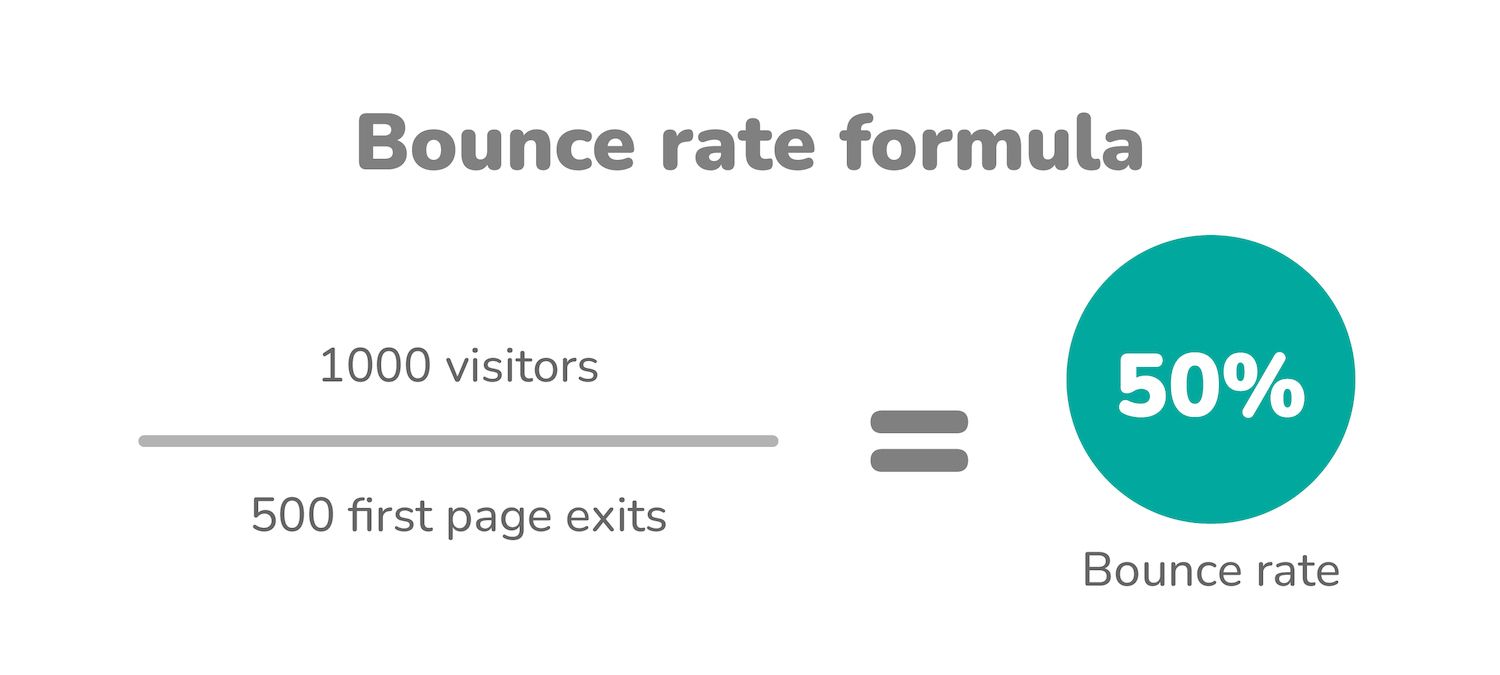 In GA4, this is flipped on its head a little. Google introduced something called Engagement Rate. The engagement rate is sort of like the opposite of the Bounce Rate. If you have 100 visitors and 80 leave before visiting another page, your engagement rate is 20%.
Except, not quite. Because let's say that 10 of those 100 also fill out a form on that entrance page and then leave without visiting another page, GA4 classes them as 'engaged'. So your engagement rate is now 30%.
This is why it's important to understand the difference between bounce rates in GA4 and UA.
With UA, and historically, there is an assumption that bounce rates measure the visit quality, with high bounce rates indicating that your landing page isn't relevant to visitors; this isn't always right. It is certainly much more correct with GA4, though.
So, for the purpose of this blog post, I'll be focusing on the classic/historical definition of bounce rate as used in Universal Analytics.
Tracking and analysing your bounce rate is crucial because of the following reasons:
Bounce rate is sometimes believed to be a Google ranking factor. While Google does not confirm this, there can sometimes be a correlation between high bounce rates and lower page rankings in Google's search results pages.
High bounce rates can mean your visitors are not converting. It gives you a good idea of how to assess and refine your existing web design, content publishing strategy, blog posts, product pages, and other components to improve your website.
A high bounce rate can tell you if your website's performance, content, layout, copywriting, or user experience has potential issues that cause visitors to leave in a snap.
You can perform site content audits and research to spot potential issues and improve your content. This Content Research: Ultimate Guide can help.
However, I'll also be highlighting situations where a high bounce rate can be a good thing.
Bounce rate benchmarks
Check out the bounce rate benchmarks to help you determine if your bounce rates are good or bad.
Good bounce rates
According to a Forbes Advisor article, the average bounce rate for many websites is between 41% to 55%.
However, average bounce rates can vary depending on your industry, traffic source, where your traffic lands, and other factors.
The graph below shows the average bounce rate per industry.
As you can see, the average bounce rate can differ significantly based on the industry.
For instance, retail or eCommerce websites offer products visitors often look for, making shoppers stay longer on the site to browse.
On the other hand, reference materials websites (think blogs, guides, information) have a much higher bounce rate because the visitor has a purpose to read and consume specific information. Once that intent has been served, they will likely leave.
The best way to gauge if your website has a good bounce rate is to compare it with direct competitors within your industry.
Bad bounce rates
A bounce rate above the average is considered high but isn't necessarily a cause for concern unless it's above 90%.
However, your website's bounce rate (if it's too high) can be easy to address since it often means a specific issue is causing the high bounces.
There are various factors that can contribute to high bounce rates. These can include failure to remove bots from your GA data, subpar website design and UX, inadequate content, browser incompatibility, slow loading speed, tracking code errors, and numerous other factors.
Other factors, such as high traffic from paid ads on Google, social media content like your interactive Facebook posts, and mobile visitors, can also raise your bounce rates.
When is a high bounce rate not always bad?
The big question is, when is a high bounce rate not a bad thing?
If you have a one-page website or provide other content types where single-page sessions are the norm, then high bounce rates aren't too much out of the ordinary.
Picture this:
You've just completed a Google search for 'are high bounce rates bad?' and found this page.
You read this page in full. You love it! You might even share it.
You leave because you've now learned that high bounce rates aren't always bad, and you have no need to look at the other pages on this website.
In short, this page has matched your searcher intent. You got what you are looking for, and you don't need to look around.
Bounce rates summary
To summarise, a high bounce rate is bad if:
Your website's success depends on people visiting multiple web pages. For example, if your visitors don't go beyond the entrance page, it keeps them from moving along your sales funnel (from your landing page or product page to your checkout page).
On the other hand, a high bounce rate isn't too bad if:
You have specific content and pages like blog posts and news pages. Visitors often land on your site, get what they need, and leave.
You have a single-page website, such as a physical store's landing page or a directory page, usually meant for a single-page session.
To really understand how your traffic is performing, you should only use bounce rate alongside other signals. Analyse exit rates and user journeys. Arrange some user tests and watch real users complete specific tasks on your website. Keep an eye on heatmaps and ask for feedback from visitors.
⚠️
Bounce rates are a tiny piece of a big puzzle.
3 tips to lower your bounce rates
The reality is that you don't have total control over your bounce rates.
However, you can follow best practices to improve your website and the user experience to help reduce or keep your site's bounce rate within the average (or lower).
The tips below can help you do just that.
Tip 1. Improve content readability
Keeping your content clear and easy to read help your website visitors have a positive user experience.
It can encourage them to stay longer on your website, lowering their chances of bouncing.
Use free online tools like WebFx's Readability Test to assess your web page or content's readability.
The tool rates your content's readability based on the Flesch Kincaid Reading Ease test and other specific tools.
Aim for a readability score of 65 or higher.
Also, follow these quick tips to improve your content's readability:
Include the appropriate subheadings to break down long blocks of text and make your content easier to understand. For instance, if you create a blog post comparing Ubersuggest vs Ahrefs vs Semrush, add subheadings for each. It makes it easier for your readers to follow and digest your content.
Include bullet points when applicable to make vital information easier for your readers to spot.
Ask questions to encourage your readers to participate, helping your content engage them.
Include a Call-to-Action (CTA) in your conclusion to tell your readers their next steps, such as signing up for your email newsletter. For example, add a "Read Now" CTA to invite your readers to visit related blog posts, such as the Top Ten Low-Cost Marketing Strategies for Business Owners.
Tip 2. Optimise your content for high-value keywords
Your content must offer value to your visitors, or they'll bounce.
The solution? Ensure your content is relevant to your audiences and visitors by targeting high-value keywords.
Ideally, target search terms with low competition and high traffic, but this isn't always possible.
An effective workaround is to target keywords that show buyer or search intent.
You can use the Semrush Keyword Magic Tool to find low-difficulty yet high-intent keywords.
The tool helps you find keywords you can target and incorporate into your content to satisfy search intent. Using high value keywords strategically helps optimise your content for organic search.
It helps put your web pages and content in front of your high-value customers, drawing quality traffic to your website, reducing bounce rates, and increasing conversion and sales.
Tip 3. Add engaging videos and images to your content
Recent data shows that 90% of marketers said video marketing helped increase user engagement.
Create short, compelling videos, stunning images, and other visual content to boost your traffic and audience engagement.
Use graphic design tools like Canva to create professional-looking visual content in a flash.
Canva has user-friendly editing and design features, including beautiful templates you can easily customise to create videos and images without graphic design experience.
The more engaging your visual content is, the more likely your website will draw visitors and get them to stick around, lowering bounce rates.
A high bounce rate: Friend or foe?
High bounce rates are not always bad.
However, you must know what's behind your high bounce rates to assess whether they can ruin your website's success, conversions, and sales.
Get a free consultation with me today.
I can help you lower your bounce rates, optimise your content, and work with you to improve your digital marketing strategies, positioning your business for success.