If you're serious about improving your audience engagement, you need interactive Facebook posts.
Getting low engagement rates and follower interactions can be frustrating.
After all, lower engagement rates can mean fewer opportunities to win more followers, get more leads and traffic, boost brand awareness, establish your online presence, and drive conversions and sales.
One of the best ways to capture your audience's attention and take your engagement rates to new heights is through interactive Facebook posts.
In this post, I'll share some fun and creative ideas for interactive Facebook posts that can excite your followers and make them eager to participate.
What is an interactive Facebook post?
Facebook interactive posts encourage users to engage with your content.
They can increase your chances of getting your audience to comment, like, share, or complete other actions that help your company reach your Facebook and social media marketing goals.
Other benefits of interactive Facebook posts include the following:
Make things exciting. Interactive posts encourage users to interact with your content, helping your brand expand your reach and boost engagement. Interactive posts can also make your Facebook page more popular and even help you learn how to become famous on social media.

Give you the inside scoop. Interactive content helps you learn a lot about your audience, such as their preferences, opinions, and behaviours. You can leverage this information to create content that gets them excited, encouraging them to engage with your posts and brand. Combine this info with what you uncover from Google's People Also Search For section to create engaging and relevant Facebook posts.

Build up your brand. Interactive posts help provide users with an unforgettable experience. It can lead to more brand loyalty and recognition, which is always good for engagement.

Encourage your audience to share User-Generated Content (UGC). Interactive Facebook posts can encourage users to create their own content highlighting or referencing your brand. It's an excellent tactic to generate content for your brand without making content yourself. It helps boost your brand's reach and create a sense of community with your followers.
7 Types of Interactive Facebook Posts
Get inspiration from popular interactive Facebook posts that can boost your engagement rates.
Start with these fun things to post on Facebook:
Idea 1: Ask your audience questions
Kick-off conversations and, in turn, engage your Facebook audience by asking questions in your posts.
For instance, ask about how your audience uses your products or services, how they use the items unconventionally, or funny stories and experiences with your products.
Make your questions relatable and compelling to encourage audience interaction.
Something as simple as asking which product variation your viewers like better can do the trick.
Add creative elements and visuals to your post to capture your Facebook audience's interest and entice them to engage with your content.
Leverage tools like Canva to create stunning visual and interactive Facebook posts easily, even if you have limited graphic design skills.
Additional tip: Create a poll ad to get your content in front of your target audience.
Learn how to create a poll ad from Ads Manager here.
Idea 2: Start a conversation
You can be as creative as you want with your interactive post for Facebook. After all, creative and compelling posts will get more eye on your brand and encourage more engagement.
However, starting a simple conversation with your audience can get the ball rolling.
For example, you can greet your audience with a "Good Day" and hint at trending topics—from the weather to the news.
Fair warning: this type of Facebook content doesn't always result in significant engagement, but it can be a great conversation starter.
Plus, it makes your brand more human and relatable, helping you foster engagement.
The key is understanding your audience and what makes them excited to create content they want to engage with.
Look for trending topics based on popular keywords and searches using SEMrush.
Its robust keyword research tools help you uncover information to fuel and elevate your digital content strategy, including your social media content.
Idea 3: Fill in the blanks
Another interactive post type that tends to work well is to ask people to fill in the blanks.
Create posts related to your brand, products, or services and ask them to complete the sentence, phrase, or list.
For instance, if you own a travel company, you could create a "My dream holiday is to visit _____."
It's simple yet engaging, enticing your audience to share their two cents. Your audience will only need to do a little work, too, since they only have to fill in the blank with their answers.
Idea 4: Create lists for your audience to complete
Next on my list of interactive Facebook post ideas is lists.
Get your audience to share their advice and opinions by creating lists that people can add to or complete.
Including lists in your interactive Facebook posts help you create engaging content because:
Lists are easy to consume. Lists are great content formats because they're easy to read and digest. Your audience can quickly scan the list and get the information they need, making it an attractive format for viewers with limited time and attention spans.
Lists can be interactive. Creating lists that require user input, such as completing a task or answering a question, can encourage interaction and engagement. Your audiences will likely engage with your content if they feel part of the conversation.
Lists are shareable. Lists are highly shareable content, and users are more likely to share your content if it's informative or entertaining, expanding your reach and engagement opportunities.
Be strategic with your interactive Facebook post lists. For instance, you can leverage it when learning how to create topic clusters.
Idea 5: Share User Generated Content
My content research ultimate guide will tell you that sharing User Generated Content (UGC) as interactive Facebook posts encourages audience engagement.
Why? Because it provides social proof of your brand's value.
Sharing UGCs means leveraging your customers' experiences and opinions to create content for your brand.
It helps you build trust and credibility with your audience because people are likelier to trust recommendations from their peers than from a brand's own messaging.
Share UGCs to encourage people to engage with your brand and contribute their thoughts and experiences.
Ask people to share photos, videos, or stories about your brand or run contests or polls encouraging people to interact with your content.
Creating interactive posts with UGC also increases your organic reach on Facebook.
When people engage with your content, it signals to Facebook that your post is relevant and interesting, which can help it appear higher in people's newsfeeds.
Idea 6: Offer and ask for tips
Level up your audience interactions by sharing helpful tips and asking your followers to share theirs.
Sharing tips in your Facebook posts can boost interaction and engagement because it provides value to your audience.
People will likely engage by liking, commenting, and sharing posts that offer value.
Sharing tips can also establish your brand as a credible information source, increasing trust and loyalty.
According to a content tracking ultimate guide, monitoring your content's performance is the best way to know if your Facebook posts are raising your engagement rate, whether they contain tips or UGCs.
Develop a solid content tracking strategy to monitor and analyse your Facebook post performance. It helps you improve your content strategy for better results.
Idea 7: Showcase the real people behind your brand
Here's one of the tricks from my content engagement field guide on how to create content that gets clicks:
Humanise your brand by showing the people behind your company.
It can be a great way to increase audience interaction and engagement because it helps you build trust and establish a personal connection with your audience.
Seeing the faces and personalities behind a brand can make your audience feel a sense of familiarity and affinity with your company. It can lead to increased engagement and loyalty.
Showcasing your employees highlights your unique selling points, such as your values, culture, and expertise.
It helps differentiate your brand from competitors and create a compelling narrative that resonates with your customers.
Also, highlighting the people that make up your company provides opportunities for storytelling and human interest stories.
These stories can engage your audience and help them connect emotionally with your brand.
Examples of interactive Facebook posts
Check out these interactive Facebook post examples you can emulate in your content.
Interactive Facebook posts for marketing
There are countless content types you can use for your interactive Facebook posts for marketing, including the following:
Polls. If you're a beauty brand, post a poll asking your followers which makeup trend they are most excited to try this season. You can list multiple options, such as bold lips, glitter eyeshadow, or winged eyeliner.
Interactive quizzes. If you sell pet products, create an interactive quiz that helps pet owners determine the best type of food for their furry friends based on their age, breed, and activity level. You'll provide value by offering helpful information while engaging your audience.
Caption contests. Share product or brand-relevant photos and ask your audience for creative, funny, or compelling captions. Steel Viking Fitness' caption contest below is a classic example.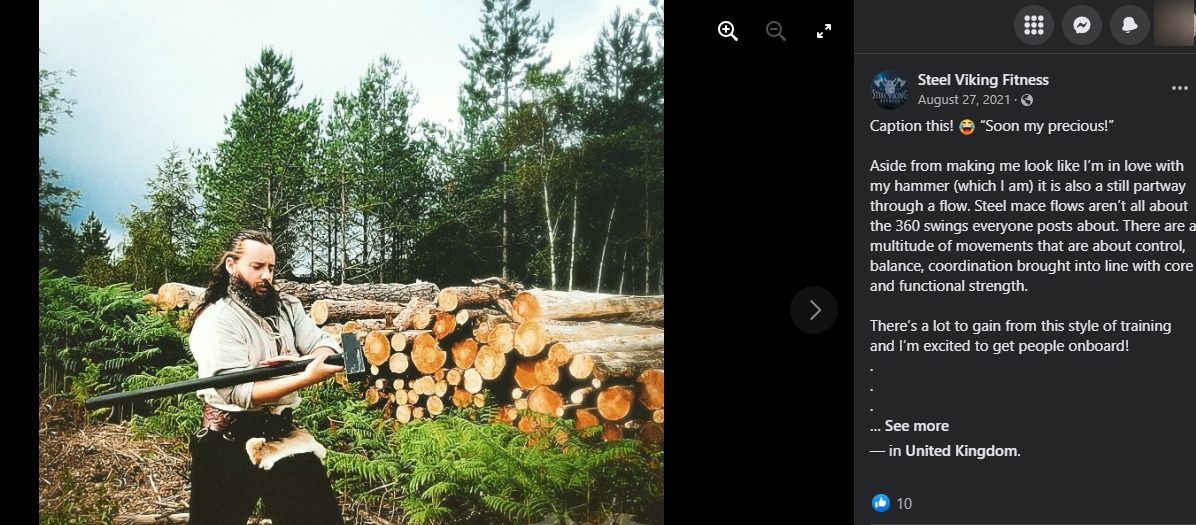 Image source: facebook.com.
Remember to review Facebook's Content Monetisation Policies, including community guidelines and applicable laws, when running contests on the platform to avoid violations.
Interactive Facebook posts for estate agents
Here are some ideas for real estate interactive Facebook posts:
"Which of these living room designs do you prefer? A or B? Share your thoughts in the comments below!" and include two photos of different living room designs.
"Help us choose the perfect colour for this bedroom. Should it be grey or yellow? Vote for your favourite in the comments below." Share two photos of bedrooms with different colour schemes.
"Caption this photo. What would you name this beautiful backyard oasis?" Include a photo of a backyard with a pool and landscaping.
"Take a look at this stunning kitchen. Can you guess this home's price based on its luxurious features? Comment your estimate below." and share photos of a beautiful kitchen with high-end appliances.
"Help us stage this living room. Which accent pillows do you think look best on this sofa? A, B, or C? Let us know in the comments below." Add photos of various accent pillows on a sofa.
Take inspiration from the Facebook post below that asks audiences their top "to decorate" room.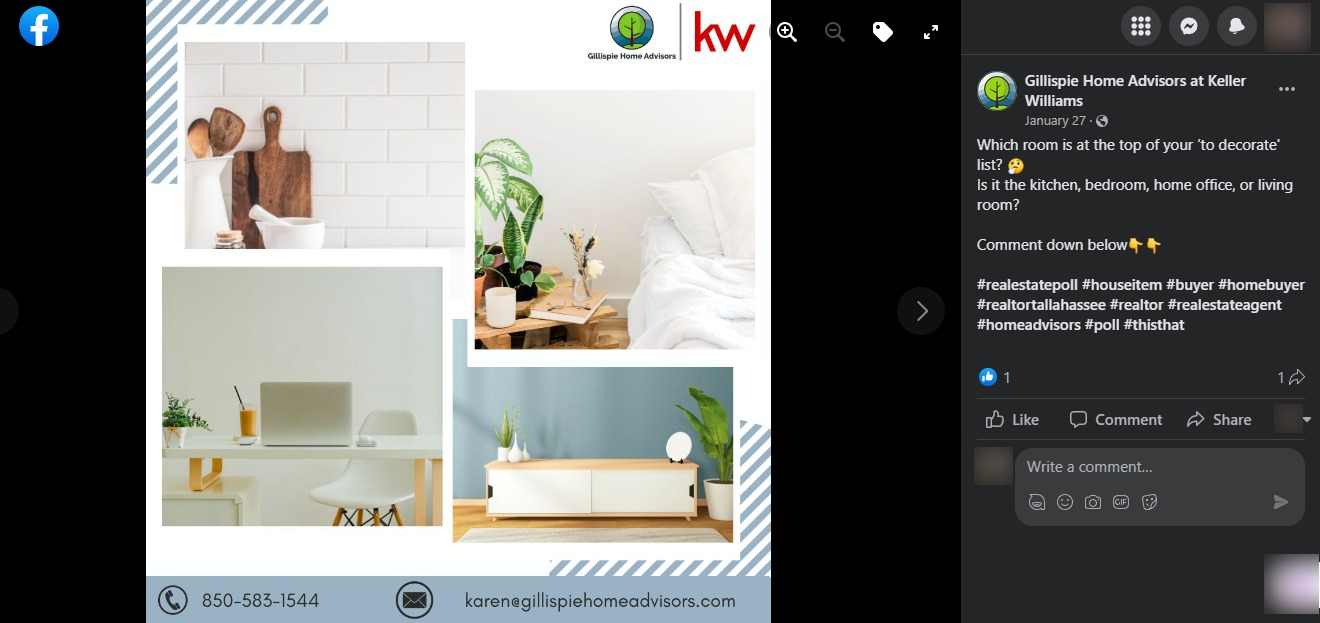 Image source: facebook.com.
Interactive Facebook posts for food companies
Below are interactive posts you can include when planning your content publishing strategy for boosting audience engagement.
Recipe poll. Ask followers which recipe they want to see next, and offer options for them to choose from. It's a great way to get new ideas for content while encouraging audience interaction.
Meal planning tips. Share tips and tricks for meal planning, and ask your audiences to share their strategies.
Ingredient spotlight. Highlight a specific ingredient and ask audiences to share their favourite recipes or ways to use it. It's an excellent tactic to inspire home cooking.
Virtual cooking class. Host a live virtual cooking class on Facebook and share the recipe beforehand. Encourage your followers to cook with you and share photos of their finished dishes.
Cooking challenge. Run a cooking challenge and ask your followers to create a dish using a specific ingredient or theme. Encourage them to share photos of their creations and pick a winner to feature on your page.

Jarlsberg's contest for a cause for Comic Relief: Red Nose Day nails this.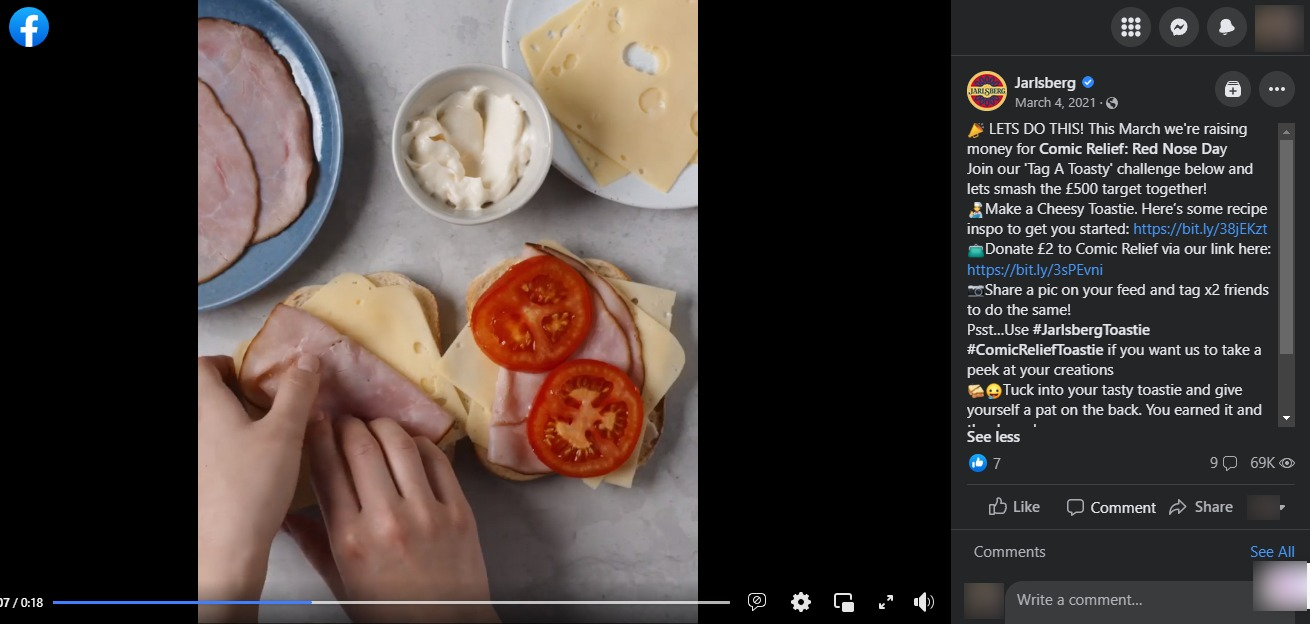 Image source: facebook.com.
Interactive Facebook posts for pet companies
Creating interactive posts can draw more attention to your Facebook content and increase engagement.
Try out the following:
"It's National Pet Day! Share a photo of your furry friend or baby in the comments and tell us what makes them so special to you."
"Attention all cat lovers! Help us settle a debate: are cats better than dogs? React with a heart for cats or a like for dogs."
"We want to see your pets' best tricks. Share a video in the comments below of your pet showing off their skills."
"Happy Friday! Show us how your pet is celebrating the weekend by sharing a photo of them enjoying their favourite activity."
"It's time to play a game. Comment below with a photo of your pet and we'll reply with a funny caption."
"We know you love your pets, but do they love each other? Share a photo of your pets cuddling or playing together."
"It's National Adopt a Shelter Pet Day! Share a photo of your adopted pet and encourage others to consider adopting from their local shelter."
"It's the first day of summer! Show us how your pets are beating the heat by sharing a photo of them cooling off."
"It's International Cat Day! Share a photo of your cat and tell us one thing you love about them."
"It's a bird, it's a plane, it's your pet dressed up in a costume! Share a photo in the comments below of your pet in their best outfit."
You can host a giveaway or contest like the one from the pet company Pets at Home.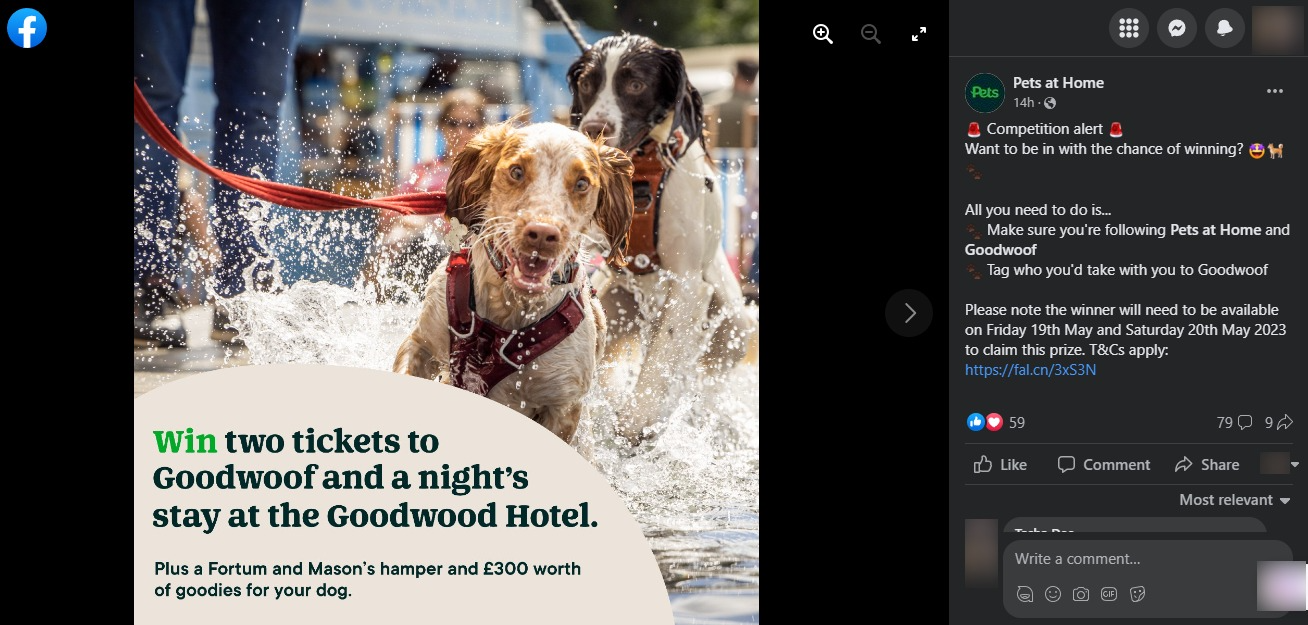 Image source: facebook.com.
Skyrocket your engagement with interactive Facebook posts
Interactive Facebook posts are some of the effective content types for boosting engagement with your audience.
Using fun and creative content can encourage your followers to interact with your posts.
The more people interact with your content, the higher your engagement opportunities while increasing brand awareness and generating valuable insights about their preferences and opinions.
Remember to keep your content relevant, entertaining, and visually appealing and to always respond promptly to your audience's comments and feedback.
Implementing these strategies helps create a vibrant online community that engages with and even advocates for your brand.
Book a free consultation, and I can help you jumpstart your journey to create interactive posts for higher Facebook audience engagement and marketing success.