Do you want to learn how to run an Instagram competition?

Instagram competitions are a fantastic way to boost your brand's visibility, engage with your audience, and attract new followers.
What's even better is the fact that competitions are fairly easy to run, and you don't need to wait several months to get the results.
In just a few days, you can get hundreds (if not thousands) of likes, shares, comments, and even orders.
I usually only takes a few minutes to set up a competition.
Where do you begin? How do you set things up? How do you ensure a successful Instagram competition?
Below, I'll walk you through the steps for running an Instagram competition, from setting objectives to creating rules and promoting your contest.
Let's dive in and make your next Instagram competition a success.
Why host an Instagram competition?
An Instagram competition is a low-cost marketing strategy that helps build awareness for your brand.
It also offers the following benefits:
Drive higher audience engagement
Using contests and giveaways is a great way of getting engagement.
Giveaway posts can also boost your overall Instagram audience engagement.
Instagram's algorithms can work in mysterious ways, but once they see your engagement skyrocketing, they'll show your content to even more people.
It's like a snowball effect of engagement.
Increase your followers
Here's a neat trick: make following your company's Instagram account part of your competition rules for participants to enter.
Follow-for-a-chance-to-win is an excellent tactic to collect entries and engage your audiences while raking in new followers.
This tactic gives you more opportunities to gain more followers and increase your audience engagement.
Get more collaboration opportunities
Collaborating with other brands means tapping into their existing audiences and expanding your reach.
Running Instagram contests presents more opportunities to collaborate with other brands.
You can co-host contests with brands that offer products that complement yours and give away the complementing items as a bundle.
It's a great way to promote your brands while expanding your reach and driving more engagement.
Boost impressions and reach
Getting lots of engagement on your giveaway posts helps boost your impressions and reach.
When followers like, comment, and share your content, it tells Instagram's algorithm that people are into what you're putting out there.
The algorithm rewards you by featuring your posts more often on their feeds.
More eyeballs on your content means more chances of expanding your reach and building a solid online presence.
8 Steps to Run an Instagram Competition
How you run your Instagram competition depends on your goals and strategies, but there are time-tested steps to get you started.
Step 1: Set your goals
Identify what you want to achieve with your Instagram contest, are you looking to get more sales, become famous on social media, or perhaps you just want a stronger brand presence?
Your goals help shape your Instagram competition strategy and allow you to assess whether your efforts were successful.
One trick to narrow your focus is to consider the specific audience you want to reach, including:
The content types they want to see from your account
The posts they like posting on their own Instagram feeds
How they behave on Instagram
For example, if you want more engagement, your goal can be creating content that your target audiences want to engage with and share.
Remember to include your contest timeframe and budget to develop an effective Instagram competition.
If you work with a team, leverage software such as Teamwork to identify your contest and other Instagram marketing efforts' goals and track their progress.
The project management software offers essential features for managing your tasks, team, and clients in one platform.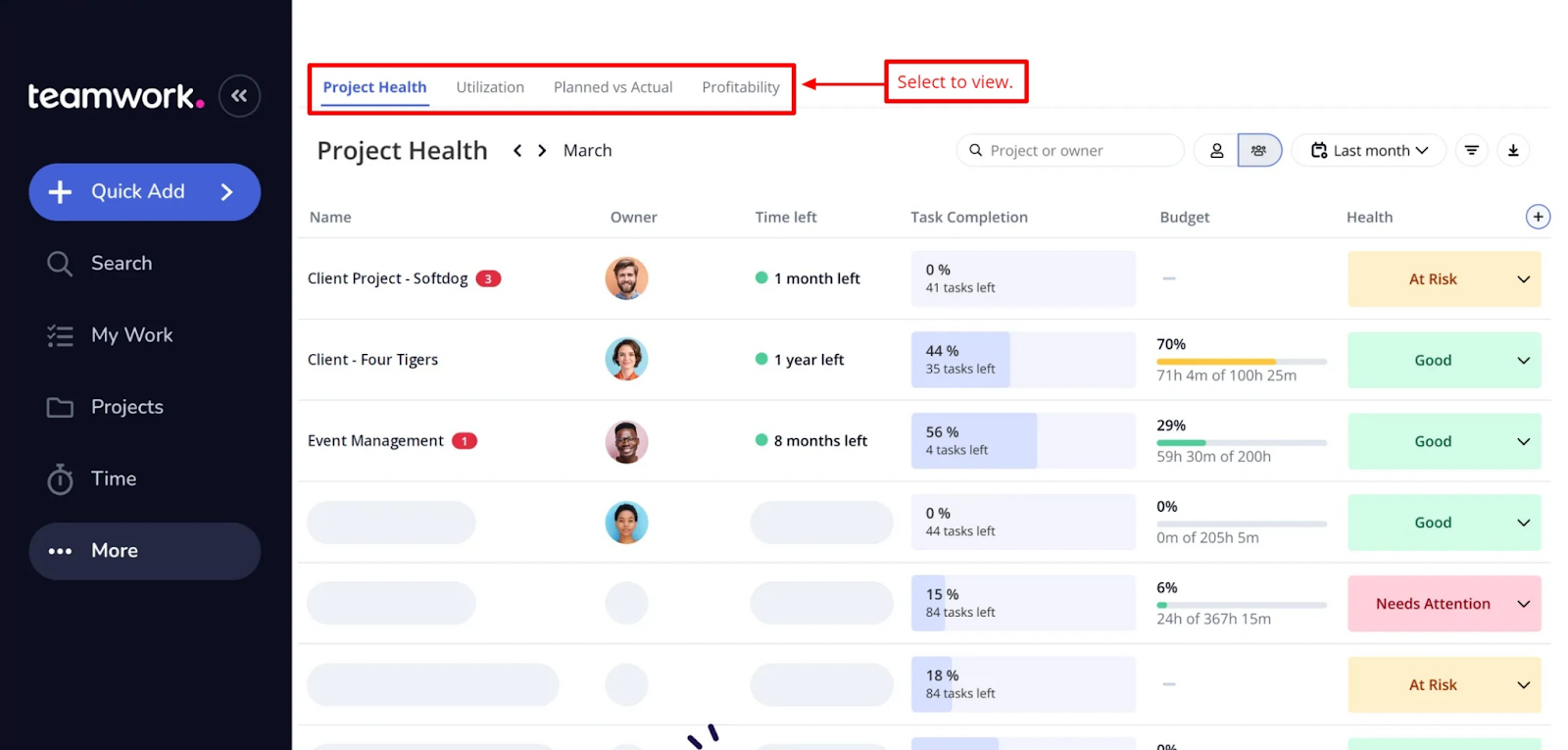 Use the software's time-tracking, resource allocation, reporting, and other collaboration tools for centralised management, streamlining your work.
Step 2: Develop an entry system
Establish and highlight how your audiences can enter your Instagram competition. Make contest mechanics very clear so you don't leave any room for confusion.
Check out these contest idea entry methods you can get inspiration from:
Ask participants to create a post and follow your company's Instagram account
Ask audiences to post an Instagram video or photo with a specific theme
Ask IG users to comment or like your particular post to join your contest
Get followers to tag and mention your brand's Instagram handle in their post
Provide clear guidelines for entering your IG contest and highlight them in your promotional materials.
Step 3: Use the right hashtags
Besides creating high-performing content for your contest, get more eyes on your Instagram competition by including relevant and creative hashtags in your contest announcement post.
Hashtags make your contest announcement post on Instagram more searchable and discoverable.
The more people see your contest announcement, the more participants you can rope in to join.
The challenge is that using hashtags can be tricky.
You can run several IG contests in two to three months, and you don't want to keep using the same hashtags for every single one.
You'll need the right hashtags relevant to your contest while ensuring the post reaches your target audiences.
Consider the following factors to help you come up with the right hashtags:
Short. Keep your hashtags short to make them easier for interested participants to remember.
Memorable. Make your hashtags memorable enough to capture your audience's attention and interest. Create catchy and easy-to-search and write hashtags and avoid confusing word choices.
Relevant. Use hashtags associated with your brand name, products and services. Doing so helps get your contest announcement post in front of audiences interested in your brand and products.
Universal. With global audiences, consider whether your potential contest participants use similar words or speak the same language. Avoid using region-specific words or slang terms that can confuse your audiences.
You can get hashtag suggestions from a tools like Inflact.
The tool's AI-based Instagram hashtag generator tool can give you instant hashtag suggestions by analysing keywords, photos, or URLs.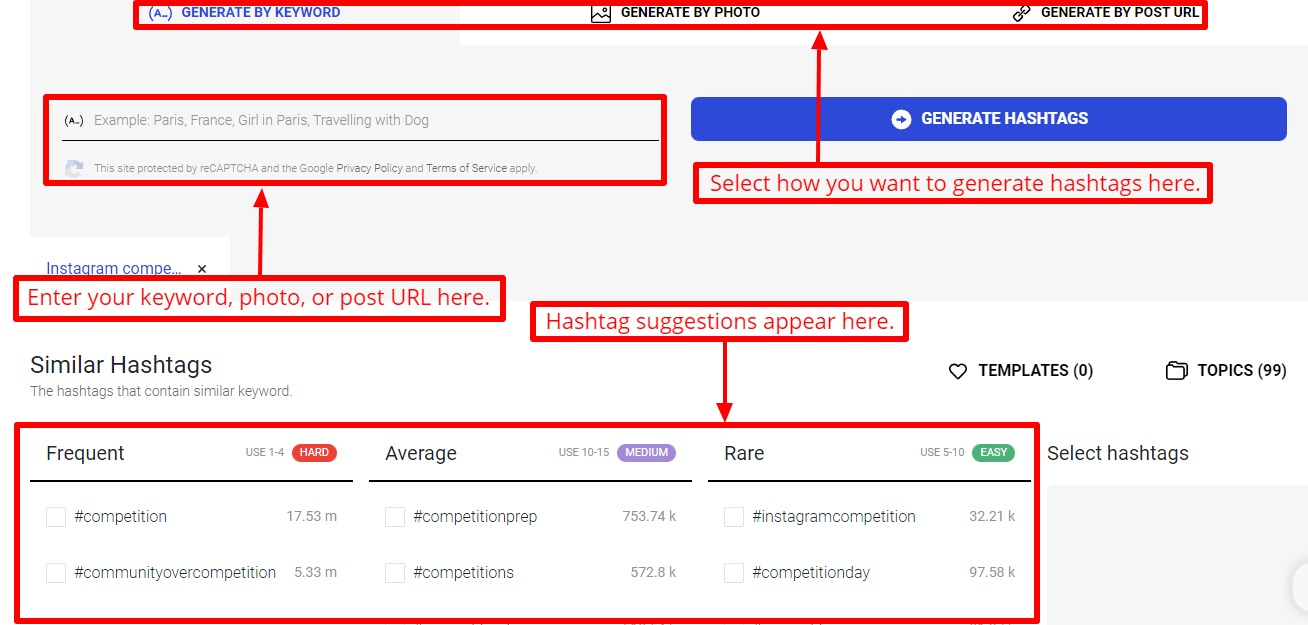 Inflact's hashtag generator can sort hashtags by competition level and frequency. You can save your search results as templates so you can find and use them easily for other posts.
Also, consider weaving your keyword monitoring strategies into your hashtag research to determine the keywords or hashtags that work best for your contests, posts, and audiences.
Step 4: Select a specific theme
If your Instagram contest is User-Generated Content or UGC-based, choose a theme so participants know the types of photos and videos to use to join your competition.
Pick a theme that aligns with your product, brand, and market.
You can also choose seasonal themes for holidays and special events.
Create an on-brand and theme-appropriate announcement to inspire your potential participants to join your contest.
You can whip up a visually captivating post in minutes with graphic design tools such as Canva.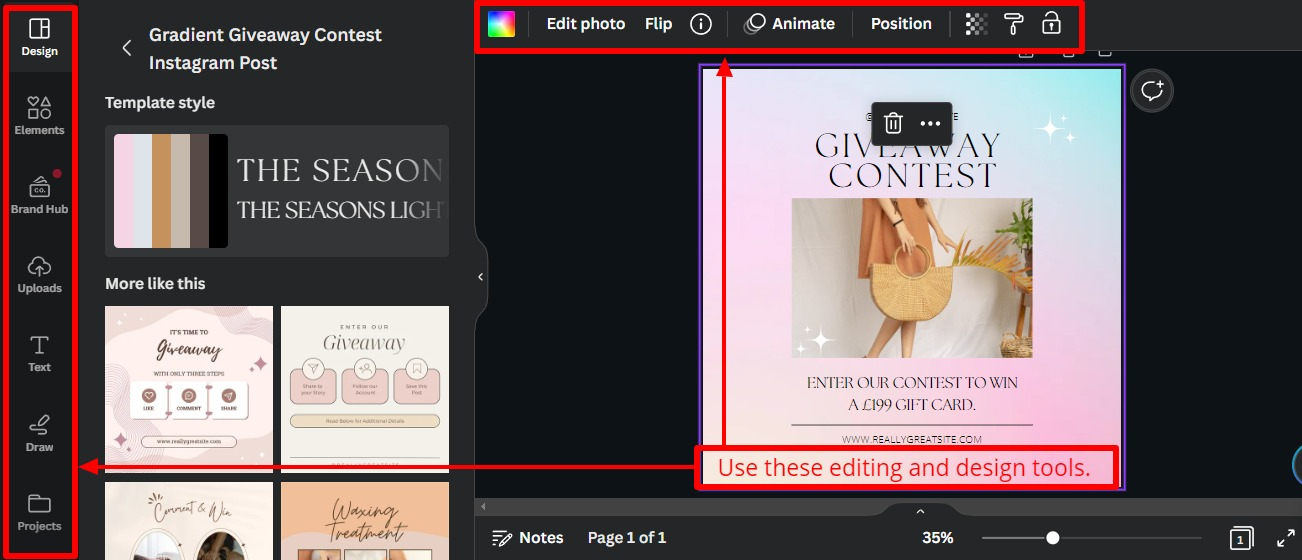 Canva's customisable templates, various graphics, and user-friendly design tools simplify creating your Instagram contest post.
The contest for naming a summer climbing competition below is a classic example.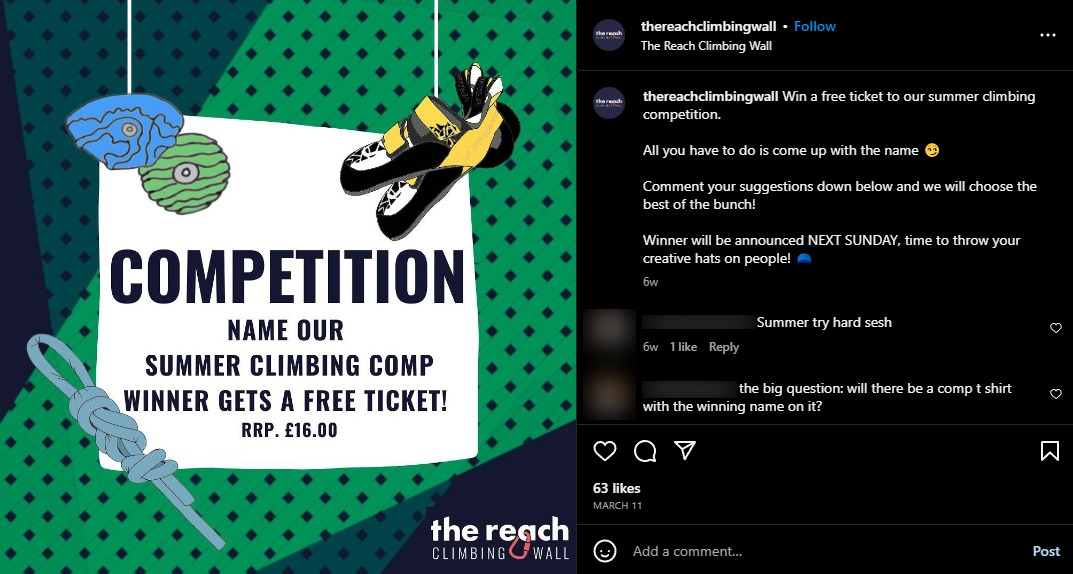 The contest is specific to a special event or theme, and the mechanics are clear to participants.
Step 5: Determine how you will choose winners
The best part of Instagram contests, at least for participants, is the announcement of winners.
You can determine winners with these options:
Voting. Get your participants to compete to get the most likes. With the right prize, participants will more likely share your post, increasing your audience's chances of winning while expanding your reach. Remember to set clear rules against using Like bots to prevent potential cheating.
Jury. If you prefer quality over quantity to judge winners more fairly, using a jury is the way to go. You can choose a group of experts to decide on a winner. Remember to state this in your contest's terms and conditions so participants know how they can win.
You can combine voting and jury methods or another way to pick a winner, but remember to disclose it to participants.
Step 6: Choose an appropriate prize
An effective way to get people to participate in your Instagram contest is to offer a valuable reward to your target audience without going over budget or deviating from your goals.
Provide a prize that is worth the time and effort it takes to join your contest while keeping it relevant to your brand, such as:
Coupons
Gift cards to your store
Giveaways
Free services provided by your company
Goodie bags of your latest products
For instance, the collaboration giveaway by Sperry and PangeaSeed below offers a Sperry x Kerby Rosanes collaboration product as a reward.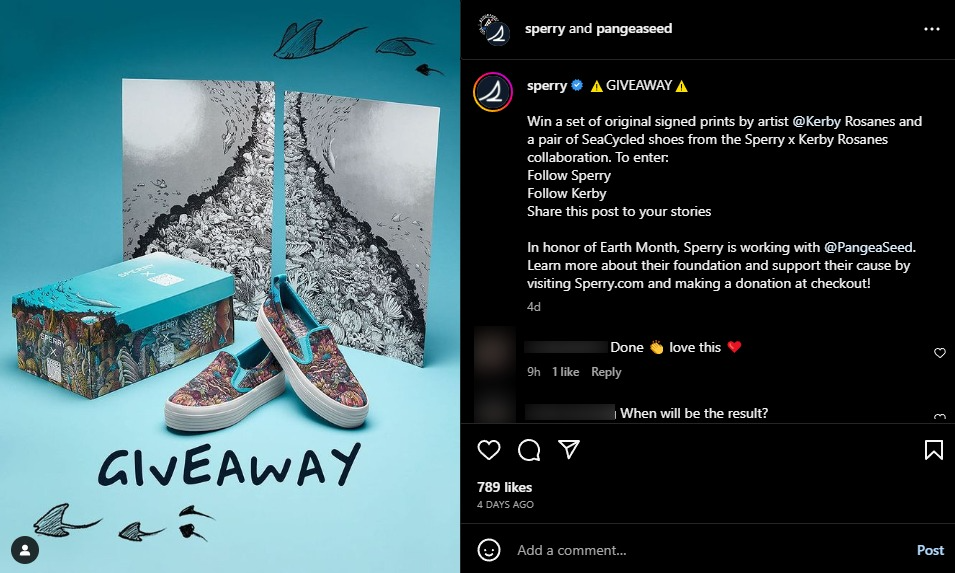 Step 7: Create your Instagram contest terms and conditions
Following legal guidelines when hosting Instagram competitions is non-negotiable.
The applicable laws depend on your location and your allowed participants. Play it safe and consult your lawyer when drafting contest terms and conditions.
The essential terms you should include are:
Your contest dates
The name and contact information of your brand (or the other promoting company when collaborating with other brands)
The guidelines for entering your contest
The rules for how and who can enter, such as employee and age restrictions
The guidelines for choosing a winner (or winners)
The announcement dates for winners and how they will be informed
The specific reward, including the description and number of prizes, how they will be delivered, and limitations
Clear acknowledgement that your contest or promotion isn't endorsed, administered, associated with, or promoted by Instagram and other social media networks involved in the competition
Step 8: Track submissions and follow up with winners
Identify the specific metrics to use and how you will track them.
Doing so helps you determine your contest's participation level, including your promotional efforts' effectiveness.
Consider using the following metrics in your content tracking strategy:
Likes per submission to help you track potential winners if your Instagram competition is decided by voting.
Number of submissions or posts submitted that comply with your terms and conditions.
Top participants or the users who shared the most content as contest submissions.
Total reach to determine your participants' number of followers at submission, showing your campaign's potential reach.
Follower growth shows how much your following increased during your contest
Total likes measure the number of all likes on all your contest submissions.
Use tools such as Iconosquare.
The platform offers robust content marketing automation and social listening tools to monitor mentions of your contest, brand, and uses of your hashtag.
You can also use the tool's analytics features to track most of the key metrics above to help determine your contest's reach, engagement, and success.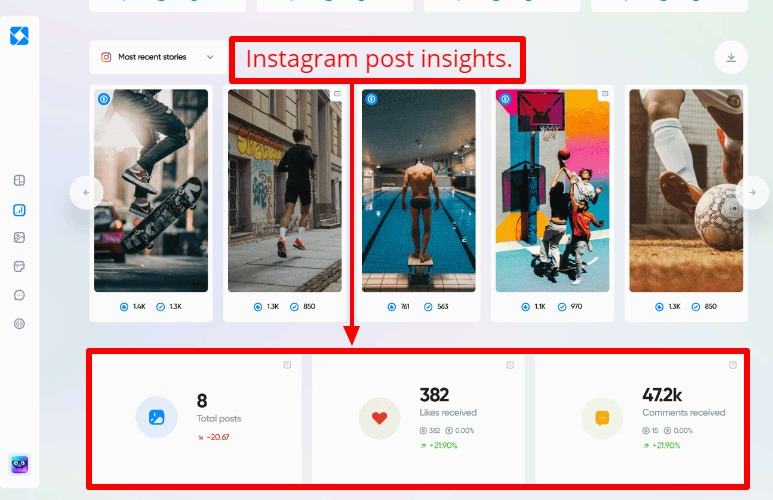 Finally, review your contest submissions and ensure you choose winners fairly based on your terms and conditions.
Select, contact, and award the winner accordingly.
If you're not taking down the original contest post, remember to announce that the contest is closed or has ended.
What to consider before hosting your Instagram competition
Instagram provides specific guidelines when running contests on the platform.
Below is a summary of the guideline's important points:
You must ensure your Instagram promotions are lawful and comply with applicable rules and regulations.
You are responsible for creating official rules and determining eligibility requirements.
Avoid inaccurately tagging content or encouraging others to do so.
Promotions on Instagram must include a release of liability for Instagram and an acknowledgement that the platform is not involved in the promotion.
Instagram will not assist with the administration of promotions, and you assume all risks associated with using the service for promotions.
Understanding Instagram's rules and guidelines on hosting contests is crucial so you avoid potential violations and Instagram banning or even disabling your account.
Read Instagram's full promotion guidelines here.
The best ways to promote your Instagram competition
Below are quick tips to help you promote your Instagram contest effectively.
Include your contest link in your Instagram bio. Add a link to your contest's terms and conditions in your IG bio during your contest period. Also, include a link to the contest app of your competition entries' photo gallery.
Share your contest announcement post in your Stories. Draw more attention to your IG competition by sharing your contest announcement post in your Stories. Use the swipe-up feature in Stories to share links that connect your viewers directly to your contest app, photo gallery, or terms and conditions. You can also post Stories featuring your contest prize and share regular reminders of your submission deadline.  
Cross-promote your Instagram competition on other social media platforms. Share your Instagram contest announcement posts on Facebook, Twitter, TikTok, YouTube, and other channels your brand is active in to reach more people. However, ensure that the contest you promote does not violate other social media platforms' community guidelines and terms and conditions. Check out Facebook's Monetization promotion guidelines to learn more.
Run social media ads. Place your contest announcement on Instagram and Facebook ads to get your competition in front of your target audiences. Social media ads require a bit of investment, but they can yield results faster. You can also display ads for your Instagram contest on your website, specifically your blog pages. It can be a great way to draw more attention to your contest and drive traffic and engagement to your blog pages, especially when learning how to monetise your blog.
Boost your online presence with Instagram competitions
Running an Instagram competition can be excellent for engaging your audience, increasing brand awareness, and gaining new followers.
Leverage the right strategies and tools to create a successful Instagram competition that is exciting, well-organised, and complies with Instagram's guidelines.
Choose a valuable prize, create a visually appealing campaign, set clear guidelines, promote your competition, and measure your success.
Run a successful Instagram competition and continue to grow your online presence with this guide's tips and tricks.
Increase your chances of winning at hosting Instagram competitions with our guidance.
Book a free consultation now to find out how I can help you.