What if I told you that a low-cost marketing strategy could outdo big-budget marketing campaigns?
Okay—maybe not all the time. But it is possible.
The intro here is important but click here if you'd like to skip straight to the ideas.
Here's the thing: Your potential customers couldn't care less if your spokesperson is Marques Brownlee or even Oprah Winfrey if none of the things they say resonate with your customers.‌‌‌‌For example, Oprah can spend hours upon hours promoting the best hair clippers for dogs ever known to humanity.
But if it's promoted to people with pet snakes, it won't generate sales.
No matter how awesome, the dog hair clippers are irrelevant to most people who own snakes.
On the other hand, your marketing campaigns can generate bucket loads of sales even if no one knows who you are. You just have to research, offer products that solve your audience's problems, be mindful of your messaging, and price your products reasonably.
In fact, some of the most iconic campaigns in digital marketing history were by SMEs on a limited budget.
You've probably already seen some of them as they made waves all over social media platforms.
Do low-cost marketing strategy ideas work?
Dollar Shave Club's social media advertising campaign is a prime example of a successful low-cost marketing strategy.
Despite launching in 2012, many still consider their YouTube commercial to be one of the greatest ads of all time.
Fun fact: their video only cost $4,500 and a single day to make.
It shows—and it's great.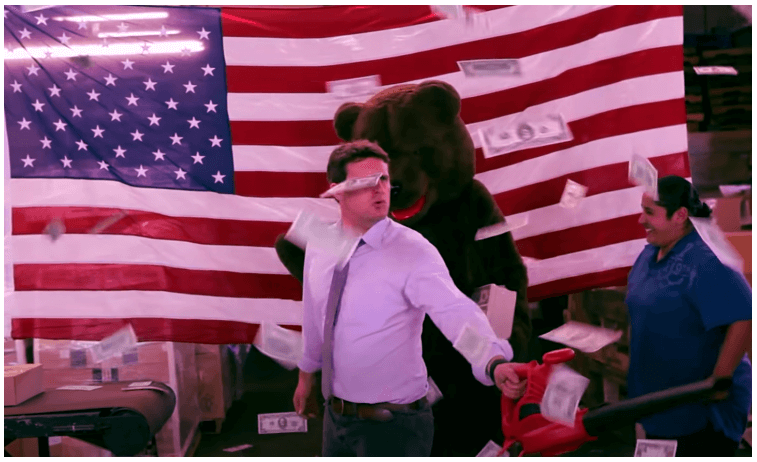 Image Source: YouTube.com
Want another example of low-cost marketing strategies that skyrocketed a brand's online presence?
Let me ask you a question.
"Will it blend?"
If you immediately knew the reference, it proves how successful Blendtec's "Will It Blend" campaign is.
Each video in their campaign only cost around $50 to make. Their first viral video, which spread like wildfire across social media channels, featured Tom Dickson blending 50 marbles.
Simple, intriguing, and pure marketing brilliance.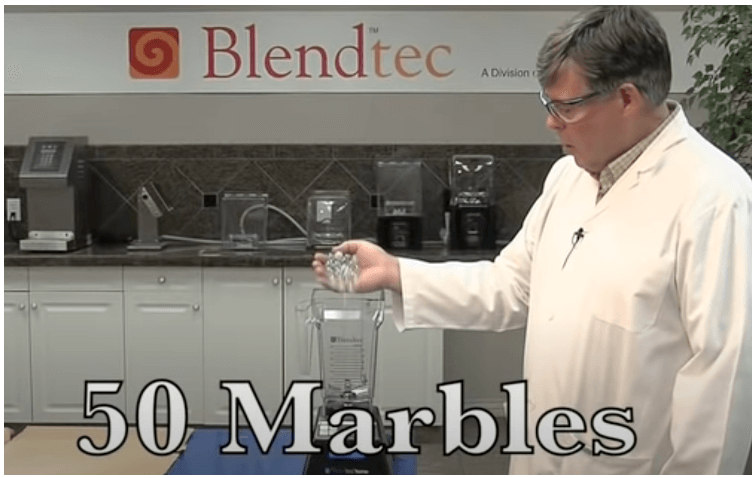 Image Source: YouTube.com
What made Blendtec's campaign particularly interesting is the fact that it was way ahead of its time.
They capitalised on short-form video content before platforms like TikTok and Instagram Reels were a thing. This, in turn, allowed their videos to satisfy the demand for instant entertainment and reach potential customers.
Throughout the years, other businesses did their market research and attempted to replicate the success of viral brands.
Most of them weren't successful. But as low-budget marketing campaigns were launched left and right, patterns emerged, and "best practices" were identified.
10 low-cost marketing strategy ideas for brands
Here are some ideas that can help small businesses achieve massive growth on a limited marketing budget.
1. Build a blog
Let's kick off this list with a free marketing tactic that any small business can do.
If your small business already has a website, starting a blog is a stepping stone toward generating free, organic traffic.
Publishing high-quality content on your blog will give your prospective customers a reason to come to your website. It can also help you to rank in search engine results and drive traffic to your virtual storefront.
Most importantly, a blog can help you showcase your expertise and establish your brand as a credible information source.
Websites like Garden Lovers Club use their blog to reap these benefits.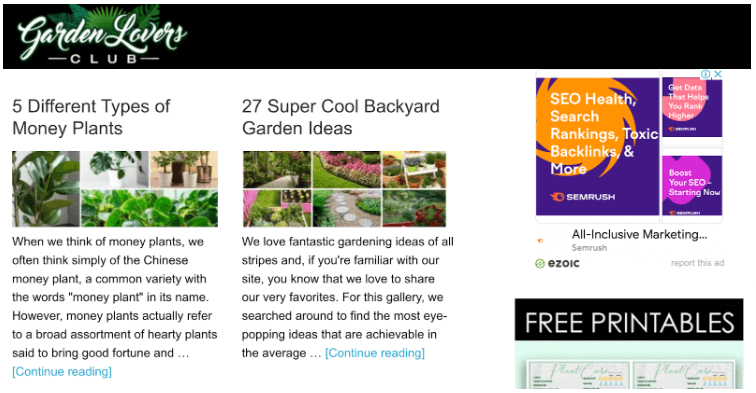 Image Source: Garden Lovers Club
Don't have the budget for a professional editorial team?
This is where automated proofreading tools like Grammarly can step in.
It works by instantly detecting grammatical errors, spelling mistakes, and readability issues in your write-ups. In addition, it allows your content team to apply suggested corrections in one click.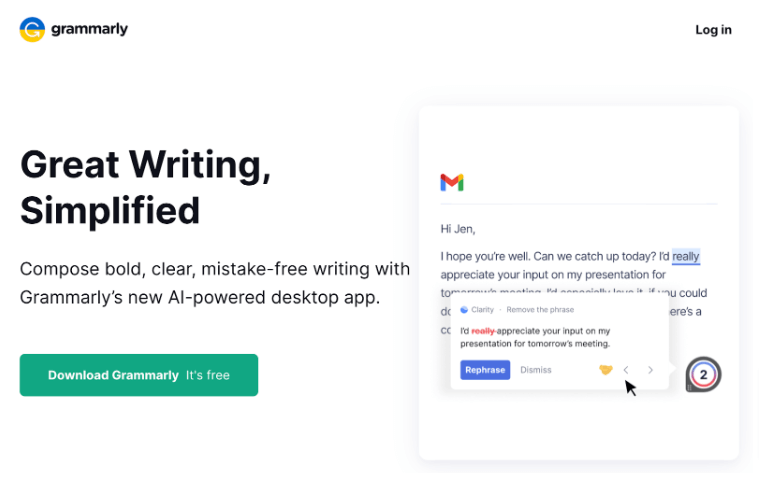 Image Source: Grammarly.com
Neat, right?
Here are a few additional tips to help you create a blog that generates traffic and generates loyal customers:
Build a user-centric content development strategy. First, you need to create a content strategy that aligns with your marketing goals AND your target audience's needs. Plan blog posts that address their problems, provide practical advice and put your brand forward as the "shortcut" to success.
Follow up content creation with relentless promotion. Your blog posts won't promote themselves. Match content development with a promotion strategy that involves sharing on social media platforms, link building, and email marketing.
Use content tracking to improve your strategy over time. To maximise your blog's performance, you need to track your content and build on what works. Use tools like Google Analytics to monitor metrics like session duration, bounce rate, and scroll depth.
2. Start microblogging
Blogging may cost little to nothing, but it is time-consuming and can take a while to pay off if done without expertise.
That's why you shouldn't rely on blogging alone to grow your small business.
Microblogging is a specific type of blogging that involves publishing bite-sized posts and getting quick wins. You can do it using microblogging sites like Tumblr or your brand's social media accounts.
Twitter, for example, is perfect for publishing short text posts to engage existing customers and attract new ones.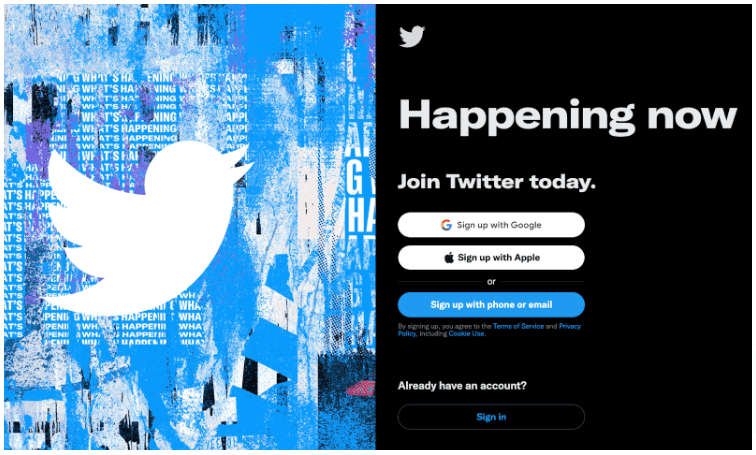 Image Source: Twitter.com
Microblogging can also be done via short-form video marketing channels. Some examples are Instagram Reels, TikTok, and YouTube Shorts.
HubSpot's 2022 Marketing Industry Survey revealed that short-form videos are the most effective social media format in terms of ROI. The survey also found that 30% of marketers plan to increase their budget for short-term videos this year.
In addition, TikTok has an engagement rate of over 7x higher than the next best social platform.
Creating short-form videos has numerous advantages for small businesses.
Not only are they easy to make, but they're also perfect for publishing simple and cost-effective daily videos that reel in new customers.
Brands don't need to spend a fortune on video recording equipment. They can utilise built-in features like filters, voiceovers, and background effects to create eye-catching videos using their smartphones.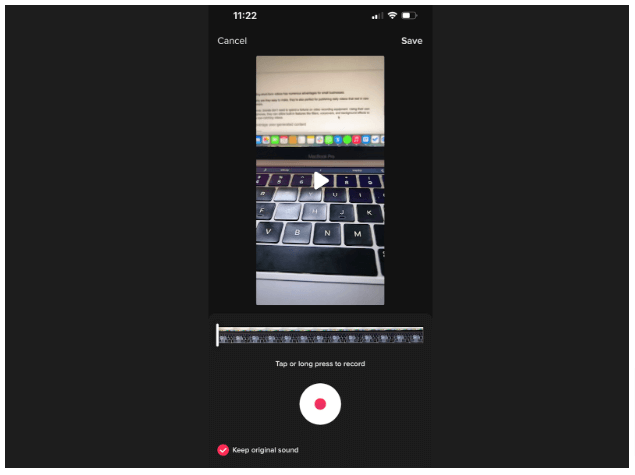 Image Source: TikTok.com
Below are a few tips that will help you create engaging short-form videos to generate loyal customers:
Get straight to the point. Short-form videos that rack thousands or even millions of views don't have lengthy, pointless intros. If you're creating one, jump straight to the question or drop a thought-provoking line that introduces your post's topic.
Plan your posting schedule. Platforms like TikTok and YouTube Shorts let you schedule your post to a specific publishing time. Use it to publish videos during your audience's most active hours.
Use a mix of authentic and branded posts. With short-form videos, brands can post videos on just about anything—from company huddles to daily commutes. However, they should also publish informative videos that offer helpful information, like instructional videos and product demos.
If you need fantastic content for your video marketing at a good price, I recommend the guys at Kimp. Their dedicated video production team is more than capable of creating captivating videos in a couple of days, all for a small, fixed monthly fee for unlimited videos per month.
3. Leverage user-generated content
If your brand isn't new, chances are you have loads of user-generated content floating around social media and online forums.
User-generated content, or UGC, lets you leverage word of mouth to promote your business. This includes product reviews, post comments, and social media posts with your product in them.
You can use social media listening tools like Brand24 to scoop up UGC about your brand from all over the web.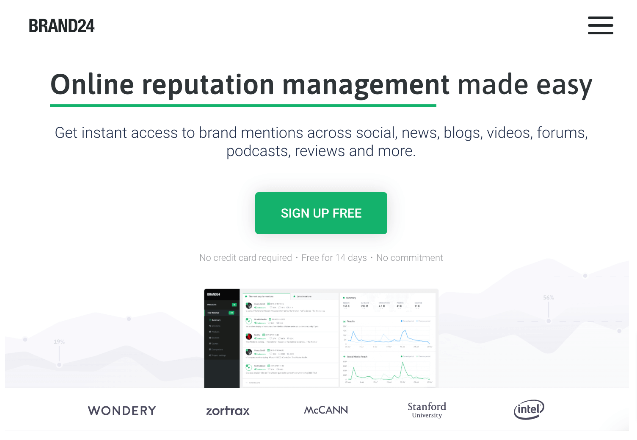 Image Source: Brand24
If you're active on social media, you can also look for user posts and reviews using the built-in search tool.
By proving your solutions work for existing customers, UGC can help you generate leads and attract potential clients or customers. And since they're published through your customers' channels, they will also help your brand reach a larger audience.
Feel free to share or link to positive UGC on your brand's official channels.
Just be careful when taking screenshots or copy-pasting UGC into your website. In doing so, you could be violating a review site's Terms of Service.
4. Automate review request emails
Speaking of UGC, an easy and low-cost way to generate more is to automate review request emails.
Free email marketing platforms like Mailchimp have pre-built automation workflows you can use for this.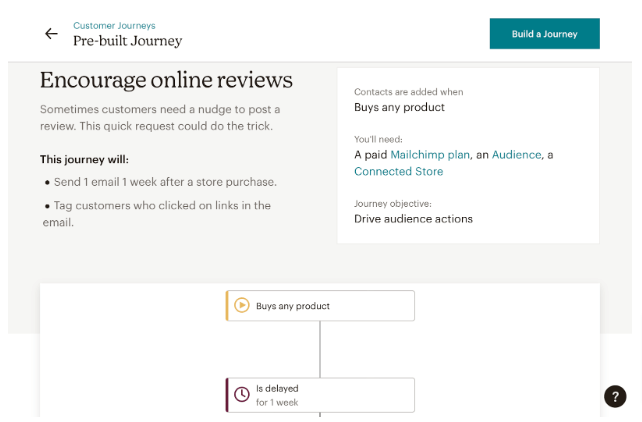 Image Source: Mailchimp.com
Remember to incentivise the reviewing process by offering freebies, discounts, and other valuable resources. If your customers had a good time with your product or their buying experience, they should be willing to write something.
The best part is that your business owns the customer reviews that you have generated yourself. That means you're free to copy and feature them on your product pages or "testimonials" page and your social media profiles.
5. Run social media contests
If there's one thing that's almost guaranteed to work in stirring content engagement:
Free stuff.
People love a good giveaway. You just need to develop simple and frictionless contest mechanics that will encourage participation.
Don't require your audience to fill out elaborate forms or enter their contact information. Rather, require only actions that can be done without leaving the social media app.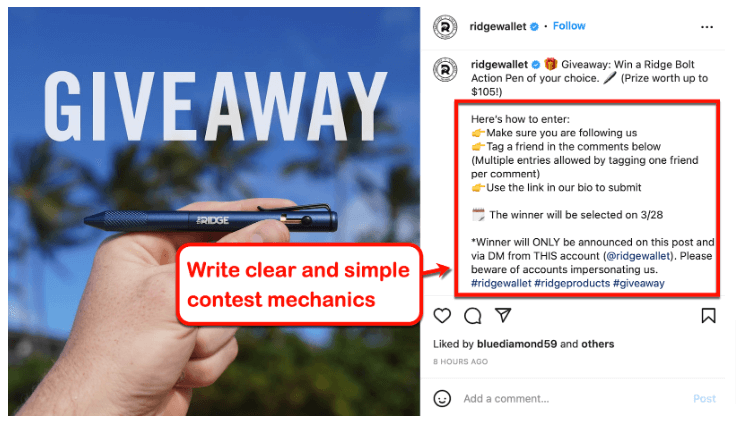 Image Source: Instagram.com, @ridgewallet
Aside from simple giveaways, you can run other contests for building awareness and growing your audience:
Caption contests. Invite your audience to write funny captions to your social media photos. Pick the winner simply by looking for the best caption.
Trivia questions. Reward your most loyal followers by asking trivia questions about your brand. You can pick multiple winners depending on your budget.
Hashtag contests. If your goal is to gather UGC, ask your audience to upload posts about your product using a branded hashtag. You can quickly scan entries by entering the hashtag in the social media app's search tool. You can even pull these hashtags into your website.
6. Promote branded content on Instagram
When I say "branded content," I'm not just referring to posts with your brand's name and logo.
On Instagram, branded content refers to posts promoted by influencers on Instagram. This includes sponsored posts and images that tag your products.
In most campaigns, influencers tag their business partner using the "paid partnership" tag.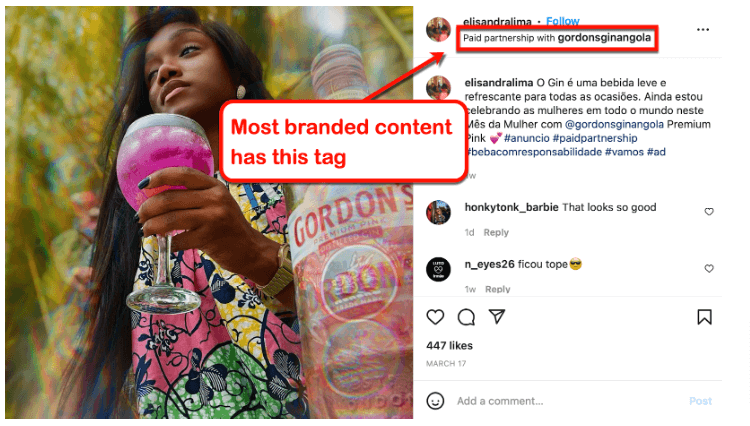 Image Source: Instagram.com, @elisandralima
Business accounts on Instagram can use branded content tools to galvanise their social media presence.
For example, you can enable automatic approval of branded posts from users. If you only want specific influencers to promote your branded content, you can also create your own creator whitelist.
7. Create your Google My Business account
If your business has a physical location, creating a free Google My Business account is a no-brainer.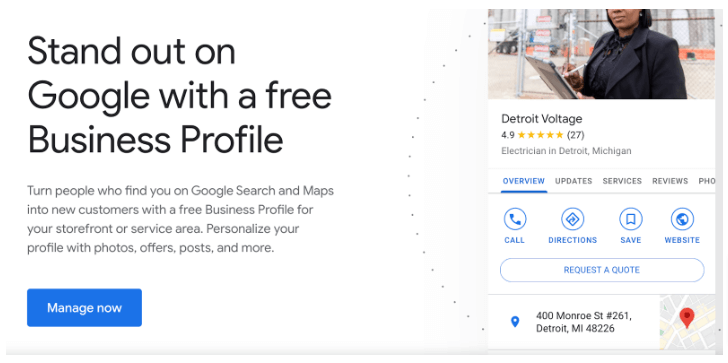 Image Source: Google.com/business
By entering accurate and comprehensive company information, Google My Business will help you appear in lucrative "near me" searches. This is great for local businesses that need to attract more foot traffic and, ultimately, paying customers.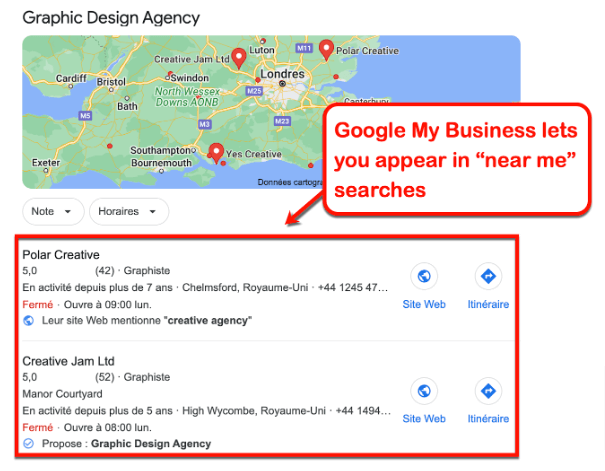 Image Source: Google.com
8. Hop into TikTok trends
TikTok is another short-form video platform that can help brands connect with prospective customers.
Apart from the variety of easy-to-use video editing tools, TikTok also makes trend watching an absolute breeze. On the app's "Discover" page, brands can find and immediately jump into trending hashtags, sounds, effects, and filters.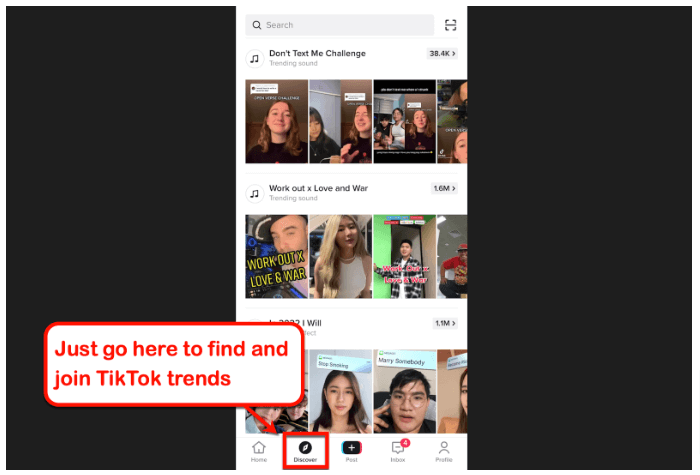 Image Source: TikTok.com
Remember, participating in TikTok trends has zero cost. It will also improve your brand's visibility to TikTok users who are exploring the discover page.
9. Repurpose old content into infographics and promote them on Pinterest
Pinterest is an underrated traffic generation platform for small businesses.
It's perfect for spreading infographics that promote your brand to a broader audience.
The good news is, you can probably publish your first infographic on Pinterest today—no graphic designer needed.
You just need to repurpose information from your existing blog posts and use Canva to piece your infographic together.
Canva has loads of professionally-made templates to help you whip up something pin-worthy in minutes. Not to mention that the tool's drag-and-drop editor makes it easy even for non-designers to customise infographics.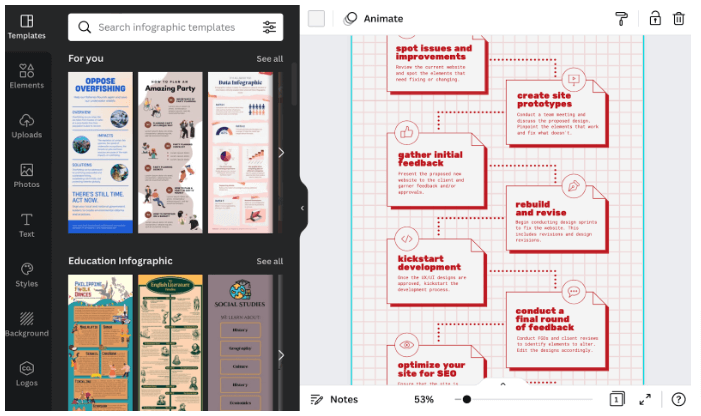 Image Source: Canva.com
10. Offering discount codes for referrals
An excellent strategy for advertising discount codes is to add referral marketing to the mix.
The plan is simple: come up with a special offer and make it redeemable to customers who refer a friend.
There's no need to invest in an elaborate tool to run such a promotion. Simply promote it on social media, ask users to tag someone, and send the code via direct messaging or email.
5 myths about low-cost marketing strategies
Don't let the myths about low-cost marketing strategies prevent you from generating loads of site traffic, engagement, leads, or even sales.
Below are 5 myths about low-cost marketing strategies.
1. TikTok, Instagram, and Pinterest are only for B2C
It doesn't matter if you're a B2B SEO agency or an SaaS provider. You shouldn't write off TikTok, Pinterest, and Instagram in your social media marketing plan.
These platforms may not be teeming with B2B clients in the middle of their buying process. There are, however, other users connected to your potential clients on other platforms.
If you focus on publishing share-worthy posts, you'll create a ripple effect that will eventually reach your target B2B audience.
2. You need an in-house marketing team to succeed
The biggest brands in the world may boast their own team of marketing professionals. However, you don't need to match their investment to compete or even outperform them.
As I mentioned at the beginning of this post, creativity matters more than budget. It's all about being in tune with the pulse of social media and aligning your strategy with your audience's preferences.
3. Advertising is only good for short-term results
The long-term value of your advertising campaigns will depend on how you handle the goal-setting process.
For example, if you're running a Facebook advertising campaign, don't be tunnel-visioned on how to increase sales. Aim for other forms of engagement like writing reviews, subscribing to your newsletter, or following you on social media.
Advertising done well will permanently increase your brand's reach. You can then leverage that reach to maximise the success of your future campaigns.
Don't have time to develop your own marketing strategy?
It's true that you don't always need deep pockets to run a successful digital marketing campaign.
You do, however, need to input a lot of time into planning your strategy. We can work together on this. If you need assistance or have any questions at all about digital marketing, don't hesitate to reach out to me here.