Is your business struggling with local lead generation?
The internet is riddled with how-to guides on how to do lead generation effectively. However, the vast majority of these resources are written for big brands that target the global audience.
It's true that all types of lead generation have the same goal: to get people interested in your brand.
But there's a glaring difference between running lead generation campaigns primed for big brands on the global stage and campaigns that are meant for a local setting—particularly when it comes to the target audience and methods involved.
What is local lead generation?
Local lead generation refers to strategies that raise consumer interest, particularly aimed at a local market.
It's mostly for local businesses with physical establishments that only cater to customers within a specific region. However, big businesses that want to penetrate and disrupt new markets also count on local lead generation to accomplish their goals.
In digital marketing, a lead is defined as someone who has shown interest in a brand through a variety of actions.
A typical example is a user who subscribed to a company's newsletter.
It's a clear indication that they're interested in receiving more content and offers from a particular brand—with the possibility of making a purchase decision down the line.
Why businesses need local lead generation?
Local lead generation is far less competitive than global lead generation.
Local audiences are also much easier to convert into customers if you welcome them to your physical store.
According to a Retail Dive Consumer Survey, 62% of customers prefer in-store experiences because it allows them to physically observe and evaluate products before purchasing. They also choose physical shopping experiences for the following reasons:
Bringing their purchases home on the same day
Immersing in the in-store shopping experience
Asking questions and getting instant answers
With local lead generation, you naturally encourage more people to visit your physical store. This gives your local business the best chance of converting them into paying customers.
Best ways to do local lead generation
Here are 7 proven strategies that will help businesses generate high-quality leads through local lead generation:
Tip 1: Target local keywords
Local SEO or Search Engine Optimisation is often cheaper, less competitive, and more effective in turning visitors into engaged leads.
The foundation of a successful local SEO campaign is a strong keyword strategy, which prioritises location-specific search queries.
For example, if you're an HVAC servicing local business in San Francisco, you don't just target a keyword like "HVAC repair."
Your SEO efforts will yield better results if you target terms like "HVAC repair San Francisco" instead.
Tools like Keyword Magic Tool by SEMrush can supply you with local keyword ideas you can use: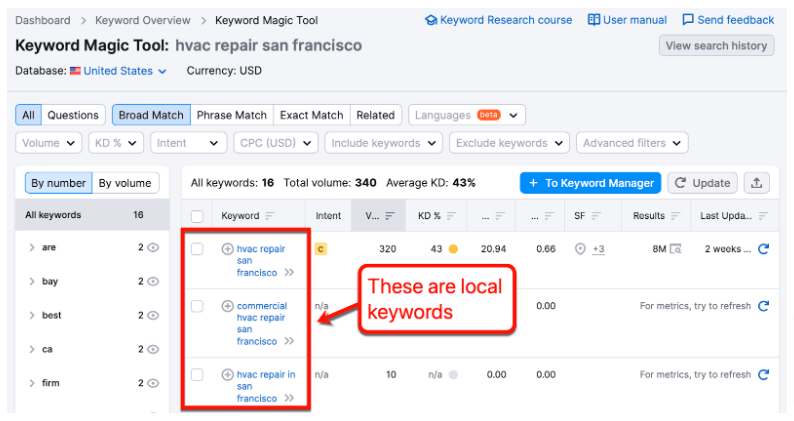 Image Source: SEMrush.com
Local SEO keywords are easier to rank than regular long-tail keywords. Not to mention that they're more likely to generate profitable leads than optimising for broad search queries due to their long-tail nature.
Another way to optimise your content for local lead generation is to use Surfer SEO.
Not only will Surfer help you unearth profitable local keywords, it also comes with an AI-powered extension for Google Docs. This works by evaluating your draft's on-page SEO in real time while providing suggestions for word count, keywords, headers, and more.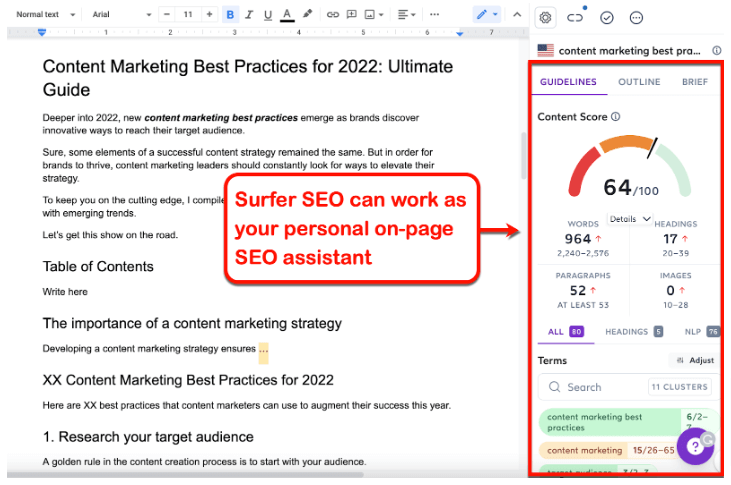 Image Source: Docs.Google.com
Tip 2: Add your location to Google My Business
You can also attract more local leads by optimising for "near me" searches.
As you may have guessed, "near me" searches are done by potential customers who are urgently looking for products or service providers within their area. As such, optimising for these searches greatly benefits local lead generation.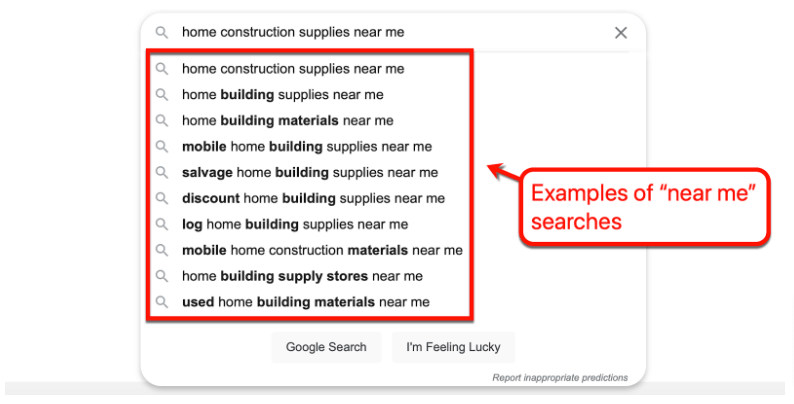 Image Source: Google.com
Google has a handful of ways to determine which websites appear in these queries.
The easiest one, however, is to add your physical location to Google My Business. It's a business tool that makes you visible on Google Maps while also improving your chances of appearing in "near me" searches.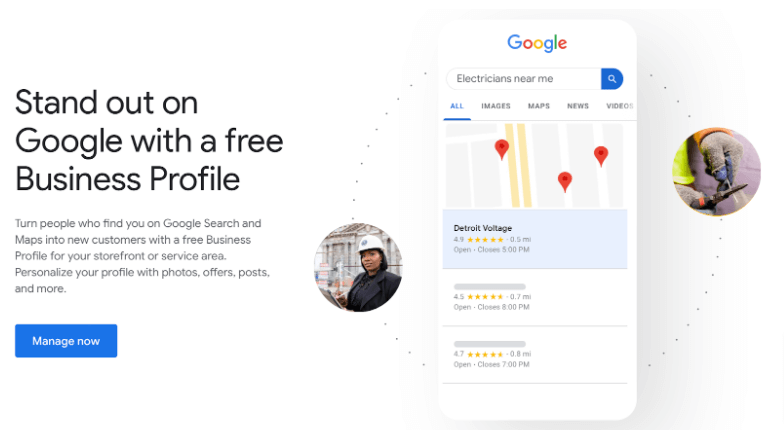 Image Source: Google.com
To use Google My Business, simply log in with your Google account and follow the on-screen instructions. This includes entering your local business name, supplying your business address, and so on.
Remember, optimising for "near me" searches also makes your local business more discoverable to mobile users. That's because people are now more likely to reach for their phones and dictate their search queries to their virtual assistant.
Tip 3: Use popups
Local or not, popups are a great way to generate leads on any website.
It's true that popups were once considered intrusive and terrible for the user experience. But with the right strategies, they can actually enhance the engagement factor by providing value to users.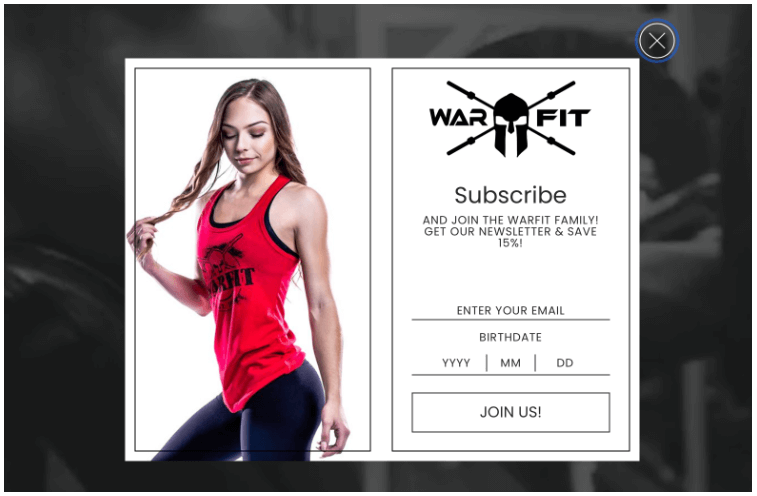 Image Source: Warfit.net
For instance, modern brands use smart popups that only appear once the user satisfies specific conditions. They can appear when the user clicks the 'close' button or scrolls to a specific portion of a page—indicating strong interest.
Of course, there's the popup content itself, which must put the audience's needs first and the brand's promotion second.
OptinMonster is a popular lead generation software you can use to design, publish, and track popup forms. It features a visual, drag-and-drop form builder so you don't have to touch a single line of code.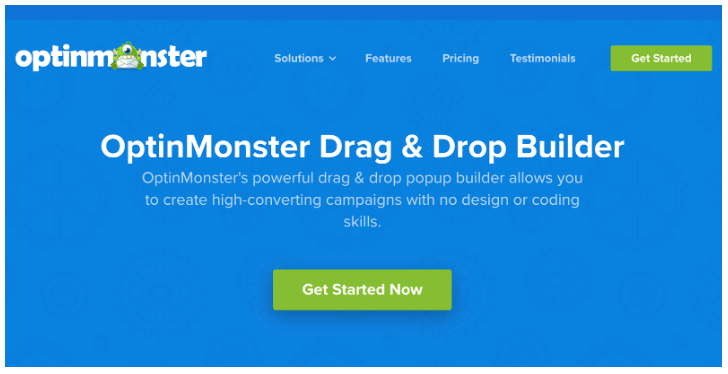 Image Source: OptinMonster.com
Using OptinMonster lets you create a variety of popups. A lightbox popup, for example, is close to a traditional popup, but with advanced targeting features like:
Page-level targeting. Present specific popups to users based on their previous visited pages and interactions.
Device-based targeting. Show different offers between users on their mobile devices and those on their personal computers.
Geo-location targeting. Send value propositions to a local audience and tailor your messaging to the local community and culture.
Since you want to generate local leads, combine OptinMonster's geo-location targeting with dynamic campaign triggers to create a hyper-personalised experience.
For example, rather than presenting local users with a popup straight away, create a geo-targeted popup that only appears when they try to leave your site. This gives you one last opportunity to turn local visitors into leads.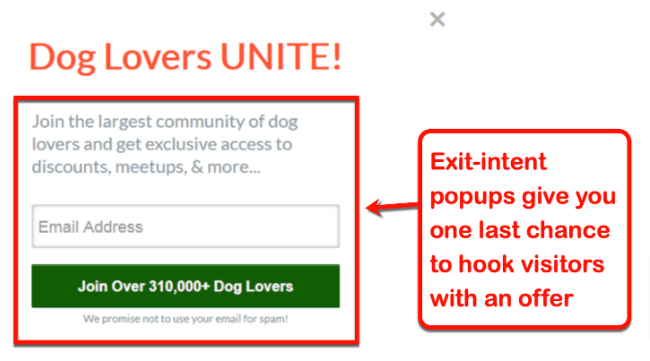 Image Source: DogLovers.com
Other than lightbox popups, OptinMonster also lets you create full-screen "welcome mats," floating bars, sidebar forms, in-line forms, and so on.
Here are some tips on using popups for local lead generation:
Always avoid creating popups that disrupt the user experience.
Create frictionless opt-ins by refraining from asking for too much information.
Use A/B or "split" testing to optimise the conversion rate of your pop-ups.
Tip 4: Promote your local business through social media ads
Want to start generating leads without waiting weeks for inbound marketing results?
You should look into paid social advertising.
A lot of customers looking for nearby businesses use social media to find options.
To reach these potential leads, use the social media platform's integrated advertising tool to instantly magnify your presence.
Facebook Ads, in particular, features a wealth of audience targeting tools that can help businesses make the most out of their advertising dollars. You can target users by age, location, interests, behaviours, and a slew of demographic factors.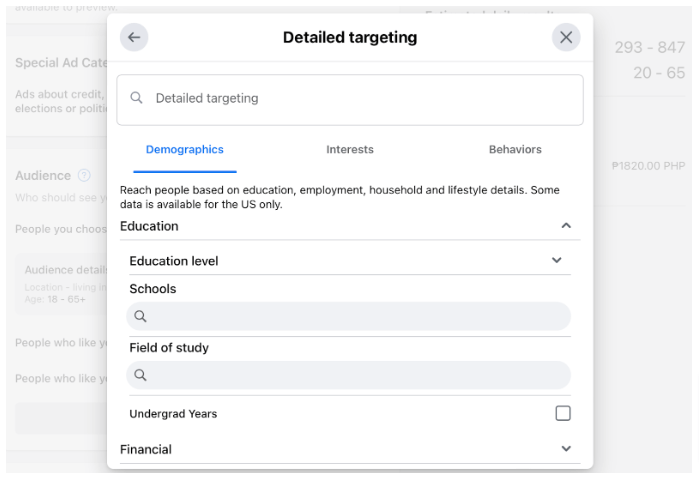 Image Source: Facebook.com
To get leads for your local business, be sure to specify the exact locations you want to target in the "Edit audience" window. You can add multiple locations and set a custom radius of distance from your target locations.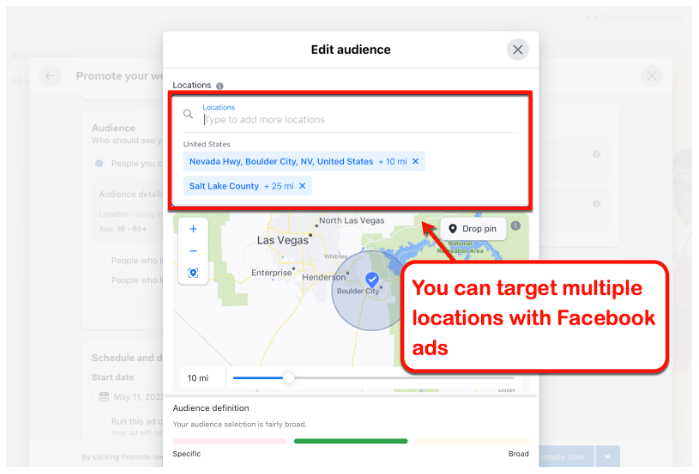 Image Source: Facebook.com
Not sure how to configure your ads?
Facebook comes with an automated ads feature that automatically optimises itself based on your needs. All you have to do is answer a series of questions about your local business and goals—Facebook will do the rest.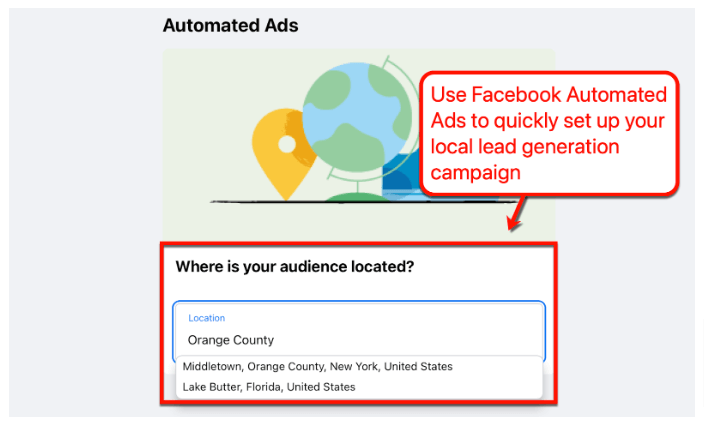 Image Source: Facebook.com
Tip 5: Remember your offline marketing efforts
With so much emphasis on digital channels, some local businesses forget the importance of traditional, offline marketing in lead generation.
Offline marketing highlights the benefit of proximity that will make potential customers come to you. Best of all, you rarely need to invest in digital local lead generation tools to make offline campaigns work.
Here are some ideas you can try:
Printed materials. Pamphlets and flyers are relatively cheap to make, but they can turn into an enormous waste if not utilised strategically. As a rule of thumb, design printed materials that focus on providing value, such as actionable tips and free shipping coupons.
Business cards. Handing out business cards is as personal as you can get when it comes to generating local business leads. Give stacks of business cards to your professional and personal connections, post them on local bulletin boards, and partner up with non-competitor businesses that target the same audience to distribute your cards.
Trade show appearances. Trade shows provide a huge opportunity to local business owners by letting them raise awareness and captivate in-market buyers. Some trade shows are held specifically for B2B players, but a lot of them also attract the general crowd.
Billboards and posters. Billboards and posters are classic examples of local, offline marketing in action. They're not always cheap, especially with high-traffic placements, but they can definitely get the word out on your business.
Have a read of these free marketing ideas for some extra tips.
Tip 6: Run a social media contest
In the age of social media, more and more businesses are raking in leads hand over fist with social media contests.
The thing is, social media users love interactive experiences, especially if they get to do it as a community. Social media contests offer exactly that—with the added excitement of possibly winning a prize.
Fortunately, you don't need to use or do anything fancy to run a social media contest.
A simple hashtag contest only requires a unique and fun contest mechanic. Chicnutrix, for example, asked their followers to come up with a birthday hashtag while nominating three friends.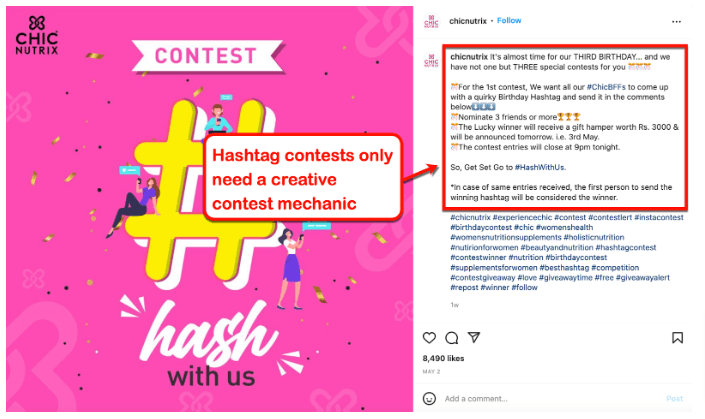 Image Source: Instagram.com, @chicnutrix
Social media contests are a low-cost marketing strategy with high potential returns. However, marketers still need to put a lot of thought into the contest mechanics to make it successful.
Below are a few ideas:
Ask your followers to post a photo with your image and use a specific hashtag. In addition to raising brand awareness, this will also supply you with user-generated content you can use for further promotions.
Post a random image and ask your followers to write a funny caption. This could be the easiest and most straightforward way to run an engaging contest.
Run a "tag a friend" contest to encourage participants to spread the word about your brand. This contest type can exponentially grow your social media reach and following.
Tip 7: Create a localised opt-in offer
Let's say you have a lead generation campaign running for a while.
Now, your content tracking indicates that your landing pages are getting traffic. But when you look at your conversion numbers, you're staring at a bunch of zeros.
Keep in mind that a lot of people aren't easily swayed by value unless they can get them immediately. That's why marketers use opt-in offers or "lead magnets" to get more conversions.
Some examples of lead magnets are:
Free eBooks
Discount coupon codes
Branded freebies
Free reports or white papers
Templates
Free trial access
Gated content
As a local business owner, be sure your lead generation system uses localised lead magnets. That means they should offer content that's relevant, useful, and valuable to the local crowd.
Local lead generation: Frequently Asked Questions
Question 1. Is local lead generation profitable?
Local lead generation can increase your revenue passively if you target organic traffic from search engines and social media. Small local businesses can also achieve measurable, short-term results through locally-targeted advertising.
Question 2. How do you generate local leads?
Apart from local SEO, pop-ups, ads, and offline marketing, businesses can get local leads through social media contests and influencer marketing. It's always important to add the ingredient of locality to these campaigns, like picking a local influencer or hosting location-specific giveaways.
Question 3. What are the three approaches of lead generation?
The three core pillars of lead generation are: content marketing, social media marketing, and search engine marketing. These represent the channels used by audiences to discover new businesses they might be interested in.
🤩
Run high-performing lead generation campaigns now
Local lead generation is a powerful and cost-effective way that businesses use to hit or exceed revenue goals.
If you want to get your local lead generation to a running start, click here to schedule your free consultation today!