Do you want to learn the secret sauce to help you build a profitable affiliate marketing sales funnel?
This guide has you covered.
Data shows that affiliate marketing generates 5 to 25% of online sales for big companies and brands.
The catch is, earning that amount of sales takes more than promoting your affiliate marketing program and acquiring affiliates.
It would help if you had a profitable affiliate marketing sales funnel for your efforts to pay off.
Buckle up as we go through some tips and tricks, including mini walkthroughs and the best funnel-building tools below, to help you develop a profitable affiliate marketing sales funnel that converts.
Let's jump right in.
What is an affiliate marketing funnel?
The affiliate marketing sales funnel is a series of stages that potential customers go through before purchasing an affiliate product or service. While marketers use different models, affiliate marketing funnels typically include four stages: awareness, interest, desire, and action.
This is known as the "AIDA" sales funnel model.
Awareness: The awareness stage is at the top of the affiliate marketing funnel. Here, the target audience learns about the affiliate product for the first time.
Interest: In this stage, the audience expresses interest in the product but is still far from a purchase decision. However, they have interacted with your brand in different ways, like writing blog comments and subscribing to your email list.
Desire: Audiences continue to learn more about the product and eventually develop a desire to own it. They start reading more product reviews, researching competitors, comparing pricing options, and more.
Action: The action stage is where marketers can reap juicy affiliate sales. It's at the bottom of the funnel but still requires a strategy for generating repeat customers.
A successful sales funnel is essential in monetising a website, especially affiliate marketing.
As an affiliate, you're not the only channel where potential customers can purchase the same products. Your selling point should be the experience you offer through each stage of the buyer's journey.
What are the benefits of an affiliate marketing sales funnel?
Here are the top three benefits of an effective affiliate marketing funnel:
Benefit 1: Supercharge content planning
If content ideation and planning bottleneck your affiliate marketing business, building a sales funnel sorts things out.
An affiliate sales funnel maps out the content types and topics you need to accomplish your marketing objectives. This allows your team to produce content faster and more efficiently.
Benefit 2: Maximise your content budget
An affiliate marketing funnel eliminates the guesswork in your content planning process, ensuring every piece you create brings leads closer to a purchase. It prevents you from wasting resources on content that contributes nothing to the buyer's journey.
Benefit 3: Grow your affiliate product sales
Build an affiliate marketing funnel to provide your audience a seamless experience from product discovery to purchasing.
With a sales funnel, you avoid information gaps that compel users to find another website for answers. This keeps them returning to your site as they pass through every stage and eventually make a purchase through your affiliate link.
How to build an effective sales funnel for affiliate marketing
Read on to learn the steps on how to create effective affiliate marketing sales funnels:
Awareness stage
Reach more potential customers with a mix of outbound and inbound marketing strategies.
Your primary goal is to maximise traffic, grow your reputation as an information source, and introduce them to your affiliate products. This involves two steps: 1) creating educational content and 2) promoting content to the proper channels.
Step 1: Research your target audience
Conduct audience research to determine your affiliate marketing funnel's best traffic channels and content types.
Answer questions like:
What challenges do they face (that your affiliate product solves)?
Where do they spend the most time online?
What's their highest educational attainment (or their reading level)?
Compile your answers into "audience personas" for easier reference.
An audience persona is a fictional person who represents your target audience. This helps affiliate marketers build and tailor their content strategy to the audience's preferences.
Use tools like Google Sheets or online design apps to create scannable audience personas for future content projects.
Canva, for instance, offers customisable "personal profile" templates you can tweak for creating personas. Change the headers to create sections for important information, like "responsibilities," "challenges," and "goals."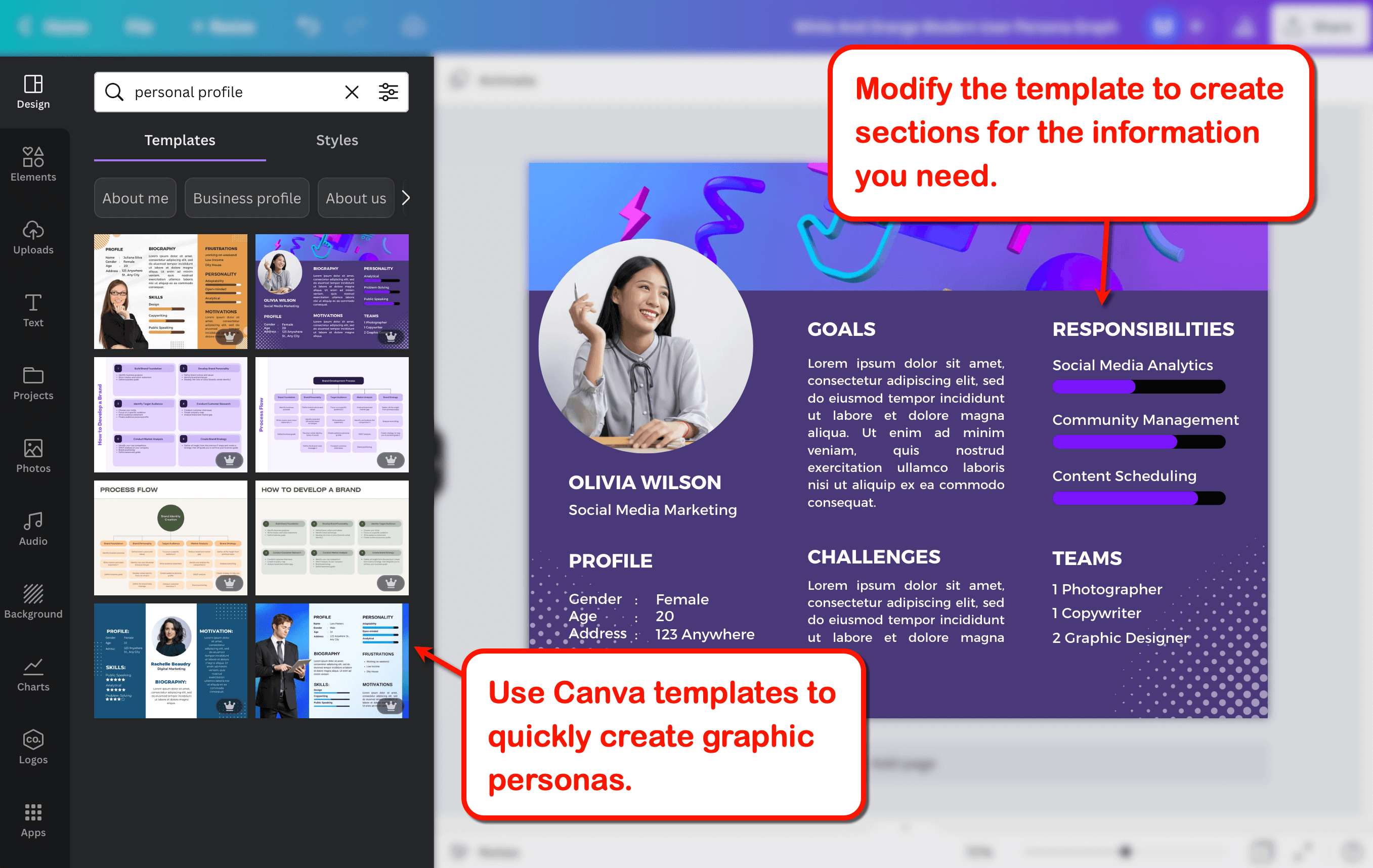 Step 2: Look for question-based keywords
By researching question-based keywords, obtain a deeper understanding of your target audience's goals and challenges.
The Keyword Magic Tool by Semrush is the perfect tool for this.
Click 'Keyword Magic Tool' from the main menu under "Keyword Research." Begin your research by entering a relevant keyword or topic into the "Enter keyword" field.
For example, if your affiliate product is a project management tool, feel free to use it as your keyword.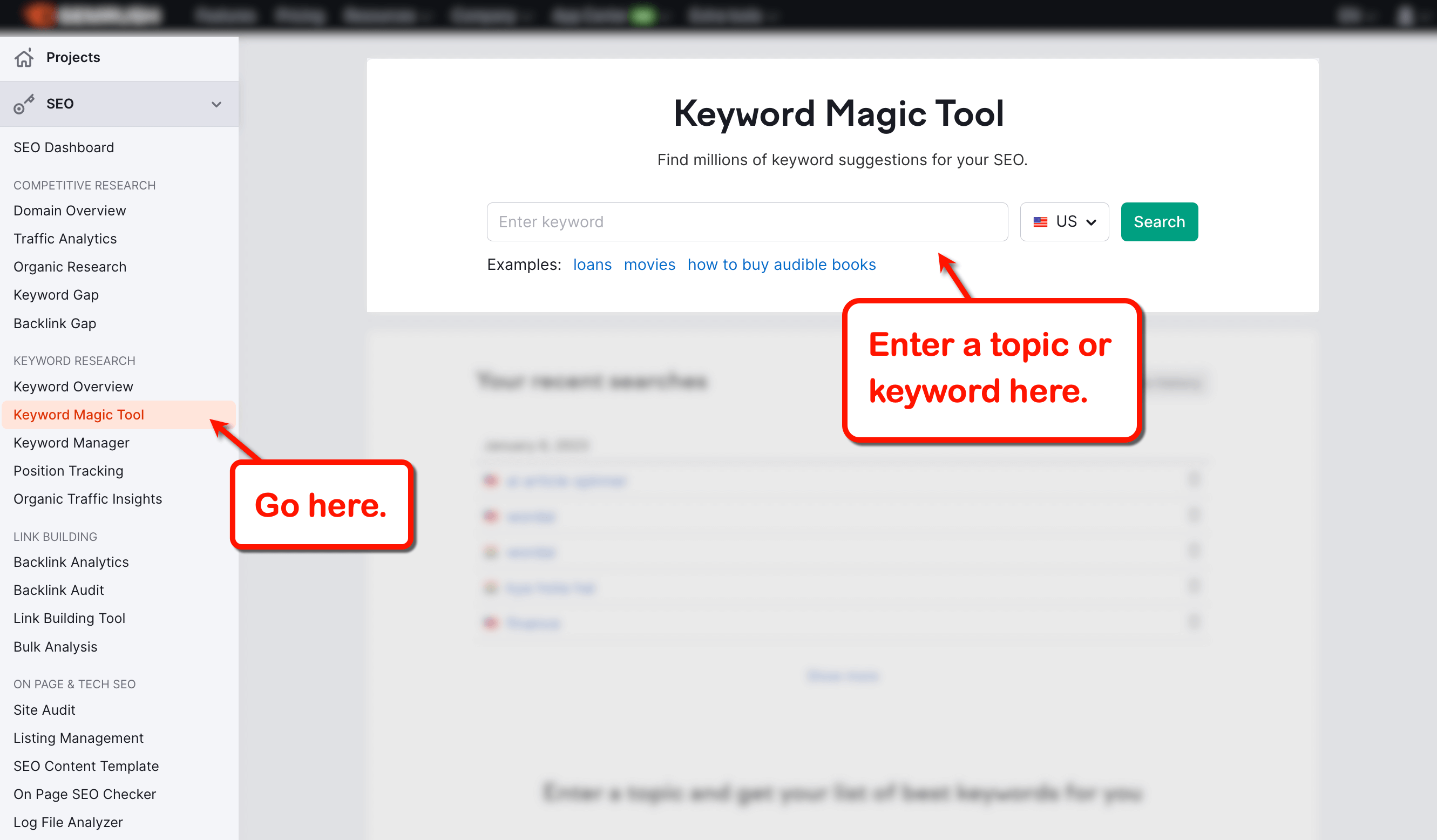 On the results page, click 'Questions' in the top toolbar to reveal question-based keywords. These keywords relate to your target audience's goals and challenges.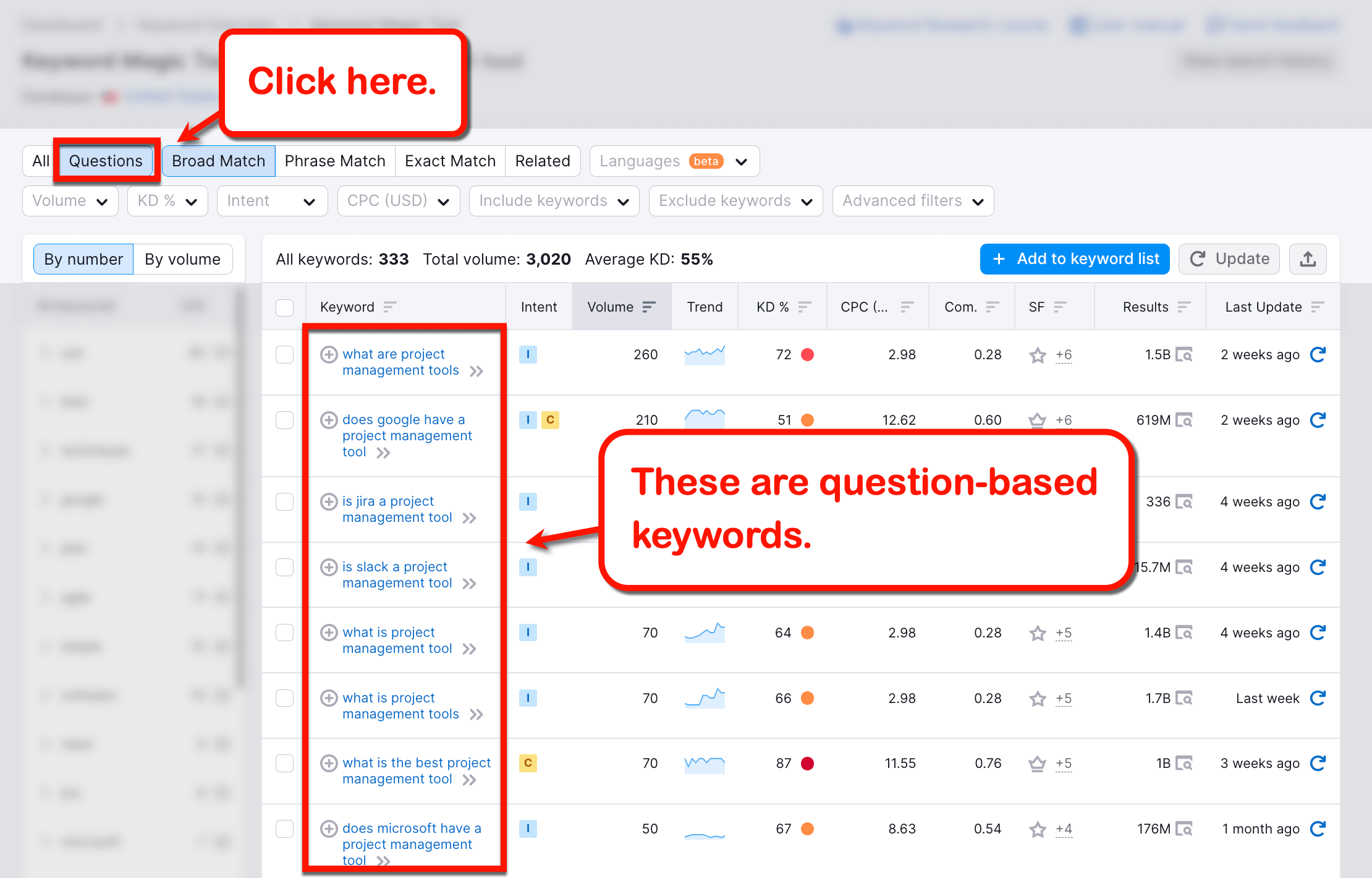 In addition to rounding up question-based keywords, Keyword Magic Tool includes metrics like monthly search volume, keyword difficulty, and Cost Per Click (CPC). These will help you handpick keywords for Search Engine Optimisation (SEO) and Pay Per Click (PPC) advertising campaigns.
Tip: Mind the keyword difficulty rating (KD% in Semrush) when picking keywords for your affiliate marketing funnel. Look for keywords with a maximum KD% of 49 to help you rank and pull organic traffic quickly.
Step 3: Build a top of the funnel (ToFu) content strategy
Use the question-based keywords you obtained to create top-of-the-funnel (ToFu) content, feeding traffic down your affiliate marketing funnel.
Here are typical examples of ToFu content:
Q&A-style blog posts
How-to guides
Industry news articles
General listicles
Use your keyword to create title ideas for the ToFu content you want to build.
Let's say you want to build ToFu content around the keyword "why use a project management tool."
You can create a general listicle called "Why Use a Project Management Tool: 10 Reasons Why" or "Why Use a Project Management Tool: 10 Best Benefits Explained."
ToFu content is meant to introduce potential customers to your affiliate products, so you don't need hard-selling copy yet. However, it's crucial to make a solid first impression. Polish your content with a writing assistant like Grammarly. It automatically detects writing mistakes and provides one-click correction suggestions.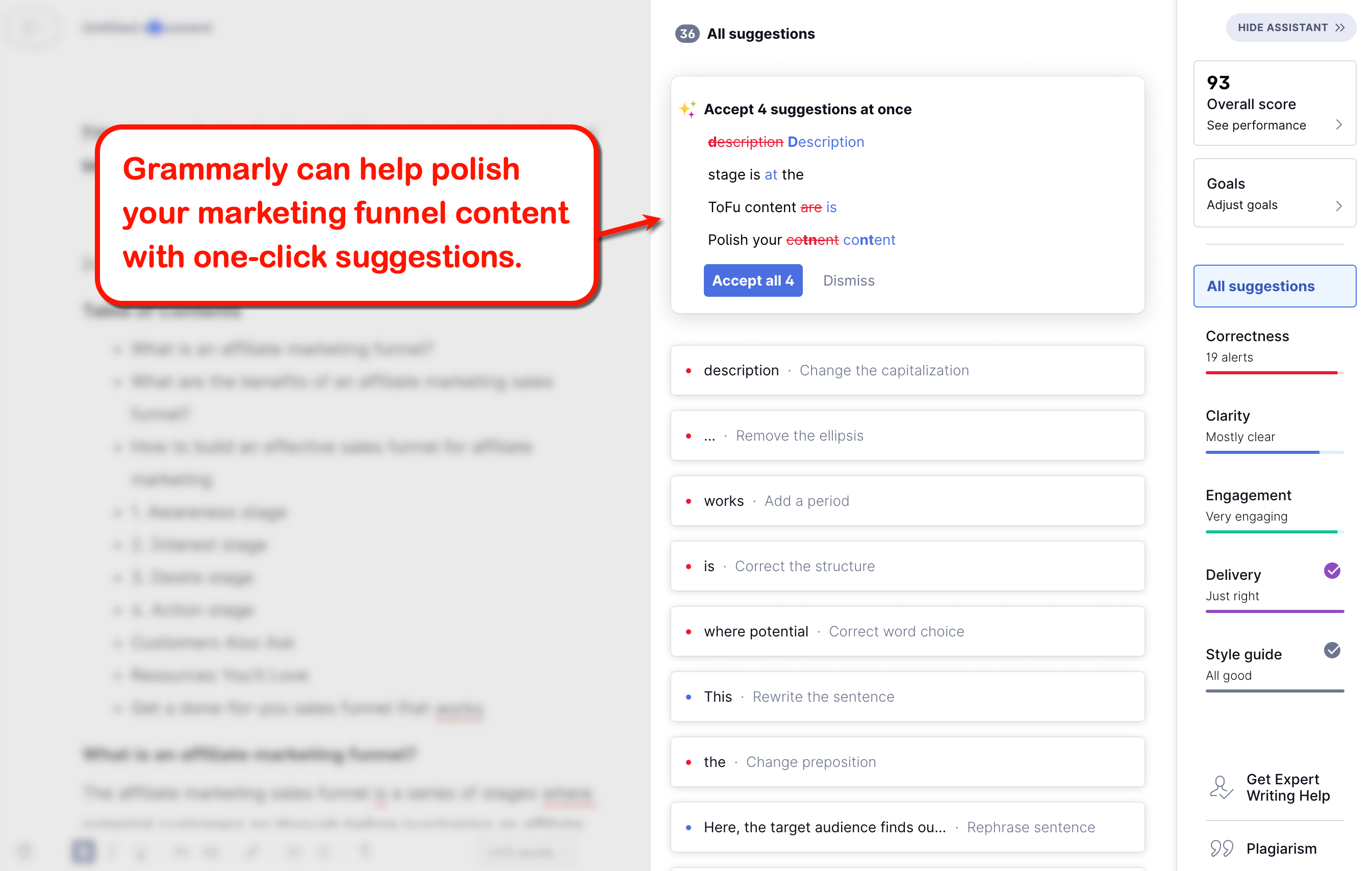 Grammarly also shares recommendations based on your custom writing goals. Use them to help enhance your content and their effectiveness in engaging potential customers.
Don't forget to mention your affiliate product(s) and discuss their benefits.
Step 4: Optimise your content for search
Optimise your content with a tool like Surfer to rank higher in search engines.
Surfer features a "content editor" that offers actionable optimisation goals, like target content length, image count, headings, and keyword ideas.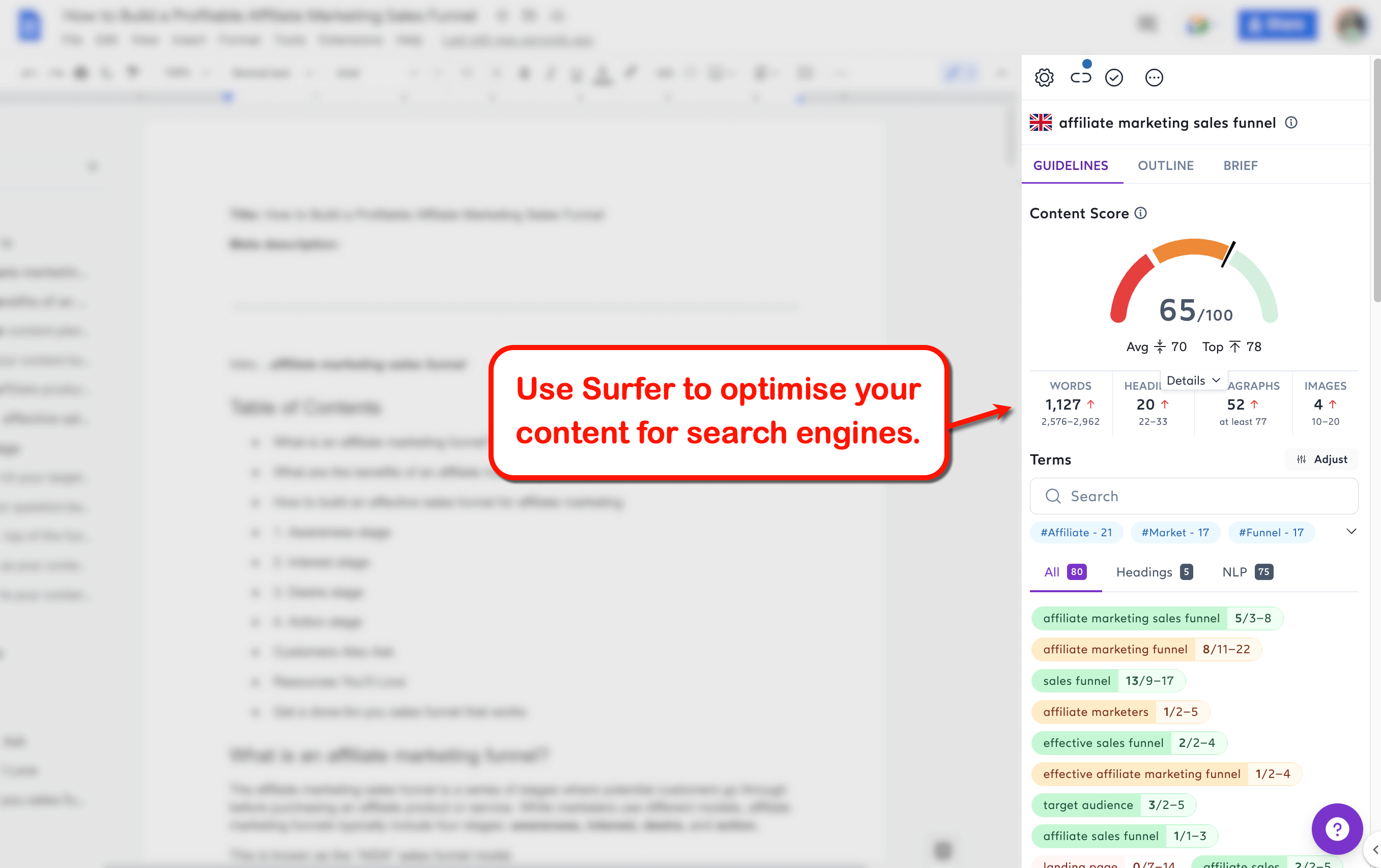 If you don't have the budget for another SEO tool, remember the following guidelines when creating content:
Add your target keyword near the beginning or end of your content's title.
Mention keywords within the first 100 words of your post.
Use keyword-optimised subheadings.
Insert internal links to other relevant posts (including related posts you'll create in the future).
Step 5: Promote your content to the right channels
Push your content to reach a wider audience using proven promotion strategies, like social media marketing and paid advertising.
A link to your post should suffice for most platforms like Facebook, Twitter, and LinkedIn. But for sites like Instagram, Pinterest, and YouTube, you'll need to repurpose your content to the right formats.
Manage your publishing strategy with a free tool like Buffer. It lets you build a content calendar that automatically publishes posts at specific times, maximising the exposure of your affiliate content.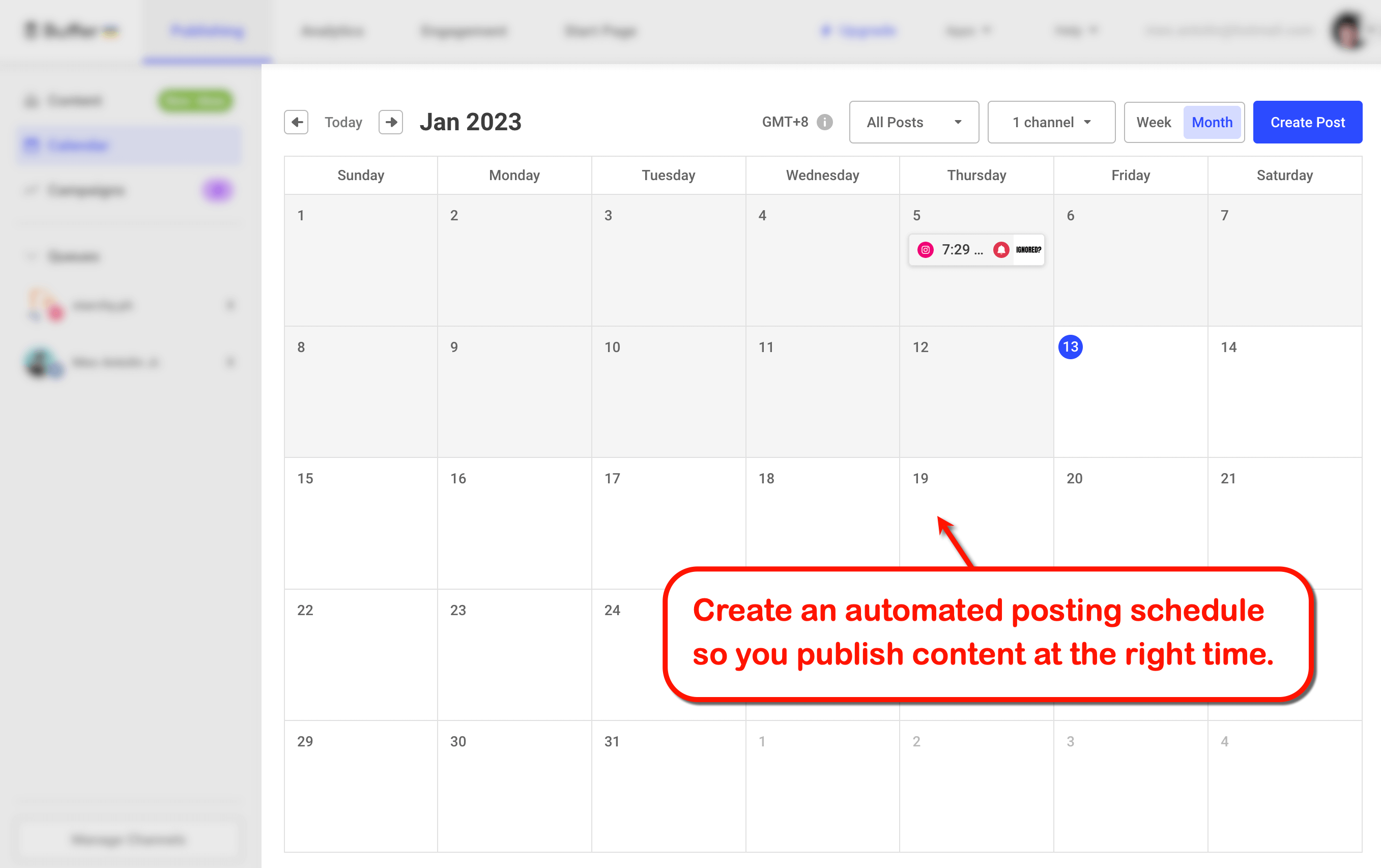 When it comes to advertising, remember that your goal isn't to sell affiliate products yet. Instead, it's to build your brand authority and follower base.
It won't immediately lead to affiliate sales but will grow your social media reach and reward you with long-term recurring traffic.
Must-read: Content Publishing Strategy (with 20-Point Checklist)
Interest stage
After publishing ToFu content that draws potential customers, shift to creating middle-of-the-funnel (MoFu) content.
Step 1: Create a lead magnet
Develop a lead magnet to convince potential customers to give their email addresses.
Affiliate marketers use a variety of lead magnets or "opt-in bribes" to capitalise on their audience's interest. Some examples are:
eBooks
Cheat sheets and templates
Online course
Premium content
Free apps
Free consultations
Industry reports
Remember to give decent coverage to your affiliate product(s) in your lead magnet. Emphasise their benefits and insert your affiliate link to generate affiliate sales.
Just ensure that your lead magnet aligns with your target audience's goals. Furthermore, it should be leagues ahead of your regular ToFu content in terms of depth and overall quality.
Consider building your content with a tool like Canva or hire on-demand graphic design services like Kimp. They create a range of visual content along with reusable branded assets.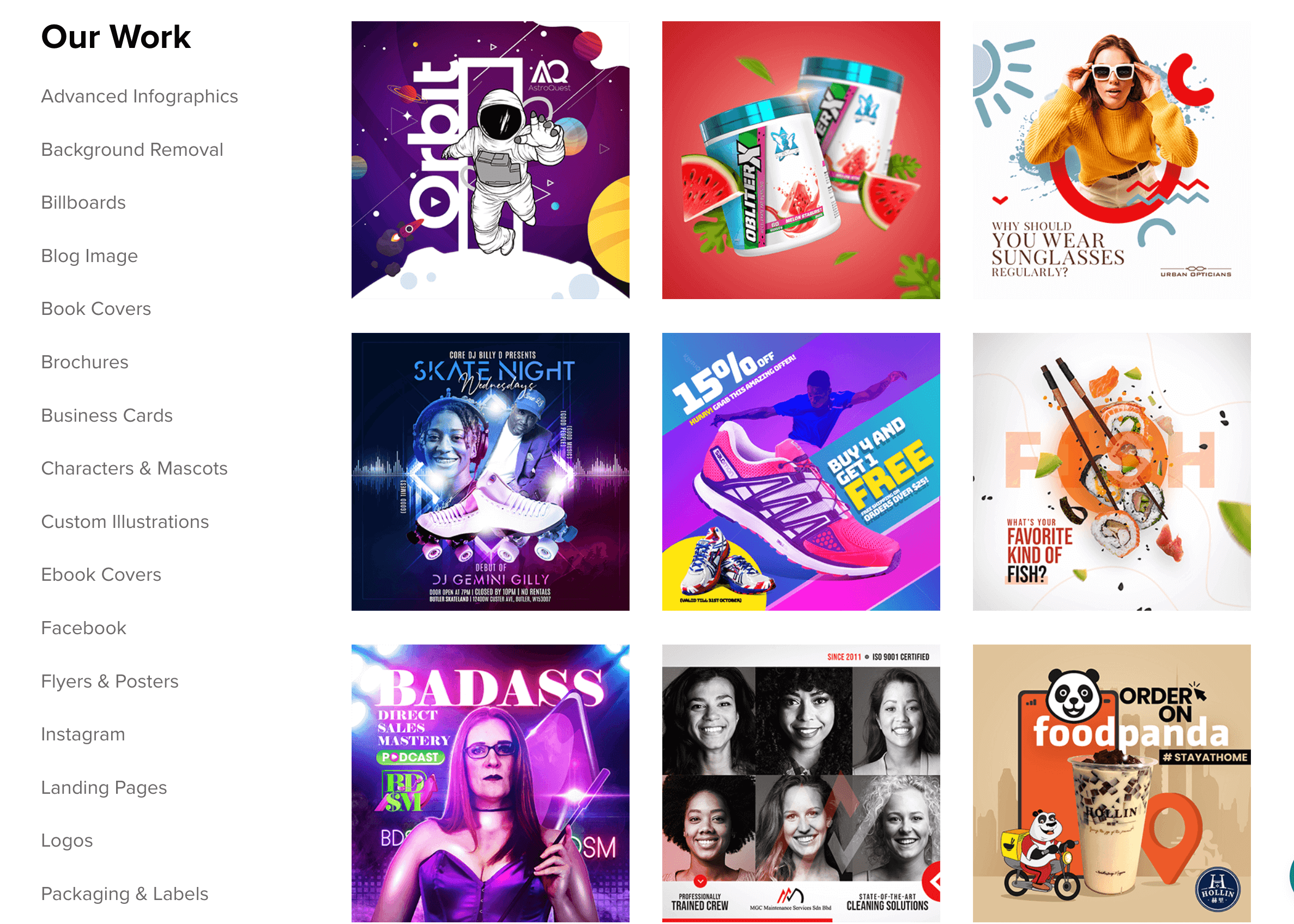 Step 2: Create a landing page for your lead magnet
Build a landing page to highlight the benefits of your lead magnet and streamline the opt-in process for your target audience.
A lead magnet landing page is like a sales page. But rather than promoting a paid product, it offers a free resource.
Instead of asking for cash, lead magnet landing pages only request your audience's email.
Use tools like Mailchimp to create landing pages and manage your email list in one place.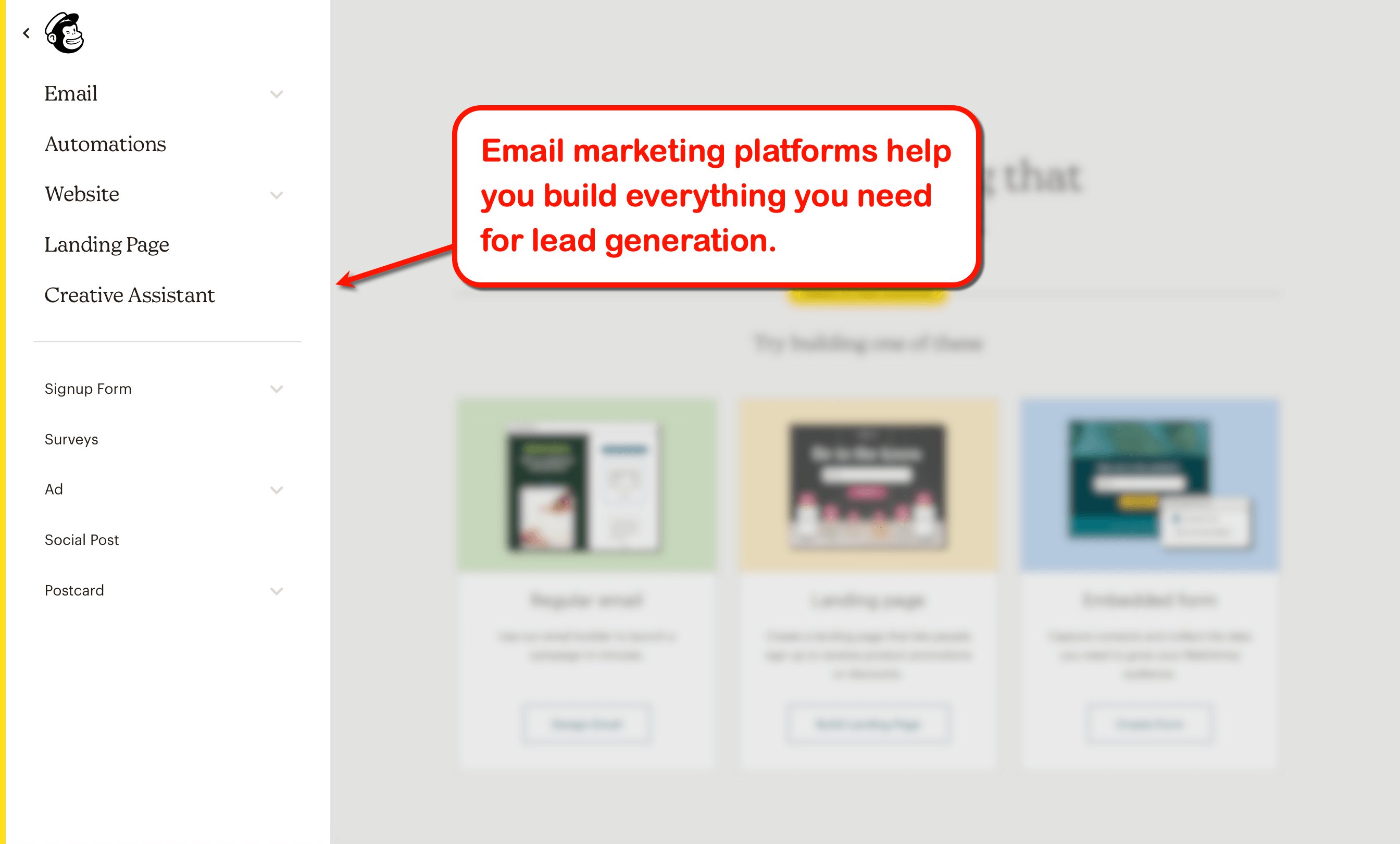 Below are tips for creating successful lead magnet landing pages:
Write a compelling headline. Talk about the results your audience can get. Insert specific numbers and statistics.
Make the benefits easy to find. Mention the benefits above the fold or use visual content (graphs, videos, etc.) to direct your audience's attention.
Use a strong Call-to-Action (CTA). Write a goal-driven CTA button label or link anchor text (i.e. "click here to start creating eye-popping designs!").
Step 3: Promote your landing page
Improve the visibility of your landing page to prospects in the interest stage through smart internal linking and heavy content promotions.
First, add internal links to your landing page from your ToFu content using these strategies:
Create a sidebar CTA that encourages readers to visit your landing page.
Add a new section within your ToFu content that mentions the benefits of your lead magnet.
Find existing keywords within ToFu content and embed a link to your landing page.
Next, schedule social media posts mentioning your lead magnet and your landing page's URL. Consider inserting a link to your landing page in your social media bio.
Desire stage
Go on the offensive and start pushing promotional content pieces that sell your affiliate product(s). The best targets for this move are those who collected your lead magnet and subscribed to your email list.
Step 1: Start with a "thank you" email
Automate a "thank you" email that tells prospective customers what to expect from you moving forward.
At the same time, lightly mention your affiliate product or any special offer available through your affiliate program.
Use email automation templates from platforms like Mailchimp. These plug-and-play workflows are pre-optimised for positive results—they don't need heavy modifications to be effective.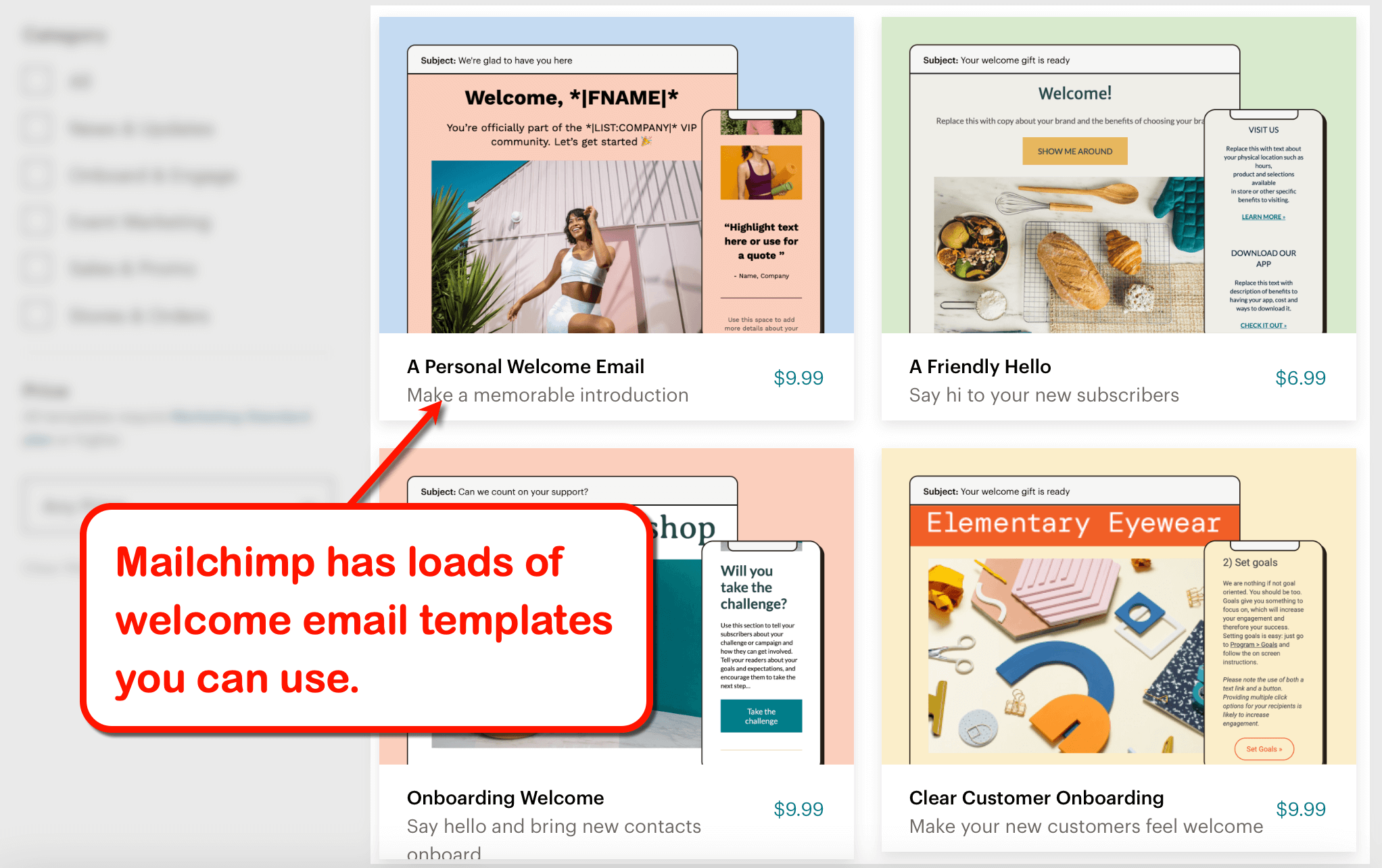 Step 2: Schedule a follow-up
Automate a follow-up email a few days after sending your welcome email.
This time, delve into the specific features of your affiliate product and how they can help your audience solve their problems.
At this point, they're just a few steps away from a purchase decision. Just give them the extra push they need by reminding them about the product's benefits (and showing a convenient link to the product's sales page).
Step 3: Start churning out bottom of the funnel (BoFu) content
If leads are still reluctant to convert into paying customers, send them a regular stream of bottom-of-the-funnel (BoFu) content.
Share price comparisons, customer success stories, coupon codes (if possible), and "getting started" guides.
At the same time, keep them thinking about your affiliate product by sharing updates, "hacks," and user-generated content (testimonials, reviews, social media posts, etc.).
Action stage
You have two objectives in the action stage: make your audience buy more and understand what you can do to increase sales.
Continue promoting new content and affiliate products to your audience via email. To learn more about them without forcing more sales, run surveys with questions like:
How would you rate your experience?
How did you find out about our website?
What types of products are you interested in?
What content type do you want to see more of?
Create surveys in no time with tools like SurveyMonkey, Typeform, and Google Forms. These tools feature a visual builder and survey management dashboard for tracking responses.
You can also inspect analytics data from your email marketing platform, landing page builder, and other services like Google Analytics. Use the information you gathered to create lookalike audiences, update your audience personas, and find opportunities to improve your affiliate marketing funnel.
Resources You'll Love
Get a done-for-you sales funnel that works
A well-planned sales funnel unlocks the true profitability of any affiliate site.
The catch is that that it can take ages to map the stages and prepare all the content you need.
Give your funnel marketing a head start.
Contact me here, and let's create an affiliate marketing funnel that works for you.