In his groundbreaking book "Permission Marketing: Turning Strangers into Friends and Friends into Customers," Seth Godin contends that traditional or Outbound marketing has become less effective in modern times. Over 20 years after the book was published, his words ring truer than ever and the trend is becoming stronger. Here are some facts:
Outbound marketing may not be dead and buried, but these are the times of inbound marketing. It is time to start turning to inbound, and this article will tell you how. So grab some good coffee and sit down for 15 minutes, because you'll be learning everything you need to know about inbound marketing and how to get set up.
Inbound Vs Outbound Marketing
For those who just joined the party, inbound marketing is the digital version of Permission Marketing, a concept that marketing entrepreneur Seth Godin introduced for the first time in 1999.
In traditional marketing, sometimes called "Interruption Marketing," you interrupt your audience to tell them about your product or service and hope that they'll listen. For instance, a TV spot interrupts their favorite TV show, or a tradeshow interrupts their daily routine. By contrast, Permission Marketing involves obtaining your audience's permission before you hit them with your marketing messages, for example, an online subscription or a signup where the receiver allows you to send them mail.
In the context of the internet, inbound marketing makes your offer or brand visible to an audience that is already looking to buy products like yours. The aim of inbound marketing is to make it convenient for your audience to find you when they need your products or services, and make it desirable for them to receive your messaging and transact with your business.
Outbound marketing involves pushing your messages at large swaths of people and hoping to get noticed by your prospect customers. It includes activities such as cold calling, unsolicited direct mail, trade shows, telemarketing, advertising, etc.
Inbound marketing mainly consists of content marketing activities, such as blogs, podcasts, video, eBooks, newsletters, social media marketing, etc. Additionally, SEO, conversion optimization, and physical product trials also fall within the definition of inbound marketing.
The following infographic from WordStream sums up the difference beautifully: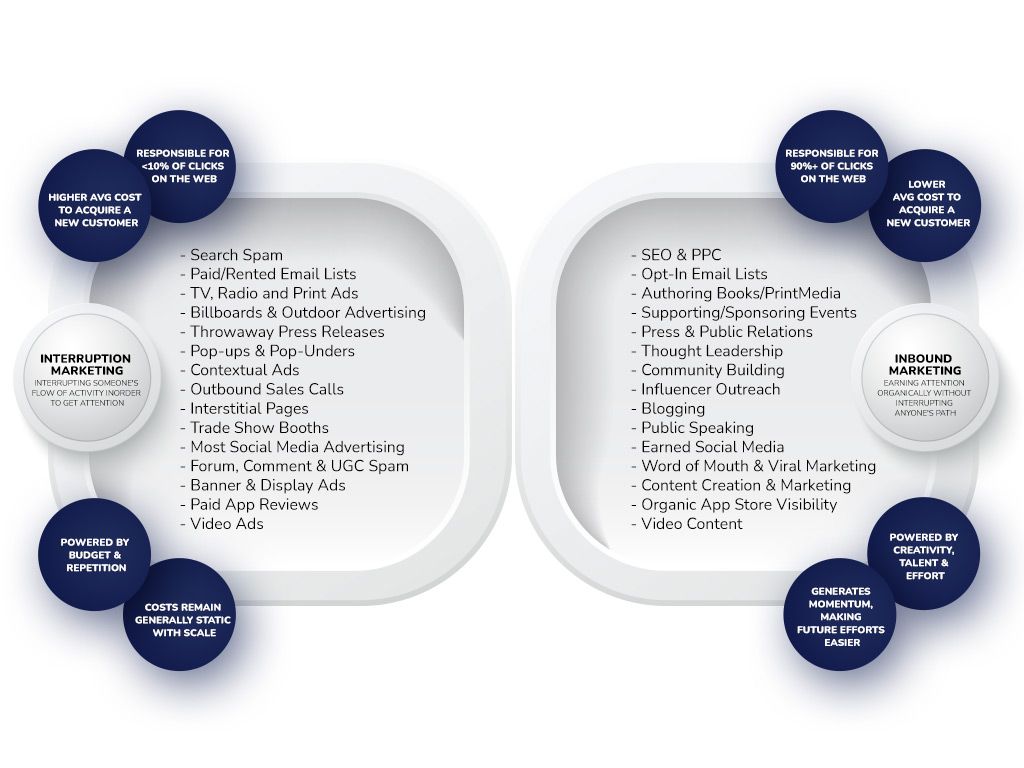 Why You Must Turn Inbound
Your customers are the biggest reason to focus your attention on inbound marketing. People are faced with so many media choices and marketing messages today that they have evolved methods of tuning out unwanted advertising. According to the 2015 Adblocker Report, ad blocking increased by 41% globally, burning away nearly $22 billion worth of advertising. Studies have confirmed that an average adult is exposed to between 3,000 and 20,000 brand messages a day, but engages with only 12 of them.
People today have ad-free media options like Netflix. They can effortlessly transition between different types of media, switch channels, or just skip through commercials. Why would they ever watch your outbound message/video, unless they actually want to? As Millennial consumers grow up and your customers grow even more tech savvy, outbound marketing is predicted to die a slow death.
Inbound marketing also boasts a better ROI because of lower customer acquisition costs, lower wastage and higher conversion rates. The 2015 State of Inbound Report by HubSpot states inbound efforts achieve higher ROI than outbound regardless of company size or total marketing spend. Every company surveyed was three times more likely to see a higher ROI on inbound marketing campaigns than on outbound.
Inbound marketing it's particularly essential for small businesses and startups, because they can expect higher returns even on smaller budgets. Companies with annual marketing budgets below $100,000 were found three times as likely to see a higher ROI on inbound marketing campaigns than on outbound. There's also evidence that inbound leads cost 61% less on the average than outbound leads.
Paradoxically, some outbound budget is still essential to trigger inbound campaigns. But, you may be better off spending most of it offline, on media such as billboards, which the viewer can't escape.
"If you have more money than brains, you should focus on Outbound Marketing. If you have more brains than money, you should focus on Inbound Marketing." - Guy Kawasaki
How to Set Up for Inbound Marketing
According to the State of Inbound Report, 75% of marketers around the globe currently prioritise inbound marketing. If you're one of them, you should understand that inbound marketing is a long game. While you're likely to see some immediate results when the year ends, the true value of inbound will take more time to materialise. The long-term benefits of inbound marketing include:
Higher cost efficiency and lower cost per lead
Higher conversion rates (because of anticipated, personal, and relevant messaging)
Better targeting through personalisation
Long term relationship building with your customers
A better brand image because you're not annoying people with interruption marketing
A long-term inbound strategy is the first thing you need. You should be committed to your strategy despite the discouraging results you may see in the beginning. In fact, Hubspot recommends doubling your inbound budget if you get off to a slow start. Eighty-one percent of the companies that failed with inbound increased their budgets the year after.
Creating an Inbound Marketing Strategy
According to Seth Godin, Permission Marketing strategies need to be anticipated, personal, and relevant in order to be successful. Applying his wisdom to inbound marketing, you should:
Understand the product/service information that your prospect customers anticipate from your company
Personalise the marketing message so that it explicitly relates to the customer looking for that information
Make your marketing information relevant to the questions and intentions of your customers
The inbound marketing Funnel: You'll need to take the above steps at different points in your inbound sales funnel. The information at the lip of the funnel will help you get discovered by your customers. The information on your website will convert your visitors into qualified leads. And the messaging on your sales pages will primarily convert leads into sales. In order to provide the right information and action triggers at the right stage, you'll need to better understand your target customers and their needs.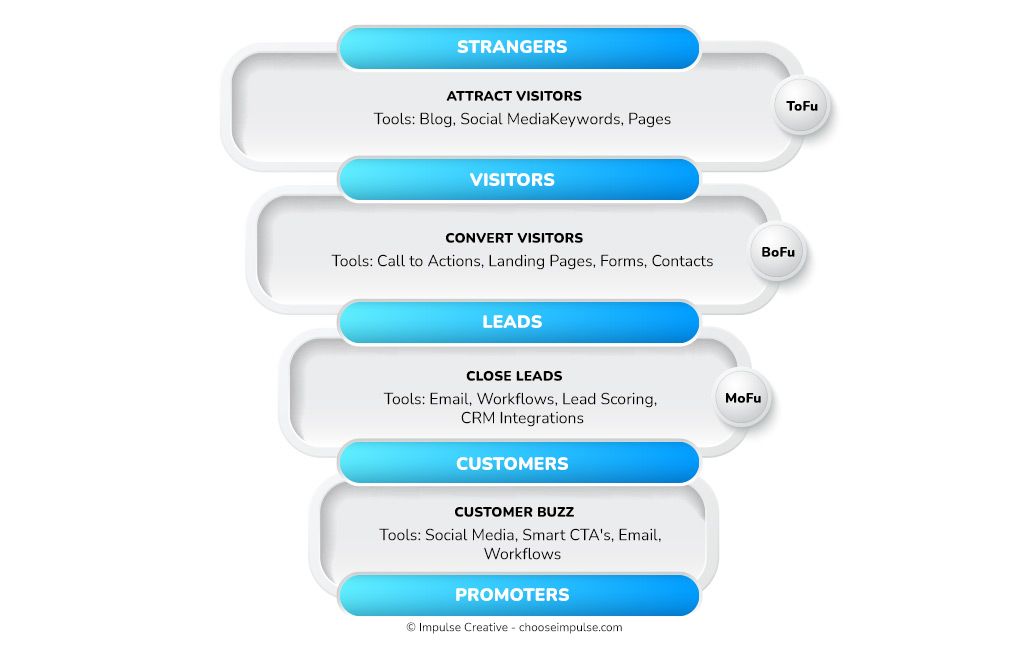 Figure: This is what the inbound sales funnel looks like. ToFu stands for top of funnel, MoFu for middle of funnel, and BoFu for bottom of funnel. (Source)
Essential inbound marketing activities: You'll also need to set up relation building and tracking systems, like a CRM, for instance, and launch a full-fledged, sustained content marketing effort. Of course, tracking and monitoring the results is essential for steering your efforts in the right direction.
Steps for Creating an Inbound Marketing Strategy
Based on what we've just discussed, creating a basic inbound marketing strategy involves the following steps:
Setting Goals, SMART Objectives and Becnhmarks
Understanding Your Customers
Creating Digital Presence
Capturing Leads for Further Marketing
Converting Leads into Customers into Repeat Buyers
Monitoring the Results
Let's explore each of these stages and see what activities you need to undertake at each step.
Before You Start
You should understand that running an inbound marketing effort is not a one man show. You'll need a team and the appropriate systems to create and distribute content and to optimize your digital presence for SEO and conversions.
Human Resources
Inbound Marketing Strategist: This person will lead the creation and execution of your inbound marketing strategy. This would be someone who knows digital marketing and is able to work closely with sales and marketing teams.
Content Manager/Writer/Editor: You'll want these three roles to be filled by at least three different people if your marketing effort is extensive. For very small businesses, however, a responsible writer would do for a start, with you managing the content.
SEO Team: This team will optimise your website in order to improve your organic search rankings. They should be an experienced team with proven results to show and references to vouch for them. Avoid rookie SEOs. They can do more damage than good.
Social Media Team: This team (or individual) will lead your social media and email marketing, with the goal to get you more engagement and higher CTRs.
Design Team: These people will present the content your writers create in a beautiful visual format, so that customers will notice it and interact with it.
Web Developers:  They will work on your website to make the changes that you think are necessary to create a better user experience and increase conversions.
Inbound Marketing Software
You'll need a variety of software tools to create, implement and monitor your strategy. These might include development tools such as WordPress, Magento, or Joomla; the necessary plugins to provide the desired functionality, such as subscription forms, reviews, etc; lead nurturing tools such as an email program or CRM; and tracking tools such as Google Analytics, social media insights, email tracking, etc.
Using a CRM Software: Using a CRM solves most of your tracking and lead nurturing problems, as you can integrate data from different channels and implement customized strategies for different segments of your customers. It will take much of the workload off your shoulders and allow you to implement your strategy without going insane. SalesForce, Insightly, and Zoho are among the best CRMs for small business, though there are many other CRMs you can consider.
Should You Hire an Inbound Marketing Agency?
Staffing and managing the above roles in-house can be a problem if you don't have the time or the talent. You should probably hire an agency if you're going to have to staff most of the roles from outside your organization. Hiring an agency may be more economical. However, make sure you're putting your eggs in the right basket. Shortlist multiple agencies, scrutinize their credentials, and ask probing questions to select the best agency for your business and goals.
Step 1: Setting Goals, SMART Objectives and KPIs
No journey can start without a goal, and inbound marketing is no different. However, a goal without SMART objectives and benchmarks is just a wish. Your goals are your destination and the objectives are the steps that take you there. The benchmarks are the milestones along the way that tell you if you're on track and how much progress you've made.
Set SMART Objectives: The objectives should be specific, measureable, attainable, realistic, and time-bound, hence the acronym "SMART". For example, one of your goals can be to dominate rankings on Google for your top industry keywords. You can break it down into multiple SMART objectives such as:
SEO Objective 1: Outrank competitors x, y, and z within 12 months for the 10 most frequently searched key terms
SEO Objective 2: Appear among the top three results for the top 10 key terms on Google within 12 months
Set Goals and Objectives for All Channels: Similarly, you can set your goals for social media, PPC, blogging, and conversion optimisation, then break them down into several objectives. Next, you should decide the milestones and KPIs that you're going to track during your journey. For example, CTR (or click through rate) can be an effective KPI to track the performance of your SEO or social media marketing.
Before you can set realistic goals and objectives, you'll need to know your customers, competitors and industry. Do your research, talk to your customers, hold brainstorming sessions with your teams, and make sure you're not setting your goals in a vacuum.
Write down your goals in a template, like this one from Hubspot. You can download more of them here.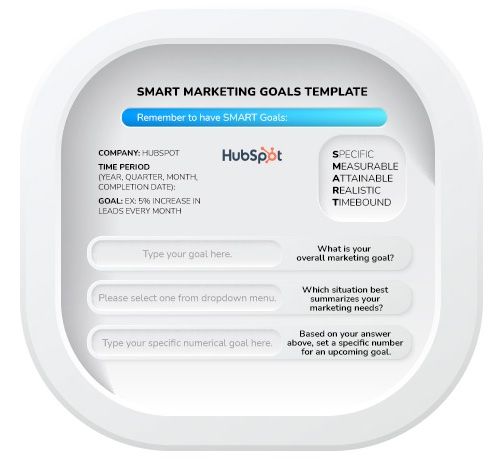 Step 2: Understanding Your Customers
Marketing, whether inbound or outbound, begins and ends with you customers. If you understand them well, you'll be able to respond better to their requirements. You'll be able to create the perfect user experience for them at every level in your inbound funnel. Luckily, digital marketing makes it easy to learn about your customers.
Learn from Historical Data: Your Google Analytics and social media insights will reveal valuable information about your customers, including their demographics, locations, devices used, keywords searched, and behavior on your website. You should read their comments on blog posts,reviews of your competitors' products, social media interactions, etc to learn more about what they want and need.
Do Your Research: Conventional methods of market research such as customer interviews, focus groups, polls and survey, etc haven't lost their importance. You should get out of your office into the real world and talk to your prospect customers, distributors, and other people in your industry. Find out what specific aspect of your product or offer you can improve to create a buzz among your customers.
Create Customer Personas: Based on your research, you should create detailed customer personas and understand the different roles that your customers play when they come to your website. A persona is a hypothetical yet in-depth sketch of your target customers. It includes everything from their demographics to interests and from their media habits to goals, pain points, and their decision making process.
Step 3: Creating a Digital Presence
The Channels Your Customers Use: Through your customer research, you can find out the digital media habits of your target audience. Ideally, you should establish your presence on all the channels where your users are likely to be present. These can include search engines (mainly Google, Bing and Yahoo!), social media networks (Facebook, Twitter, Instagram, YouTube, LinkedIn, etc) citation and review sites (Yelp, TrustPilot, TripAdvisor, etc), consumer and industry forums, and industry blogs, etc.
All Roads Lead to Your Website: Your website is the hub of your inbound marketing. Make sure you select a domain name that includes the most important keywords that your customers search with to look up a business like yours. Build your site structure keeping in mind the information your users need at different stages of their buying cycle.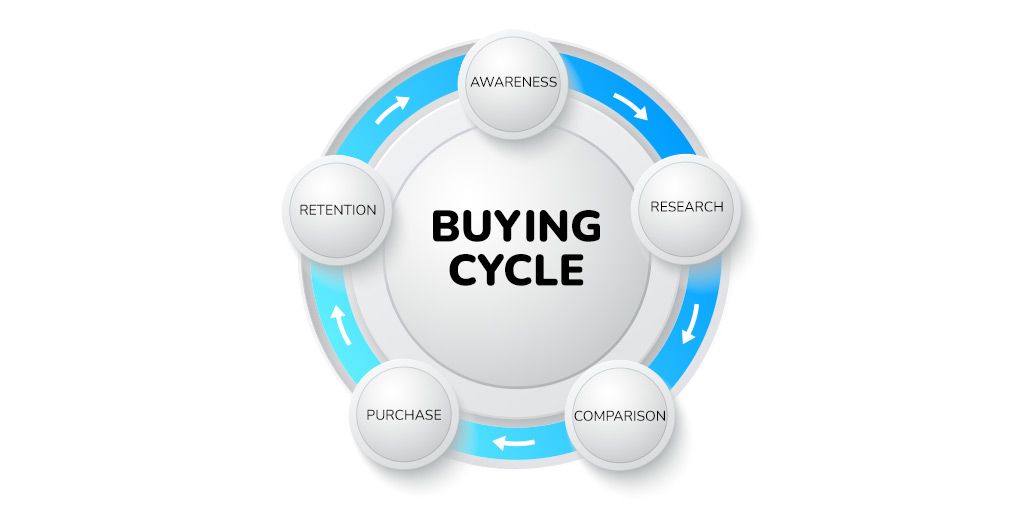 For example, a first-time visitor is more likely to be interested in knowing more about your company or product, whereas a repeat visitor may be more interested in comparing prices and features, or in actually buying your product. Follow the best practices for creating a great user experience for your customers at every stage of the buying cycle.
Optimise for SEO: Visitors won't come running just because you've created a great website, unless you've optimised it for search engines. Focus on SEO right from the outset while you're building your website. Spend some time on keyword research and try to match each keyword you select with the customer intent. What kind of information is a person searching with a particular keyword likely to be looking for? What would you like to see on your page if you were your customer? Optimise your pages accordingly.
Unleash Blogging: A blog is a great content marketing tool because it helps your customers as well as your SEO. Do not create a blog just to drive traffic because it could impact the user experience of your visitors. Instead, create your content for the personas that you developed during the customer research. Address their questions and pain points, provide unique info on burning industry issues. There's no harm in optimising your posts for SEO by using keywords in titles, body, and meta descriptions.
Leverage Social Marketing: If your content is great, social media can make it magnanimous by spreading it far and wide. Establish your profiles on Facebook, YouTube, LinkedIn, and other networks that your customers are hooked to, and share quality content. You'll need a social media strategy complete with goals, objectives and KPIs in order to succeed. Make sure you're consistent and create impressive content that resonates with your customers.
Use PPC for Accelerated Results: Your SEO efforts can take months, even years, to pay off. Obviously, you can't wait that long. PPC (pay per click) advertising is the answer. Yes, it's  essentially outbound advertising, but here, you're advertising to an audience that's already searching for a product or service like yours. By focusing on the right keywords, bidding strategically, and displaying compelling ads you can get the traffic to start rolling in.
Step 4: Capturing and Nurturing Leads
When you start getting traffic from search engines, social media, and other places, you should try everything in your power to convert your visitors into interested leads. When you know that a person is interested in your company or product, you can follow up with them through email, phone, social media, etc to get them to buy from you. Inbound marketers deploy a number of tactics to persuade their visitors to sign up and provide their email addresses, along with their implicit or explicit willingness to receive marketing messages.
Offer Premium Content: You can reward your visitors with a free eBook, guide, or a discount for subscribing to your mailing list. When they have agreed to receive information about your products, special offers, etc, you can keep sending them emails about your new products or offers. As these people already know your company and are receptive toward your messages, they have the highest chance of transacting with you.
Fig: HubSpot offers an in-depth "State of Inbound Report" in exchange for your email address. Notice that unlike most other lead capture forms you'll see, the check-boxes for receiving marketing information are unchecked by default on this form. HubSpot won't send you any emails until you tick these boxes. This is permission marketing at its finest.
Have Multiple Landing Pages: Every page on your website should be designed like a landing page, a page you create with the goal to make your visitors take a specific action. The goal can be to make a purchase, subscribe to your email, download a brochure or app, etc. A good landing page allows visitors to find the required information quickly and entices them to take the action you want them to take. Each landing page is designed to receive traffic from specific keywords. It should be free of distractions and should have a single/simple call to action (CTA).
Plan Follow-up Email Sequences: Email continues to be one of the most effective lead nurturing tool. You should plan mailing sequences depending upon the product or offer your prospect customers are interested in. For example, if a person subscribed to your mailing list after searching for a specific product (which your Google Analytics should tell you), you can send them more information about that product or its associated products. Email management software like MailChimp, ConstantContact, and others allow you to schedule mailing sequences and track your emails.
Step 5: Converting Leads into Customers and Customers into Repeat Buyers
So, now you have visitors and you have leads. Hopefully, you're making some sales too. But you must make planned efforts to make more of your visitors and leads buy from you. Start by optimising your product or service pages.
Create Compelling Sales Pages: Design your sales pages while keeping an eye on the personas you created in the research stage. Make sure your pages answer the customer's most pressing concerns in a simple and easy to navigate layout. You can find tons of articles on optimising your product pages on Unbounce, WordStream, Hubspot, VWO, etc. Check out this actionable post on KissMetrics about the psychological action triggers that compel people to buy.
Remarket to Non-converting Visitors
Regardless of how effective your website may be at converting visits into leads, the majority of your visitors will leave without taking any action on your website. Retargeting them with customised advertisements can bring them back and make them buy from you. You can do this by using a snippet of code (called "cookie") on your website. The retargeting cookie is stored in your visitors' browsers and tracks their online behavior to serve them appropriate ads.
You can hit them with your retargeting ads when they're making new searches, visiting other websites, or scanning their social media newsfeeds. You can remarket to your past visitors through AdWords and show them your ads as they visit Google Display Network websites, YouTube, or make new searches with your keywords. You can also retarget on Facebook if you're using Facebook marketing to drive traffic. Remarketing/retargeting can be more effective than campaigning for new visitors, so don't avoid it.
Market to Segmented Lists
The people who visit your site can be divided into multiple homogeneous groups—first-time visitors, repeat visitors, subscribers, new buyers, repeat buyers, people interested in only certain types of products, and so on. In order to nurture leads properly and turn them into loyal customers, you should hit different segments with personalised messages. It's here that a CRM distinguishes great companies from good ones.
Popular CRMs like SalesForce or Hubspot make it easy to segment your customers based on their needs and automate messaging. In doing so, you can also take full advantage of marketing opportunities such as cross-selling or up-selling. You can send them helpful information to cement your relationship and establish your company as an expert in your niche. Or, you can leverage your relationship with them to run referral programs, in which they earn a discount etc for referring their friends, and you get a new customer with almost no acquisition cost!
Step 6: Monitoring the Results
Tracking the results is crucial to the success of your inbound marketing plan.  Monitoring your analytics will tell you what works best and what doesn't work, so you can focus on the right areas and reduce waste. Your inbound strategy will need constant steering and adjusting based on what you see in your Google Analytics, social media insights, or CRM.
Compare your performance to the benchmarks you decided during the goal setting phase. Are you on track? Why not? What are the things that are working well and why? Why some tactics are not effective at driving customers and what can you do about them?
KPIs to Track: Apart from tracking your conversions, there are some strategic KPIs that you must monitor. These are:
Customer Acquisition Cost (CAC): You can calculate CAC by dividing the total inbound marketing expenditure in a period (say, a quarter or a year) by the number of customers acquired in that period. This would tell you how much money you spend on acquiring a customer, on the average.
Customer Lifetime Value (CLV): How much an average customer is worth to you in terms of profits? To calculate CLV, you can simply multiply your gross profit margin with the sum of all the purchases by each individual customer. This would tell you how much gross profit you're earning from that customer. Do this for all of your customers, sum up the results, and divide by the number of customers to calculate your CLV.
CLV/CAC Ratio: You should aim for a CLV/CAC ratio of 3/1, which means that you're earning three times as much as you're spending to acquire an average customer. If the ratio is 2/1, you're spending too much. If it is 5/1, you're probably spending too little and losing out on potential business. Calculating CLV and CAC for each channel separately will reveal which channel is more profitable than the others.
Other KPIs: Additionally, you can track your ARR (annual recurring revenue), cash flow, and churn rate. These metrics are easy to calculate and track if you're using a CRM.
Monitor SEO and Conversions: The least you should do is track your visitors, CTR and conversions with Google Analytics. See where your CTR is moving. Are you converting a higher percentage of your visitors than a month ago? Calculating your cost per lead and conversion to lead ratio will reveal the areas you need to focus on.
So, Are You Ready to Set Up Inbound Marketing?
As you may have realised, it will take some time to take the above steps and set up your business for inbound marketing. Even after you've established your inbound channels and sales funnel, you'll need to continuously improve your understanding of your customers and enhance the experience that you've designed for them.
Don't lose heart if you don't see the results in the first few months. Inbound marketing is more of a path you walk than a destination your reach. Start working today with a robust inbound marketing plan that pulls you more customers than outbound marketing ever did.