If you're looking to make generate income through TikTok affiliate marketing, you're in the right place.
According to Statista, TikTok videos from personal accounts get an average of 31,100 views, while an average business video gets 17,500.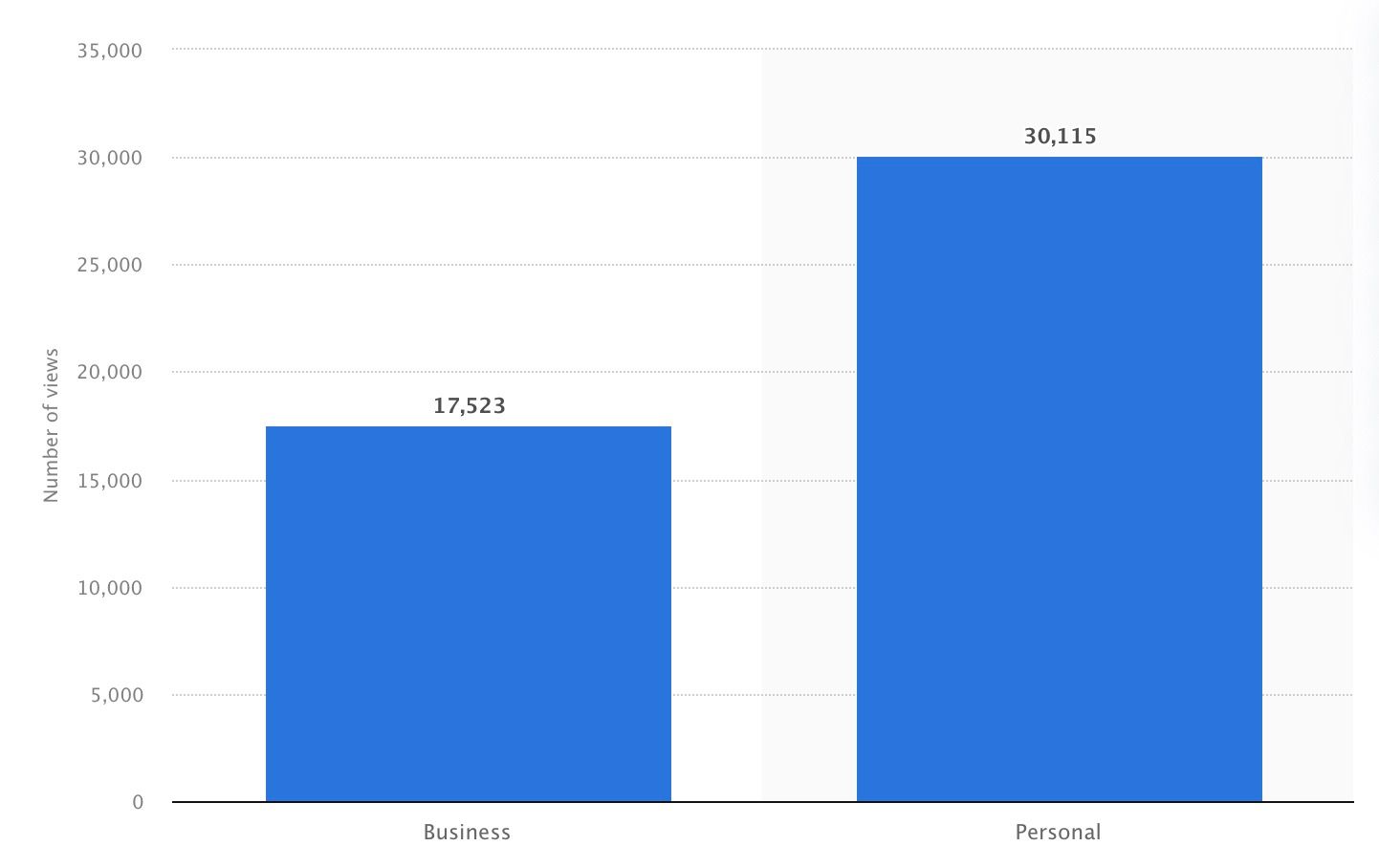 With the sheer number of views you can generate out of your videos, you've got a great chance of generating loads of income through the platform.
Hopefully you see the massive potential of running affiliate marketing through TikTok.

In this guide, we'll take a deep dive into TikTok affiliate marketing—what it is, why it works, and how to get started.
What is TikTok affiliate marketing?
TikTok affiliate marketing is a monetisation strategy that involves promoting products in exchange for referral commissions. Affiliate marketers earn a commission whenever users complete a purchase through their designated affiliate links.
On TikTok, you can do affiliate marketing in two ways.
Although TikTok prohibits affiliate links in videos, creators are free to insert and promote them via their profile bios. This allows TikTok creators to make money from traditional affiliate programs.
TikTok also allows creators to partner with brands directly through the TikTok Shop. This is TikTok's built-in eCommerce platform, which helps sellers and creators collaborate in successful affiliate marketing campaigns.
Benefits of affiliate marketing on TikTok
Below are some of the benefits of TikTok affiliate marketing:
Benefit 1: Start affiliate marketing with little to no overhead
If you're wondering how to start affiliate marketing with no money, look no further than TikTok.
Countless TikTok marketers rake in commissions from affiliate programs without spending thousands on elaborate content creation workflows. In fact, often, the most amateur-looking videos perform the best. They also don't need to invest in additional assets to generate sustainable affiliate marketing results.
For example, traditional affiliate marketers invest in domain registration and hosting to put up "money sites." These are websites specifically built to draw an audience and promote affiliate products. They need hosting, content, SEO, sometimes Google Ads.
TikTok affiliate marketers don't need to go through all that trouble.
Once you're in an affiliate program, feel free to jump straight into content creation and promotional activity. TikTok already provides a platform to build an audience, publish content, and generate clicks.
Benefit 2: Ready-to-use content promotion tools
TikTok provides a strong lineup of content promotion tools and features to reach potential customers.
Hashtags and trending sounds, for example, instantly boost the searchability of TikTok videos. TikTok Stories will also help you stir user engagement with interactive stickers, "duets," and "stitches."
As the cherry on top, TikTok's advanced audience analytics feature will help you understand your target audience's content preferences. It tracks valuable engagement metrics along with useful audience data, such as their most active times, age groups, and cities.
Benefit 3: Step up your game with the TikTok Creator Portal
Although starting a TikTok channel is easy, creating high-quality videos that garner interest has a learning curve.
If you're new to the world of short-form videos, the TikTok Creator Portal will help you navigate this unfamiliar landscape. It contains a comprehensive library of learning resources on every stage of TikTok marketing—from content strategy development to hosting live streams.
On top of the TikTok Creator Portal, upgrading to a Business Account unlocks additional features to grow your presence, including:
Auto-Message. Create automatic responses and welcome messages for your target audience.
Create CTA buttons. Use the "Lead Generation" feature to publish call-to-action buttons, like "Subscribe," "Buy Now," or "Click Here."
Insert an email button in your bio. A Business Account lets you feature a direct email button on your profile, enabling potential customers to inquire about your brand or affiliate products.
TL;DR: TikTok affiliate marketing is just like traditional affiliate marketing. The main difference is you don't need to invest in your own website or a robust content development strategy to earn commissions.
How to make money with TikTok affiliate marketing
Ready to get started with TikTok affiliate marketing?
Here are the steps you should follow:
Step 1: Decide your niche
Pick a niche and stick to it in your content marketing strategy. This will help you build the right kind of audience for your TikTok affiliate marketing business. Audience is everything.
Ideally, choose a niche based on your firsthand experience, hobbies, and expertise.
The more knowledgeable you are about your niche, the easier it is to create informative, high-quality TikTok content. This extends to your ability to find, vet, and promote affiliate products to your target audience.
To help you pick a lucrative niche on TikTok, take a look at the most popular content categories on the platform:
Entertainment
Dance
Pranks
Fitness and sports
DIY and home renovation
Beauty and skincare
Fashion
Cooking
Life hacks
Pets
Travel and outdoors
Step 2: Upgrade to a Business Account
Before you look for affiliate programs, ensure that you have a TikTok Business Account first.
Launch the TikTok app, head to your profile, and click the hamburger settings button in the upper-right corner. From the pop-up menu, tap 'Settings and privacy.'
Tap 'Account' and select 'Switch to Business Account.'
Follow the on-screen instructions to complete the switch. This includes choosing your profile category and entering your email address.
Step 3: Look for affiliate programs
With your account ready, start looking for affiliate programs that align with your brand and target audience.
Start with popular affiliate networks like Amazon Affiliates, ShareASale, and Commission Junction. To look for products to promote, create an account and use the search features.
Don't forget to look at the commission structure as well when choosing an affiliate program. Pay attention to the commission amount you stand to earn with each transaction. It goes without saying that you'd be better off with higher commission affiliate programmes - as long as it aligns with your audience.
Here's a quick look at the common affiliate program structures used in major networks:
Pay-Per-Sale. Get commissions from purchases completed through your affiliate link. Affiliate marketing sales may have low conversion rates, but they usually lead to higher payouts.
Pay-Per-Lead. Rather than earning commissions for sales, a pay-per-lead affiliate marketing program pays you for each lead you convert for your affiliate partner. Pay-per-lead programs generally pay less than pay-per-sale campaigns, but that doesn't mean they're not profitable—especially since it's easier to convince users to subscribe than to make a purchase.
Pay-Per-Click. Pay-per-click is the least popular structure for affiliate marketing. It's more widely used in paid advertising campaigns, which run through networks like Google AdSense and Mediavine.
Step 4: Shorten your affiliate links
After signing up for an affiliate program, use link-shortening tools like Bitly and TinyURL to shorten your affiliate links.
Link shortening is a standard practice in social media affiliate marketing. It replaces long, ugly affiliate links with shorter URLs that are easier to remember.
To shorten your affiliate link, simply enter the URL into your preferred link shortener. The tool should provide you with a shortened version of your link with just one click.
Step 5: Add links to your bio
Head to your TikTok profile and tap 'Edit profile.' From there, tap 'Bio' and paste your affiliate link into the "Add a bio" field.
To make your affiliate link more eye-catching, write a short but captivating introduction at the top of your bio. Concisely describe who you are, what to do, and what users should expect from your affiliate link.
Feel free to use emojis to draw attention to key information, like your CTA and email address.
For your inspiration, take a look at Sam San Shop's TikTok bio:
Step 6: Publish relevant content
Use the power of content marketing to draw visitors to your TikTok page.
The game plan is simple: publish content about your audience's problems, highlight affiliate products as a great solution, and invite them to check your bio for more information.
On TikTok, the go-to content format for affiliate marketers is short-form video.
Some ideas you can use are:
Product unboxing videos
Quick tutorials
"Hack" videos
Before and after reveals
Product reviews
Product comparisons
Bonus Tip: Use a mobile landing page builder to feature multiple affiliate links at once
Most TikTok affiliate marketers use a mobile landing page builder like Linktree to consolidate multiple affiliate links into one page.
Linktree is a drag-and-drop tool that creates a mini landing page with buttons for your affiliate product pages. This allows you to personalise your page to align with your TikTok brand.
How to sell affiliate products through TikTok Shop
If you have an established presence on TikTok, you can sell affiliate products directly on the platform via the TikTok Shop.
This option comes with the following advantages:
Easily find TikTok products to sell. Use TikTok Shop for creators to quickly find relevant products your followers will enjoy.
Promote products on LIVE streams. Sell affiliate products using the sense of urgency with LIVE streams.
Build your TikTok Shop showcase. Create an affiliate product store on TikTok without third-party tools.
To become a TikTok Shop affiliate, make sure you have a Business Center account with TikTok Shop and LIVE stream access.
From there, head to the TikTok Shop Affiliate page and join as a creator. When done, you'll be able to find products to sell, share your contact information, add products to your TikTok Shop, and earn commissions.
TikTok Shop affiliates can also request product samples from partner brands, This is useful for creating certain types of content, like product reviews, tutorials, and unboxing videos.
Tips to grow your TikTok affiliate marketing business
Affiliate marketing is an effective way to generate passive income and build wealth as a TikTok brand.
But just like any other online business, it requires your full commitment to a content marketing strategy that brings in potential customers.
Here are three additional tips to help grow your TikTok brand and earn more commissions from affiliate marketing:
Tip 1: Balance affiliate and organic content
A key ingredient in how to become famous on social media is a balance between promotional and authentic content.
Don't use your TikTok profile as a 100% commercial channel that only has promotional content. In order to win followers, publish videos that provide value to users without pushing for a sale. Most of your content should be organic, and not promotional.
Tip 2: Use trends to gain traction
Supercharge content engagement with trends such as effects, sounds, challenges, and hashtags.
You can easily find relevant trends on the "For You" page in the TikTok app. Alternatively, simply create a post using the TikTok editor.
TikTok makes it easy to find trending elements to include in your video. For example, when adding hashtags, TikTok immediately generates a list of popular hashtag ideas along with their cumulative views.
Tip 3: Increase conversions with special offers
To increase conversions, offer coupon codes or special discounts to customers who use your affiliate link.
Promoting special offers is one of the proven hacks to convert more visitors for affiliate marketing. This requires an affiliate program that can provide marketers with their own branded promotion campaigns.
Unfortunately, not all affiliate programs offer this feature. And in most cases, affiliate programs that involve discounts and coupons only offer such campaigns at limited times.
Frequently Asked Questions
Can you do affiliate marketing in TikTok?
Yes, anyone can do affiliate marketing on TikTok. You can earn commissions by promoting affiliate products and sharing affiliate links in your TikTok bio.
How many followers do you need to make money in affiliate marketing?
Most affiliate programs don't require marketers to have a specific number of followers to promote products on TikTok. But in order to make TikTok affiliate marketing a viable business, aim to have at least around 5,000 followers.
How do I become an affiliate in TikTok?
Once you're accepted into an affiliate program, you can start earning commissions by sharing affiliate links in your TikTok bio. Creators can also partner up with brands and promote products as affiliates through the TikTok Shop.
Succeed at TikTok affiliate marketing with expert content marketing
TikTok affiliate marketing can be a great source of passive income.
With the right strategies, it can be your stepping stone to establishing your online business empire.
You need expert content marketing to do this.
If you need help with your TikTok affiliate marketing strategy, don't hesitate to reach out so I can help jumpstart your successful affiliate marketing business.