If you are reading this article, chances are that you are already using content marketing in one way or another as a part of your overall marketing strategy. However, defining content marketing is something that most business owners may struggle with.
Before we jump into some tips, we have to define the term clearly. In a nutshell, content marketing is all about building relationships and is not about selling your products or services. It involves disseminating useful information to your existing and potential customers for the purpose of establishing your digital brand by building awareness and trust.
Content is the voice of your brand. If you want your voice to be heard, you need to consistently create and share great content - both on your own website and on other high-profile websites in your niche. This is why marketers are allocating more and more budget to content marketing. A robust content marketing strategy can really multiply the reach and impact of your content.
Qualities of great content
Gone are the days when content marketing meant little more than SEO and guest blogging. The digital marketing explosion and rapid changes in Google's search algorithms have made content marketing more complex. In order to make its mark in the ever-expanding digital marketplace, your content must have the following qualities:
1. Content should be precisely targeted
You'll be wasting valuable resources if you are targeting everyone with the same content. Each and every one of your potential customers is different, and you need to embrace this. You wouldn't talk about steaks to a vegan or try to force-feed marketing automation to someone who knows little about digital marketing. It is extremely important to draw your target market profile accurately and find out the channels where different clusters of your current and prospective customers are most active. Only then, you can create precisely targeted content that directly addresses your audience's concerns and needs.
2. Content should match the stage in the buying cycle
The content that you direct at your repeat customers will be different from that which you share with your potential buyers. There are five stages in a typical buying cycle—Awareness, Interest, Consideration, Purchase, and Re-conversion. Your customers need different types of information through each of these stages. By understanding their needs at each step and aligning your content marketing strategy with those needs, you can allay their concerns, answer their questions, and boost their confidence - encouraging them to take the next step.
3. Content should tell a story
Instead of describing your product's features, your content should tell stories about how those features work to the benefit of your customers. Try to give real-world examples of how your product can be used to solve the problems that it is designed to solve. You can feature case studies, customer success stories, excerpts from genuine reviews, etc.
4. Content should include relevant imagery
Content with meaningful images get 94 percent higher views than content without images according to Buffer App. However, with an overwhelming amount of pictures circulating the internet, your images must be meaningful to your audience in order to get noticed and clicked. Use pictures of real people, quotes, infographics, and other custom images instead of relying on stock images.
5. Content should show, not just tell
Although text is obviously still read, your customers may find it more convenient to view a slide-show or watch a video that features your products and services in use. In addition to developing text guides, see if you can produce how-to videos. Think beyond the conventional.
6. Include a call to action
Even though content marketing is more about long-term brand building, you should never lose sight of the fact that the goal of marketing content is to trigger an action. It can be a download, a subscription, a purchase, or a plethora of other actions. Content on your own website should contain an explicit call to action that corresponds to the relevant stage of the buying process.
7. Content should be shared extensively
After you have spent valuable resources in creating a great piece of content, don't just click publish and forget all about it. A considerable part of your effort must go into exploring ways in which you can expand the reach of your content. Think about re-purposing and reusing your content on new channels. Linking to related content (even if it's not your own) is a great way to make the content look more genuine and useful, it also has the added benefit of giving you the opportunity to reach out to peers within the industry.
Building a kickass content marketing strategy
Now that you have a fair idea about what great content is, you should plan for its creation, delivery and management. In other words, you should devise a clear-cut written content marketing strategy. Your content strategy evaluates the needs of your business and customers and aligns your content with your business goals at every stage of the buying cycle.
A content marketing strategy doesn't have to be a voluminous, formal document and can be scaled to fit any budget. Here are a few tips on how you can go about building an impressive content marketing strategy that will help your brand standout.
Onsite content strategy
For the sake of simplicity, you can start from your website or blog. The key questions to ask are:
What are my visitors doing onsite?
What are the goals of my on-site content?
1. Analyse customer traffic
Dive into your Google Analytics reports, but don't get bogged down by the details right in the beginning. Remember that building a content strategy is about looking at the big picture and then drilling down to the granular level. At this stage, you should analyse the following:
Which particular keywords have driven most organic traffic to your website in the past few months or years?
What types of content or pages are driving social shares?
Which particular pages do your customers spend most time on?
Which particular category has the most number of page views?
Do certain pages have high bounce rates? Try to find out why. There could be an obvious mistake.
The answers to these questions will tell you which particular areas or topics you need to focus on.
2. Find out customer intent
This Analytics data should give you a clear idea about what type of content your customers are most interested in. You'll learn about what your typical user intends to do on your website. Customer intent plays a vital role in optimizing the onsite customer experience. For instance, a customer searching for discounted items on an apparel website has a clear intent to look for marked-down goods.
When you know what your customers are looking for, you can make that particular type of content obvious on the main landing page. If you don't have a designer in-house or on-hand you could always try landing page building tools - there are plenty out there. One particular builder I recommend to some of my clients is the Get Response Landing Page Creator simply because it fits their skill-sets. Alternatively, you could outsource to a designer to get you started.
3. Optimise the customer experience
Optimising the customer experience involves finding out the stage in the buying cycle a particular visitor is at. Part of the answer is in the keywords that the customer is searching for when finding your page, the other part of the answer is in the visitor's on page behaviour. For instance, a person searching for "content marketing strategy" is likely to be at the "Awareness" stage, where he/she needs more information on the topic. If a person is searching for "content marketing agency", he/she may be much closer to hiring an agency for the purpose of content marketing. Both of these types of customers should be given different types of information in order to optimise the onsite user experience.
Here are a few small the steps that you can use to optimise onsite visitor flow:
Change the menu structures so that visitors can find their desired content easily
Make your page titles keyword-rich
Ensure that your images have keyword-rich file names and alt text
Cross-link all pages to relevant onsite content
4. Define business and content goals
The second aspect of your content marketing strategy relates to your goals. On the highest level, your goal may be to be perceived as an industry thought leader. Content marketing is one of the strategies that you need to follow for achieving that aim. When you focus on content marketing, there should be several more direct goals that emerge. For example:
Provide relevant and engaging content to the visitors
Nurture relationships with repeat buyers
Streamline the conversion process by boosting customer confidence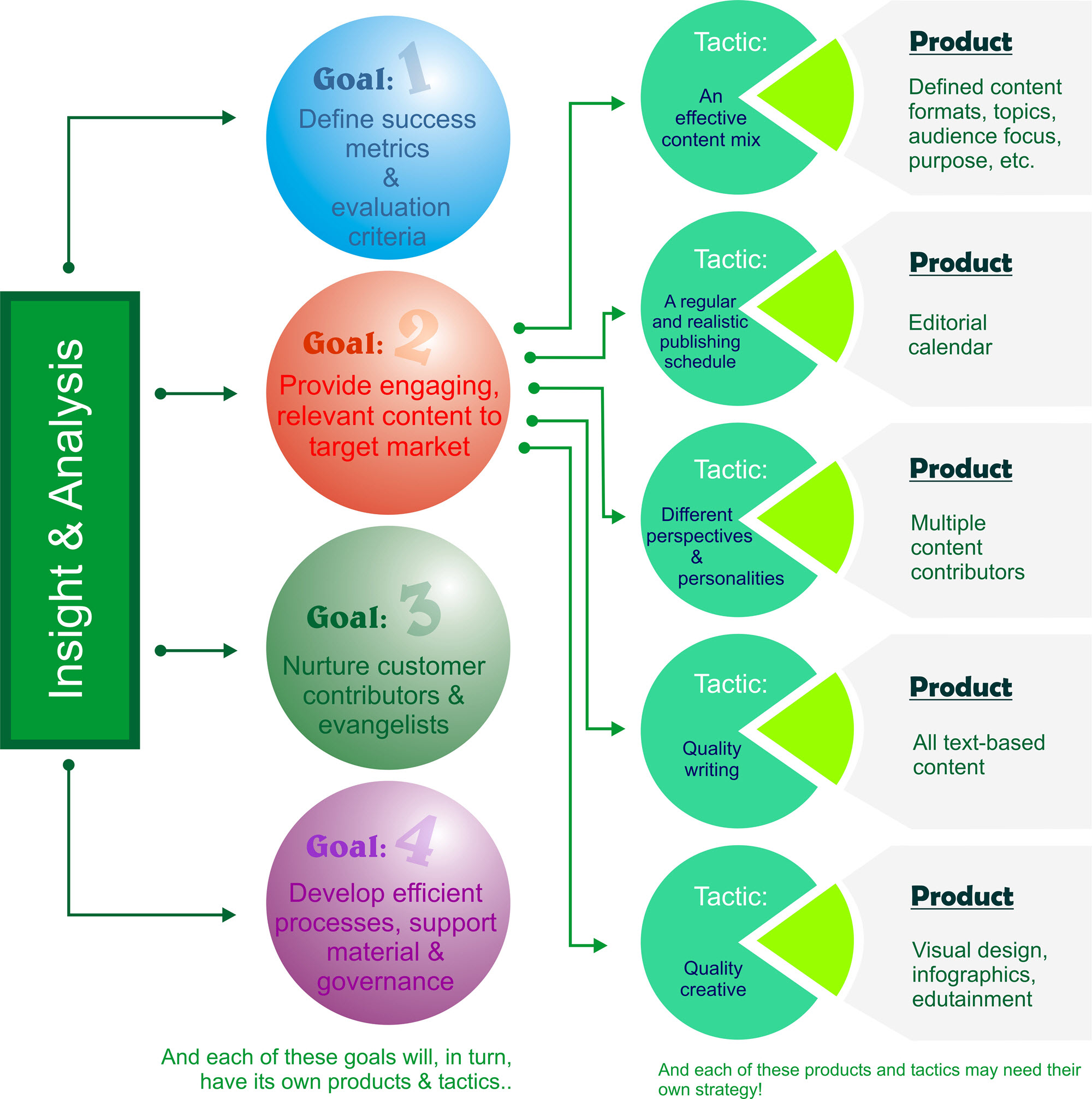 Each one of these goals should then be broken down into tactics that you will employ for achieving that goal. For instance, achieving goal #1 will require you to:
Define an effective content mix—formats, topics, target audience, etc.
Define a regular and realistic publishing schedule— editorial calendar
Ensure high-quality writing and creative—text-based content and visual design
5. Align strategy with goals and customer intent
A thorough onsite content strategy must be aligned with your goals as well as the customer intent. Formulating an onsite content strategy involves asking a lot of questions about your visitors, defining specific goals and coming up with suitable tactics. You will also need to test these tactics as you go along, and adjust your strategy depending upon what the analytics are telling you. Data is the key here.
Offsite content strategy
Your offsite content strategy includes the posts you publish on different platforms, your social media posts, directory listings, and reviews. Unlike onsite content, offsite content is harder to control and measure. However, offsite content plays a major role in driving traffic to your site (and landing pages) and building your brand image. Compelling, interesting offsite content is the key to sparking conversations about your brand and getting you some much-desired word-of-mouth publicity.
1. Identify your target audience, channels and topics
There will almost always be a large number of blogs, websites and social media communities that cater to a similar target audience as yours. The best way to find out where your target audience is and what they are doing is through observation and research. You can make informed guesses, but it is better to know what your customers are really talking about. Instead of picking up topics at random and pitching your content to the publishers, you should research your keywords and see the responses of your potential customers. Ask the following questions:
Which particular digital channels (websites, blogs, social media networks, forums) is your target audience most active on?
What are the hottest topics that your audience is talking about?
What are the topics about which little relevant information is being shared?
What kind of content is being published by your competitors?
What are the channels that your competitors are (or are not) targeting?
Also keep in mind the stages in the buying cycle and devise a content mix that addresses your customers' concerns at different stages. Remember that you'll never get noticed if you are saying what everyone else is saying. You must say something different and unique, yet relevant to the burning topics that you discover through your research.
2. Nurture your relationships
The internet is overloaded with influential bloggers and social media users with massive followings. There are influencers in every category whose recommendations and reviews matter for your brand. You should find out some of these influential personalities (or entities) and build your relationship with them. You can use blog posts, targeted social media posts, email, or private messages to stay in contact with the key players in your niche and nurture long term relationships. Followerwonk is fantastic for finding influential people.
3. Stay natural
Don't hard-code SEO into your offsite content by stuffing it with keywords. Your audience likes to read a naturally written piece of content, and after the recent changes in algorithms, Google loves great content too. Stop targeting keyword density. Instead, target your audience with valuable information that's hard to find elsewhere. Great content is shared widely and creates organic backlinks to your pages. While you could focus on guest blogging, don't use content marketing solely as a link building exercise. Google can sniff out low-quality backlinks and might penalise your website for creating them.
4. Match your content with the channel
In addition to your customer intent, their stage in the buying cycle and your goals, you must also position your content with the channels that you are publishing it on. For instance, the content you share through LinkedIn should be reaching out to a more professional audience when compared to what you are sharing on Facebook. The latter may be more entertaining than business-like. User behaviour is different across different channels, so you should give them what they are looking for.
5. Re-purpose, republish, and expand distribution
Great content is created with considerable effort. Don't forget about it after you've published it on the channel that it was written for. Instead, take out the key information and re-purpose it for distribution through other channels. For instance, you can turn a marketing email into a social media update or take out key facts from a blog post and publish it on Slideshare in the form of a presentation with a link back to the original.
6. Consolidate your onsite and offsite strategy
Your offsite strategy should fit into your onsite strategy to form your overall content strategy. If the customer becomes interested in a particular type of information after reading your blog post or social media update and clicks through to your website, he/she should easily be able find what they are looking for.
To sum it up...
A kickass content strategy, in essence, is about two things:
Providing valuable information
Optimizing customer experience
Set out a detailed plan of how to achieve the above, understand what you already have and look to improve on it. Remember you customer funnel (or goals) and remember, a content strategy is a continuous process and demands patience to formulate, test and refine. It should not be taken as a one-time exercise, but as something that you think about and do regularly.