There's no shortage of content online. 4.6 billion pieces of content are produced daily, each competing for your consumer's limited attention.
The industry is saturated, to say the least. On the one hand, a flash flood of content is good for searchers, as they'll find information about pretty much anything they look for. On the other hand, content creators must fight for their chance to earn those searchers' attention.
This is supposed to be encouraging, not discouraging. Here's why:
It doesn't matter whether you're a brand new business or a seasoned marketing veteran —you can play the content marketing game and win it.
While you should keep an eye on your competitors efforts, content marketing is about meeting the needs of potential customers through high-quality, original content.
Let's look at how to do just that.
Why Should You Care About Content Marketing?
Content marketing holds one main purpose: reaching your business goals through content creation and distribution. It's not about selling – not directly – but rather about steering potential customers in the right direction.
Whether you want prospects to sign up to your email list, download an ebook, or buy your product, content will get you there. But only if it's the right kind of content at the right time.
Generic content will get buried among the piles. Generic content is weak.
Creating content for the sake of it won't scale your efforts or bring you enough prospects. Bluntly speaking, people will find better sources somewhere else.
What you have to do is create content that shines. Content that stands out and answers all of your prospect's questions. Content that can be repurposed and shared, again and again.
Want to learn how to do it yourself? Keep reading.
How to Make Content Marketing Work in a World Saturated With Content
1. Watch What Your Competition is Doing. Then Make It Better.
Let's talk about the 'Skyscraper' content strategy.
Backlinko's CEO Brian Dean has tested and proven that this strategy increased search traffic by 110 percent in only two weeks. Talk about a spike!
The Skyscraper technique is divided in two parts: creating content, and then chasing the right people who can give you a backlink for it.
For now, let's just focus on standout content creation.
This strategy is by no means meant to replicate or plagiarise content. "Making it better" means creating something original, more valuable, and more readable than the current winner.
Will it take time and work? Yes. But it will also give you the traffic you've been craving. And when you've got traffic and a good content marketing strategy in place, the results will follow.
So…what are a few ways you can make your content better than the guy who's positioning first in search engines?
Adding expert quotes and sources. Remember Google's 2014 E-A-T guidelines? Here's a refresher: E-A-T stands for Expertise, Authority, and Trustworthiness. If your website meets all three requirements, you won't only be creating content Google loves–you'll be creating content your audience will keep coming back to, because they know it's legitimate.
Adding expert quotes to articles, linking out to reputable sources, and including a professional bio on your website will ensure quality raters that your page is run by an expert whose input people can trust.
Add visuals to your blog posts. Infographics, visual examples, videos, checklists…anything that adds value by making it easy for the reader to grasp what the page is about. Plus, visuals can easily be pinned and shared by readers for later reference.
Create PDF "pocket" versions. Offering downloadable PDF versions of your written content is another way to keep readers coming back to it when they need it most. Making it a "snackable" version with key points and takeaways is even better.
Write longer copy. While this isn't always applicable, longer copy has been shown to work better because you answer all customer objections in one source. Of course, you should always A/B test your copy to ensure if long-form content works better for your readers.
While the above steps aren't a guarantee of first-ranking Google positions, they are a smart way to increase traffic to your website, simply because the content is well-assembled and well-distributed. Instead of thinking about positioning, think about bringing value to your readers.
In the end, it's all about creating content with sharing potential. It's about creating "awesomeness", as Google Search Advocate John Mu once tweeted in response to a curious marketer: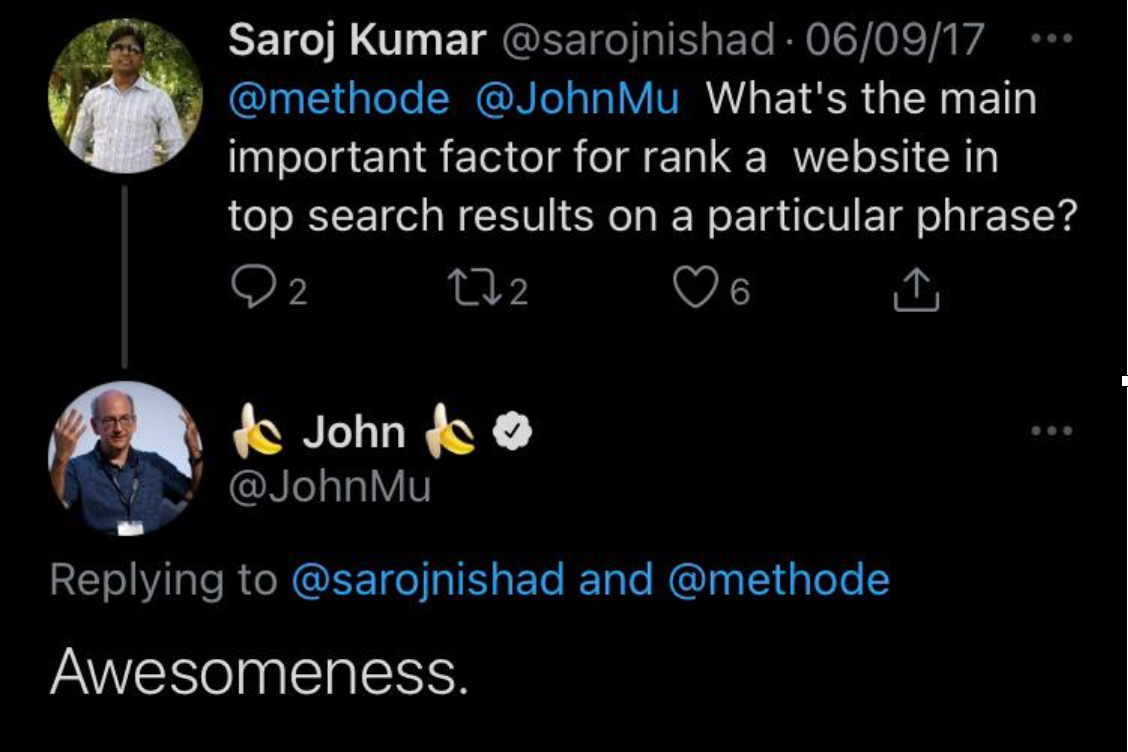 2. Take Advantage of Social Media and Social Trends
Brands like NBA, Guess, Chipotle, and even The Washington Post are using TikTok as one of their content strategies.
Why? Because they've seen its massive growth and marketing potential.
Part of TikTok's strength relies on the trendy content streaks any business can borrow and mould into their own brand. Any business or professional is suitable for TikTok trends – whether it's a law firm, a healthcare professional, an eCommerce brand… you name it.
What's more, TikTok users can start and follow challenges with the purpose of going viral. An example of a famous challenge is Guess's #InMyDenim, where users would record themselves going from "disheveled" to "fabulous". Only, the latter had to include Guess denim apparel.
The same goes to other platforms like Instagram and other types of media, like memes.
Laffin, a plush toy company, saw an opportunity in current events and created the following meme: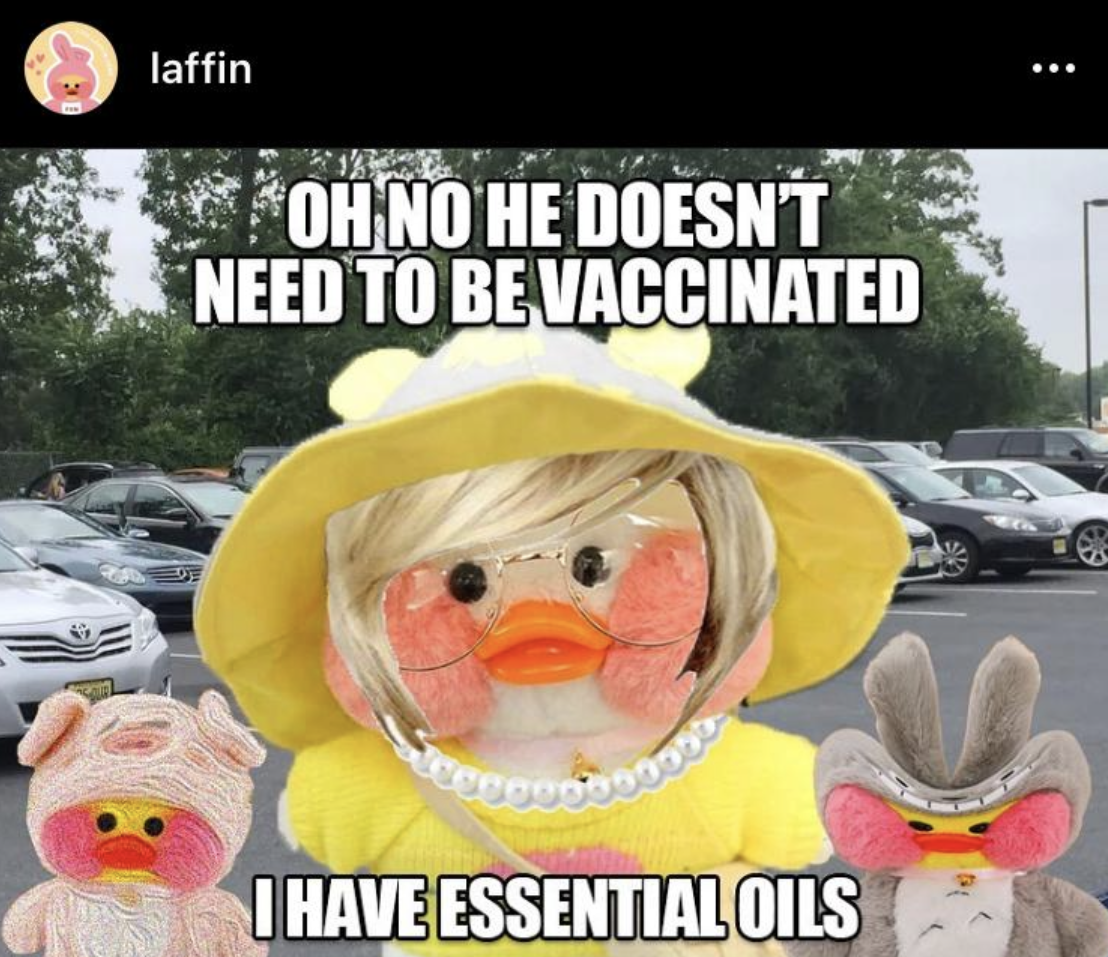 And the response was incredible.

All it takes is a bit of creativity to come up with interesting ideas. Nothing will ever be 100 percent original, but you can get pretty close to it. After all, your brand is unique.
The question you should ask yourself is: how can I tie current news and trends with my content? And how can I make it interesting enough to be liked, commented on, and shared?
3. Create Evergreen Content
A lot of those humongous "ultimate guides" you see around the web were written years ago. That's also the reason why you see hooks like "Updated for 2021" on title tags, for instance.
That happens because some principles change so often that they need to be consistently updated. A great example of ever-changing content is Search Engine Optimisation (SEO), in which new guidelines and rules come around every year.
Still, the changes or potential additions are so minimal, a complete rewrite of SEO guides isn't necessary and a few key rules still remain. Writers can just tweak those guides for clarity and upgrades, and they're ready for republishing.
You, too, can create your own ebooks and guides only once, and update them every year. This type of long-form content has several benefits:
You'll do the hardest part of the work only once.
It's an extensive, free source of knowledge to your readers, and you can use it to turn visitors into prospects.
There may not be a need for writing all of the content in the first place–you can assemble existing blog posts into a large ebook, making it a one-stop source for your audience.
When it comes to content creation, there are many options to explore here. You can:
Compare your product to others in the market.
Create detailed "how-to" guides.
Assemble one free guide, and add a subscription fee to those who want to see more.
You know your potential customer like the back of your hand.
What type of content would they like to see? A smart strategy is to send out surveys and cater to their wants and needs.
4. Grab Potential Customers at Every Stage
Educating and nurturing prospects with standout content are the most important steps towards a buying decision.
A smart content strategy will send prospects down the marketing funnel if the right content is well-placed at every stage of the buyer's journey: awareness, consideration, and conversion.
Grabbing potential customers at every stage means creating content they'll both need and love to consume.
Take videos, for example. According to research from Brightcove Inc., 85 percent of millennials affirmed they've bought a product (or service) after watching a video. It figures, as enjoyment of video ads is said to increase purchase intent by 97 percent.
With that in mind, there are ideal types of content for every stage of the funnel. Here they are.
Awareness. In this phase, you're attracting people who have most likely never heard about your brand. You must educate them and give them a great first impression to activate positive brand association.
Types of content:
"How to" blog posts
Engaging social media posts
Free guides and ebooks
Handy checklists,
Videos
Consideration. It's when the previous "strangers" have now become prospects, and you must send them deeper into the funnel.
Types of content:
Personalised email marketing
Case studies
Free webinars
Free samples
Free consultation
Conversion. Congratulations, you've got a customer! Yet, just because you've won their business once, that doesn't mean your work is over. You've still got to delight your customers, or they'll choose to go somewhere else.
Types of content:
Free trials
Demos
Quotes
Discount coupons
Key Takeaways
As much as you don't want to read this, your newly created content won't earn its well-deserved attention overnight.
Remember that there's an overflow of content out there.
You might have to create dozens of pieces of content to reach your conversion goals, or a top Google position, or the big prize you're on the lookout for: cash.
So hang in there. Getting established and earning authority in your niche takes work.
In the meantime, enjoy it! Above all, creating and marketing original content should be enjoyable. The big break might come when you least expect it.