Driving traffic to a landing page can be relatively easy.
Driving high-quality traffic is a different story.
It's common for business owners to wonder why they're getting tons of traffic but not making any sales. They've fallen into the misconception that lots of traffic = lots of sales.
In the above case, high traffic means they get all kinds of visitors to their landing page – many of which won't be ready to convert at that moment.
Seeing little to no results, the same business owners then jump straight to complicated and potentially expensive methods like pay-per-click (PPC) advertising.
Does that mean that PPC should be avoided? Not at all.
Still, there are free and more effective strategies you can use. You can avoid costly mistakes by driving targeted, high-quality traffic from visitors who are far more likely to go down the sales funnel.
In this article, I'll be sharing practical methods that will get you there.
The best part? They're either free or budget-friendly.
First, a quick look at why it's important to drive quality traffic to your landing pages.
Why It's Important to Drive Qualified Traffic to Your Landing Pages
Getting a billionaire to access a "how to be a billionaire" landing page will result in a visitor, but that's all.
See how this works?
You don't just want more traffic for the sake of spikes. You want more traffic so you can have more people at the top of the funnel, and subsequently, more people coming out at the bottom of the funnel.
It's all about catching the right eyes with the right strategies, such as:
Social media marketing
Email marketing
Influencer marketing
Targeted advertising
Forums
Guest blogging
Website internal linking
Here's how you can harness the power of each them:
Social Media Marketing
Why do you think 91% of businesses use social media for marketing purposes?
There are quite a few answers to that. First of all, creating and managing a business social media account is free for everybody. Marketers will only have to pay for it if they choose to reach their target audience with paid advertising. But that's not always necessary.
Moreover, hiring a social media manager and designer is optional, especially for brand new businesses on a budget. There are countless intuitive (and free) social media management and graphic design tools available today. They'll meet all of your marketing needs if outsourcing is out of the question.
Not least, social media marketing gives businesses the opportunity to direct interested visitors to their landing page through calls-to-action (CTAs). Make sure your CTAs are clear, specific and communicate the value of following your request in order to drive the highest quality traffic.
Nurture Traffic Through Email Marketing
Imagine earning up to $44 for every $1 spent on a marketing campaign. Email marketing makes it possible.
As a part of the middle of a buyer's journey, email marketing can drive qualified traffic from people who have already shown interest in your brand. While that means they've already been to your landing page and gone through your lead magnet, they probably haven't bought anything. Yet.
These leads are ideal candidates for a reason: whether you work with email drip campaigns, newsletters, or nurturing sequences, these people have been consuming great content where, hopefully, you'll be linking back to important landing or product pages.
In short, they're familiar with your brand and what you do–which makes them part of the elite traffic you're looking for.
Hire Influencers
"No way. That's too expensive", you might be thinking. If you're thinking about celebrity influencers, it certainly is.
However, influencer marketing has evolved enough to accommodate a wide range of people with a varying number of followers.
Lucky for a lot of brand owners, affordability followed suit. For instance, a micro-influencer with 1k followers can charge as little as $65 to advertise a product on their profile and direct their followers to a landing page.
Moral of the story: if you choose your influencer wisely, your product will be shown to thousands of people who are interested in products like yours. All they need is a little nudge from someone whose opinion is valuable.
Advertise Where Your Audience Hangs Out

Knowing the websites your audience visits is key if you'd like to put your product or service right in front of them.
For instance, a developer who's looking to drive traffic to his app's landing page could go to community websites like Product Hunt and advertise there.
Business owners, on the other hand, could use their LinkedIn profile and posts to link back to their landing page, providing an opportunity for their active followers (who are already engaged with their content) to convert.
Whatever you do, never advertise in a vacuum. First, pinpoint your target audience's whereabouts and then plan your strategy around them.
Don't Dismiss Forums Like Reddit
With 430 million monthly active users, the likelihood of your target audience hanging out on Reddit is high. Yet very few businesses have tapped into its power yet.
It's also the place where you'll find over 100,000 communities – also known as subreddits – about pretty much any topic.
It's a place where opinions matter, and where people go to share their honest point of view about brands like yours.
If you want your brand to strike up meaningful conversations while having the opportunity to send them straight to your landing page, Reddit might be the platform for you. The advertising cost will depend on ad type and reach, among other factors, giving you flexibility to work around a budget.
Guest Blog
Let's start with a brief disclaimer about guest blogging.
This practice has been dragged through the mud for a number of fair reasons, including the fact that guest blogging has been used as a poor link-building strategy by many.
From an SEO standpoint, writing shallow content for the sake of earning backlinks gets the side-eye from Google. If you're invited to guest blog or pitch a guest post, there are a few things you must consider:
Is the website in question authoritative? Will the collaboration bring you quality backlinks?
Who's the website's audience? Do they match your target audience? Will they be interested in learning more about your brand?
Is the page to be published considered Your Money or Your Life (YMYL)? If the answer's yes, remember the quality standards for this type of page are higher when it comes to EAT (Expertise, Authoritativeness, Trustworthiness).
Done the right way, guest blogging means having your own author bio at the end of the page. Plus, quality backlinks to your website and mentions of your product are great ways to "borrow" a website's audience and lead them to your landing page.
This article you're reading now is classed as a guest blog!
Use Internal Linking to Your Advantage
People won't necessarily land on your website through the homepage. Depending on the search results they get, they might land on one of yourblog posts, on your contact page, or on your "about" page.
For this reason, you'll want to find opportunities to link to your primary landing page throughout your website. As an example, you could end every blog post with a CTA. Or maybe, you could subtly reference your products as examples, and use these examples as anchor texts linking to your landing page.
The goal is to have your landing page visited through other pages on your website. Try and link to it at every chance you get, preferably in a subtle way that makes sense in the context of the rest of the page.
What about the Landing Page Itself? How Can I Make It Better?
Sending high-quality traffic to your landing page won't be enough if the messaging on the page isn't straightforward and relatable, or doesn't solve customer objections.
A landing page should have one main goal: to turn visitors into leads. So place the most important information they need to do that front and centre:
How your product/service can help them. Make it your headline, so visitors know they're in the right place right away.
An above-the-fold CTA, so the visitor doesn't have to scroll all the way down to take action. Including multiple CTAs will give visitors more than one chance to click on them as they read.
Social proof. Include testimonials and numbers to increase trustworthiness.
All it takes are a few tweaks. Grammarly's landing page is a great example: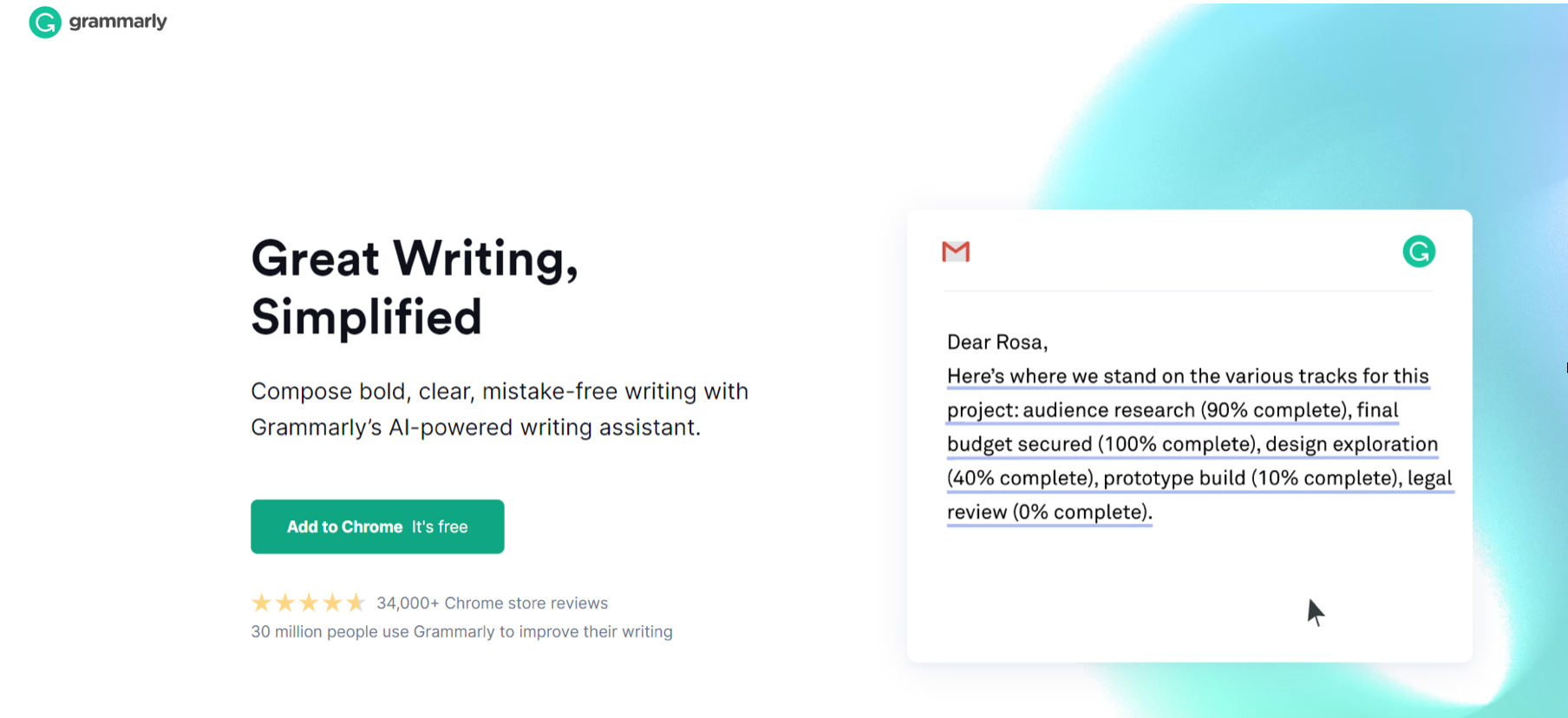 Whoever visits the page knows what Grammarly is about at a glance, trusts the product because of its high ratings, and is more likely to give it a try because, well, it's free.
Further down the page, visitors can learn more about how and where the product works, as well as where it's been featured.
Closing Thoughts
Driving high-quality traffic to your landing page doesn't have to involve complicated or expensive marketing. And if it does involve money, the methods you choose should give you a high return on investment (ROI).
Listed above are great ways to send the right people to your landing page, no matter the size of your business. Remember: driving quality visitors to your site is the first step to increasing conversion rates.