Are you ready to take your eCommerce business to the next level?
This article provides 12 easy-to-implement sections of tips to boost your product page SEO and bring about the sales you want!
Grab a coffee, this is a long article. Let's dive in and reveal my top SEO best practices for product pages that are guaranteed to deliver results and have been proven time and time again.
SEO is ESSENTIAL for Success
If you're an eCommerce business owner, you probably know a little bit about product page SEO, so you'll know that:
SEO dictates your sales directly
SEO increases the quality of your traffic
SEO leads to more conversions
SEO can significantly improve user experience
I've compiled all the information you need to know in a guide below, from crafting killer product descriptions that convince AND sell to using title tags as part of your eCommerce store copy - and hopefully everything in between.
But, before I reveal the secrets, it's time to throw some more stats at you that will give you the chance to understand the importance of your digital marketing strategy.
In a report published by Smart Insights in 2020,  Paid traffic only accounted for 28% of overall website traffic. In contrast, 40% derived from organic traffic where eCommerce SEO strategies were used.
Read that again; let it sink in. While vital, your paid campaigns have very little power compared to that of SEO for eCommerce.
So, you could be spending time (and a lot of money) on campaigns that are driving a tiny portion of your traffic, while SEO, which can be done for free most of the time, is indeed your magic weapon. That's not to say Ads aren't vital, but you can see that there's more potential with SEO.
Here are some numbers to back up the facts:
Exciting stuff, isn't it?
In a nutshell, without proper SEO efforts, your website and products probably won't gain much visibility in Google search. When you choose to optimise your online store, you're choosing to access more traffic, boost your sales, and make more profit!
1. Write a Unique Product Description
Your products are good. You know that. How can you convey this to your audience and convince them that yours are better than the rest?
Well, the truth is words alone won't cut it. You'll need to create unique copy infused with keywords that target the searcher intent of your potential buyers.
Writing a unique product description may sound like an almighty task, especially if you sell many products of the same style.
Your product and its accompanying description should:
Solve a problem for the buyer or enhance their life
Include a strong CTA that isn't too 'salesy.'
Be relevant to your consumers and their vision
You'll also need to think about the practical elements of your product pages which give your audience the information they need to make their buying decision.
There are four components that you will need to keep in mind when you come to writing a unique product description:
Speak to your target audience - use language that they can relate to
Focus on your product's benefits - how will it help them
Make the content digestible - no complex jargon that will throw potential buyers off
Use long-tail keywords that relate to your product and answer search queries
I don't need to go over product descriptions too much here because Marketing Labs has an almighty product description guide that you should take a look at.
The only tips I'll add to that guide are:
Use the questions section of the Mangools KWFinder to find out what questions related to your products people search for in Google. Once you've gathered the data, incorporate the answers into your product pages or even make an FAQ on the product page to help potential customers.
Don't just think about the product from your perspective; think about what people might want to hear or find ways of making the content engaging. For example, does the product get used by someone famous or a celebrity? What is the history of the product? How is it manufactured? Where is it manufactured, and why? Does it have any different uses? What materials is it made from, and why?
Collect keyword data from customers. Every business has more data than they realise! When a customer calls or emails, take a note of what they call your products; this is valuable keyword data. Also, keep a record of any unique problems they need the product to solve.
And, finally; don't forget to write with enthusiasm since your passion for the products you sell will be contagious. If the excitement comes from you, the retailer, you are guaranteed to excite your buyers.
With the recipe above, you'll be crafting fantastic product descriptions that convince, sell, and tick all right SEO boxes.
2. Conduct Thorough Keyword Research
I mentioned keywords above as part of the 'write unique product descriptions" step. The question is, do you really know what keywords are? It's pretty important to understand the next step, as it can make or break any SEO campaign, not just product description SEO.
If you're new to the eCommerce world, keywords and SEO could well be a new thing to you.
There are many keyword research tools out there that you can turn to. There's absolutely no need to be a keyword research expert to get it right.
Granted, it'll take a little bit of practice, but tools such as Surfer SEO and Mangools are excellent options and used by SEO professionals.
Here is my step-by-step on doing keyword research the right way (using Mangools KWFinder):
1. Make a spreadsheet of important, relevant broad keywords/topics based on what you know about your eCommerce business; these form your topic buckets
2. Fill in those topic buckets with keywords by searching in Mangools for your broad keywords and seeing what related keywords show up (make sure these are relevant keywords)
3. Understand how your audience/searcher intent impacts keyword choices and filter accordingly (more on this a little further down)
4. Research related search terms to use as part of the product descriptions.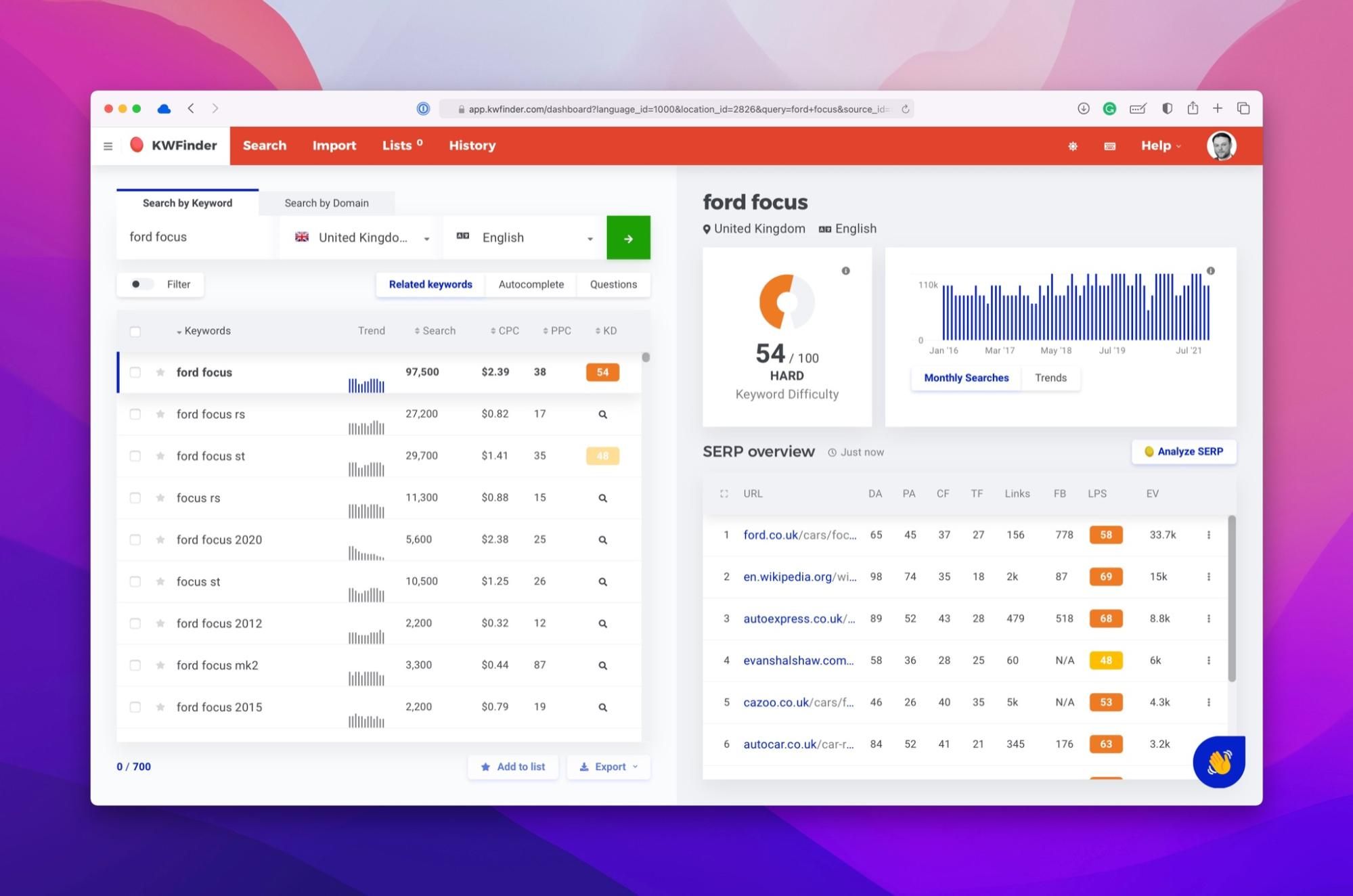 Keyword Searcher Intent
OK, so now I've covered how to find your keywords, now it's vital to understand searcher intent. Every time someone searches in Google (and other search engines), they have a purpose in mind and an end goal. They are all at different parts of their purchasing journey, and your keyword planning needs to take that into account if you want to make sure your funnel is doing its job correctly.
Here's a rough overview of the primary intent types:
Informational intent: A considerable amount of searchers are looking for information; this can be in the guise of how-to's, information, news, weather, education, statistics and many other forms. A lot of these searches might be questions.
Navigational intent: These search terms are usually branded but not always. The searcher has a purpose in mind and is just using Google as a tool to navigate to their destination. For example, someone searching for the BBC is just using Google to navigate there quickly.
Investigational intent: These searchers are conducted by people who have a problem that needs a solution (in the form of needing a service or a product). They might not realise what that solution is yet, and if they do realise, they might not yet know which product or service matches their needs best
Transactional intent: These search terms are usually the final step of purchasing. The searcher knows what they want and are now in the process of buying
These different types of intent can make or break your SEO efforts. If you are targeting keywords that are too broad (more than likely informational searchers), like 'car', for example, your conversion rates will be low. Whereas targeting longer-tail keywords like 'Blue Ford Focus For Sale in Nottingham' will result in much higher conversion rates. The trade-off is a lower number of people searching.
Informational intent searchers might use qualifying words like 'guide', 'best' or 'how-to'. For example, transactional intent searchers might use words like 'buy', 'discount' or 'cheap'.
When you do your keyword research, I'd recommend that you add an extra column into your keyword spreadsheet for 'intent' and write the likely intent type next to each keyword. This will help you strategise your keywords for product descriptions and help you prop up your marketing efforts with blog posts and guides.
3. Optimise Your Product Images
Ever heard the phrase: 'a picture says a thousand words'? Well, that's because it often does! Your audience will make their initial judgement about your product based on the images you display online.
You should ensure your product photography is of a good standard, but have you given much thought to optimising your product images?
When you're optimising your eCommerce site, you should consider each element thoroughly. The main components are:
Alt text
Filenames
File types
Image resolution and filesize
Image quality
Number of images
Product details
Technical image SEO
Image Alt Text
There's an option to add 'alt text' to product images which should be used to add a description of the image for the visually impaired. These allow you to create unique content packed full of rich SEO keywords. While these descriptions that accompany images won't be directly visible on your site, they will impact your website's SEO.
Google can reward you and place your website further up the search results when you make an effort to include alt text for images along with descriptions.
Filenames
Believe it or not, the name of the image file you upload to your website can impact the search performance of your product page. I'd highly recommend naming your images something unique that is very closely related to your product title. For example, if you sell sized 9 leather Chelsea boots for men, call the image 'sized-nine-leather-chelsea-boots-for-men.jpg'.
Image resolution and filesize
The resolution of image files directly impacts the file size, and the file size directly impacts page loading times. The large the image, the larger the file, and the slower the page will be.
I frequently see product pages with images that are 5Mb on them. This roughly means that the browser would take 50x longer to load the image than a 100kb one.
The first step would be to analyse how large an image opens on your website when you zoom in. This resolution would rarely be higher than 1080 pixels wide. If you are unsure, you can ask your website developer. Alternatively, if you are technically able, you can find this information by right-clicking the image and clicking 'inspect element'.
Once you have the maximum resolution that an image can show on the website (if you are unsure, 1000px x 1000px should be fine), you now know what resolution to save your images.
From there, you then need to optimise the image using compression algorithms. I recommend using TinyPNG to do this. The compression aggressively reduces the file size of the image by reducing the number of colours in the image, but it's almost always an invisible change in the sense that you can barely notice the difference, if at all.
The image below that I took in New York shows a before and after compression. It started life out as a 5Mb image, and once reduced to 1000px wide and compressed using TinyPNG; its final size was 106kb which is a whopping 50x smaller: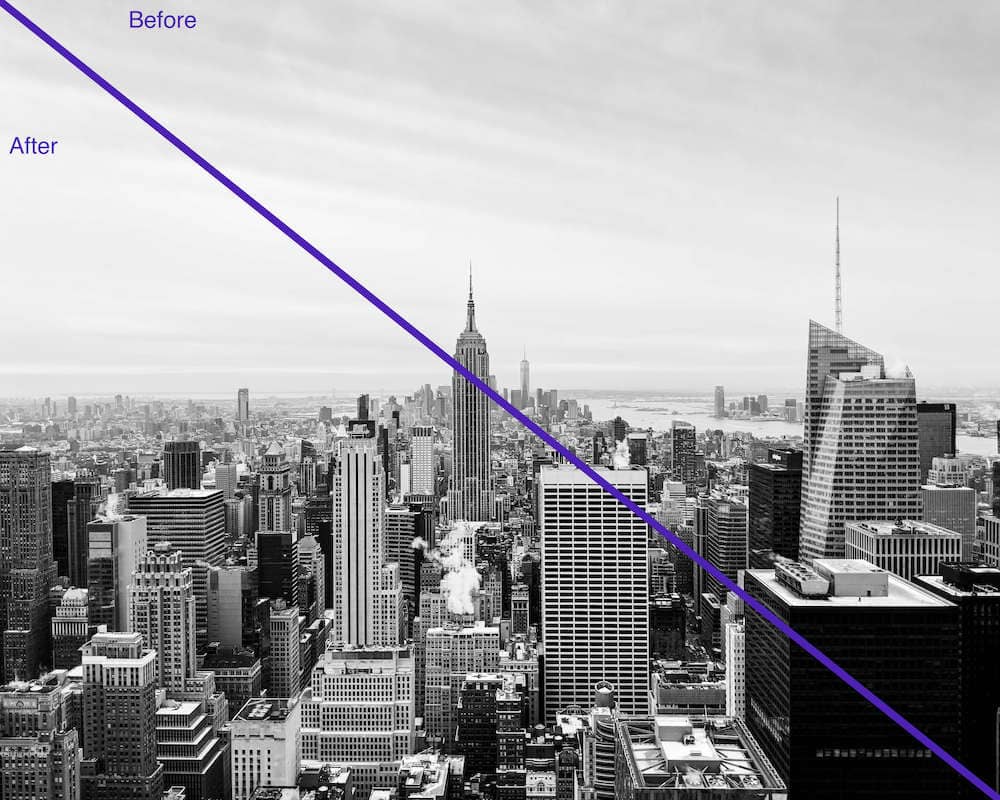 Image quality
As you can tell from the section above, image size is vital for page loading times. However, there's a balancing act between speed and quality. Your images likely don't have to be pin-sharp, but having good quality images makes a big difference to your conversion rates, so try to strike a balance by testing your pages speed after uploading a photo.
Number of images
Sometimes your product might only need one image to show it off entirely, but other times you might need many more. Take a plant pot, for example; maybe one image might suffice. But then compare that to a hand-made leather messenger bag; you'll want to capture all of the fine details, the pockets, the features and probably the stitching. Don't be afraid to have multiple close-ups on the details that matter.
Technical Image SEO
An often overlooked technical detail is to forget that every image has its own URL as well as being on a product page. I'd recommend redirecting the images own URL to the parent page (in this case, the product page) to avoid Google indexing issues. This can also help to make sure your important pages are crawled if you have a large website and are concerned about the crawl budget as Google won't be wasting resources on URLs that you don't particularly want them to bother with as much as other pages.
For simplified crawlability and indexing, create an image sitemap or ensure your images are included in your main sitemap.
Bonus Image SEO Tip:
Unique images are also important. Google can often tell if the image is yours or whether it has existed before. Unique images will help you gain visibility.
4. Optimise Your Product Title
Product titles are another easy way to optimise your eCommerce website and make it more relevant to users on Google. Putting a target keyword into your product title is one thing, but ensuring it ticks all the optimisation boxes, there's much more you can do.
Both the structure and content of the title are crucial. These two components complement one another. You will need to understand how Google's algorithm selects the products to be displayed to the searcher to determine which attributes should be added.
As a general rule of thumb, there is a good order to consider when writing your product title.
A well-optimised product title takes on a mini recipe of sorts and is made up of different ingredients as follows:
Brand + Size + Product Type + Color + Material (if relevant)
You won't always be able to work to the exact recipe above, but you can adapt. Here's a good example of a well-written and optimised product description that follows the above method reasonably well: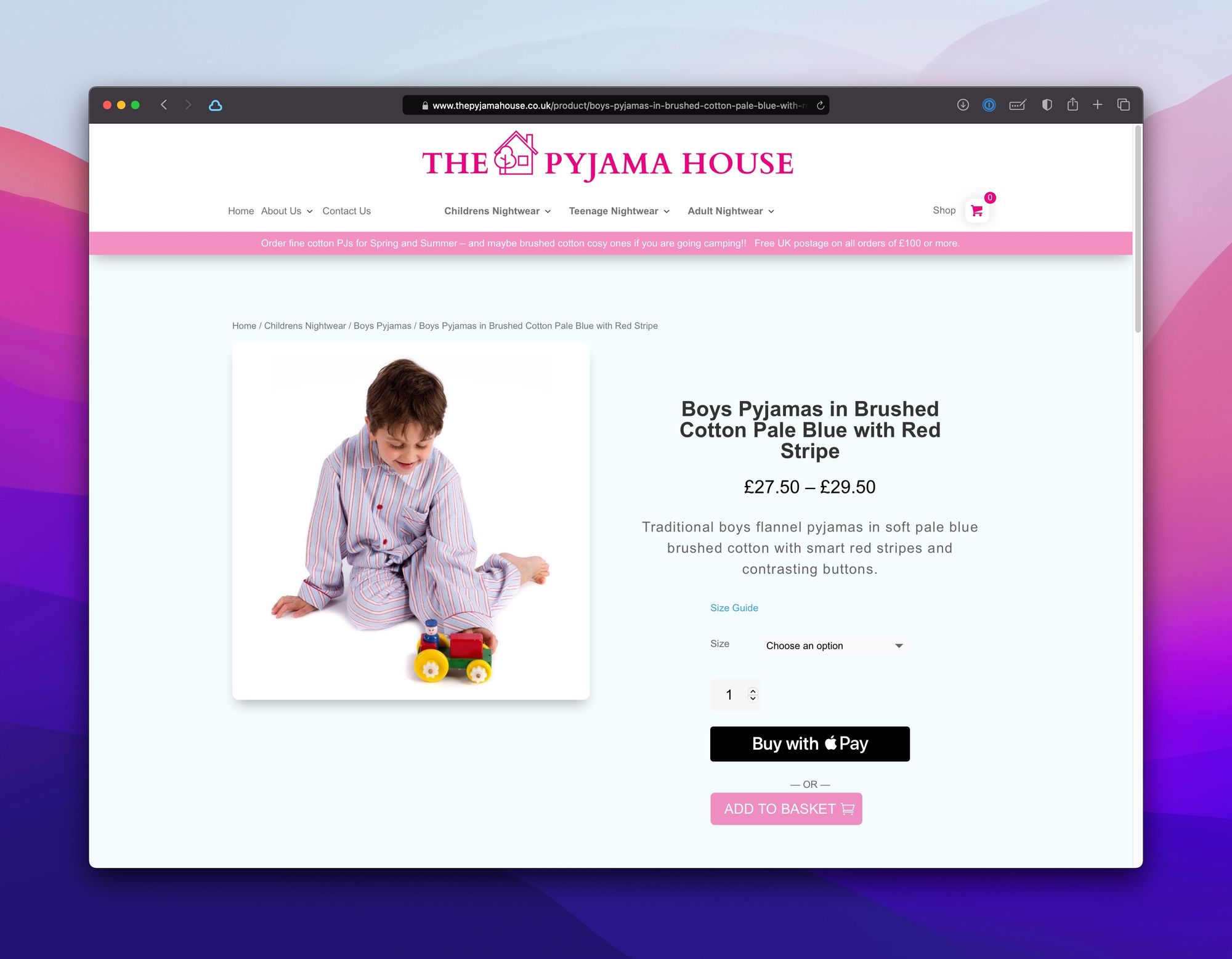 As you can see, the website has covered all of the key information in the product title.
For the most part, Google selects results relevant to a search query based on the words at the beginning of the product title. Therefore, order matters as well.
1. Follow Google's requirements for product titles
2. Make informed changes using trends in searches
3. Add keywords to the title
4. Place your important information at the beginning
5. Include your modifiers
6. Add category and brand names to your title
5. Add In-Depth Product Information
I include this section separately from the main product description section because I want to differentiate between the description and the product details.
When it comes to writing your product details, it goes without saying they need to convince and impress your audience. Convincing written language, however, can be hard to get right.
Many eCommerce business owners go hard and heavy with persuasive language and often miss the point entirely. This can result in potential customers being turned off.
There are three things that your potential customers will want to know when they read your product descriptions:
The benefits the product brings.
How do your products solve the problem they have or help them achieve what they want to achieve.
The reason your product is the best option out there!
Educate your customers on your product. Tell stories and explain even the smallest details and why. Make an effort not to be boring but instead entice your visitors with exquisite details.
It's also essential to consider just how many people use mobile phones for eCommerce buying these days. 79% of smartphone users have purchased online using their mobile devices in the last six months!
Therefore, it is CRUCIAL to ensure that your product descriptions are scannable. People want to access products and associated information quickly without having to scroll for too long, so make sure your user experience is up to standards. My recommendation here would be to utilise accordions and read more buttons.
6. Add Frequently Asked Questions
Frequently asked questions, also known as FAQs, are among the most critical elements of an eCommerce website. Not only does using them allow you to boost your SEO even more, but they provide valuable information to your buyers too.
To climb the search engine results and increase your overall search volume, you're going to need to map out your page content.
One good way of ensuring that customers have all they need in one place (brownie points for user experience) is to include FAQs on your product pages.
While this can be time-consuming writing up the questions along with product descriptions, it's certainly worth it.
As part of your broader SEO strategy, you will need to use keywords as part of your FAQs. This part of search engine optimisation is relevantly straightforward since SEO tools do the hard work for you.
You can also manually search in Google for questions that your customers may be asking. Start with a product keyword (after doing your research) and begin to type. Google will magically generate search queries based on what its visitors search for most.
Customer reviews are also likely to be far more positive if you answer your customer's questions early.
We all know just how frustrating it can be to buy a product but not have all the information you need to hand. Customers want to do things quickly, and scannable FAQs displayed on your product pages make that possible.
As a rule, consider displaying your product description alongside 5-6 FAQs and a few product reviews too. This will provide the peace of mind your customers need alongside the important stuff they are relying on to make their buying decision!
7. Include Product Videos
If you were to pick one reason why creating video content is a great idea, I'd pick this one: engagement. Besides forming the backbone of anything you do online, it also directly impacts your bottom line through increased engagement, conversions, and (ultimately) revenue.
Many people are unaware of how video content affects SEO. Here are five ways that product videos can boost your website:
1. When you post a video on YouTube or another social media channel, people are more likely to visit your website than if you post any other type of content.
2. Google cares about and loves video content. The search engine's internal algorithm scans for media types and will recognise your site's quality the more mixed content it has.
3. Videos generate quality traffic. Many eCommerce websites that feature product videos improve user experience and have better SEO as a result.
4. Users will visit for more extended periods if you use videos. Think about it; a video is far more engaging and often likely to keep a person interested than a long wall of text.  Video content tends to be more popular than blog content.
5. Your SEO value is improved through video content. Video content provides a meaningful return on investment on your SEO that you should take advantage of.
Bonus Video SEO Tip:
If your video has words, get them transcribed and added below your video. This way, search engines can understand the video better, and you benefit from the HTML content.
8. Incorporate Customer Reviews
Google reviews can transform how SEO-friendly your site is and provide reassurance to your customers about your brand and its products.
Online customer reviews don't just impact conversion rates; they can also indicate trustworthiness and authority to search engines.
And Google reviews are not just beneficial to other customers looking to buy products; they're also instrumental when it comes to SEO. Google depends on reviews, amongst other things, to register the quality of your site.
Here are four reasons why Google reviews matter for SEO:
Google trusts your customer's opinions - as soon as someone gives a review of your business (good or bad), Google gets the message that it is a real, legitimate business and that other people have interacted with it as well.
Google reads, reads, reads! - Google "reads" your site to understand the world (or, in this case, the internet). The more content it has available to read, the more it will know about your business and the more topically relevant keywords your site will rank for.
Google will rank your website higher naturally - when your customers leave reviews for your business, Google will reward your trustworthiness by allocating you a higher ranking level in the search engine by default.
By default, there is a high likelihood that your customers will leave reviews that naturally include your keywords; this user-generated content is excellent for SEO.
If you're yet to start using reviews as part of your SEO eCommerce strategy, it's probably time you begin to do so.
9. Include Google Trusted Store Badge and Other Trust Signals
What better way to show that you are a legitimate and trustworthy business to Google (and your customers)? When you have a Google trusted store badge displayed on your website, it's a definite game-changer for SEO.
The checkmark badge indicates when the search engine itself has verified a business.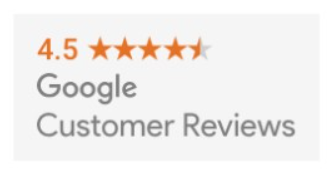 To get a badge, you'll need to apply via Google. Don't worry, though, it's all pretty straightforward stuff, provided you have the correct information at hand.
Below, I've included the steps to help you get that green badge and more customers as a result!
Step 1: The first step is to open the Google Merchant Center. Once you've created an account with Google Merchant Center, you can log in and get started right away.
To familiarise yourself with your dashboard, take a look at your account after you've been approved. Additional tools are included that allow you to take advantage of Google.
For now, locate the three dots in the upper right corner. An expanded drop-down menu appears when you click that.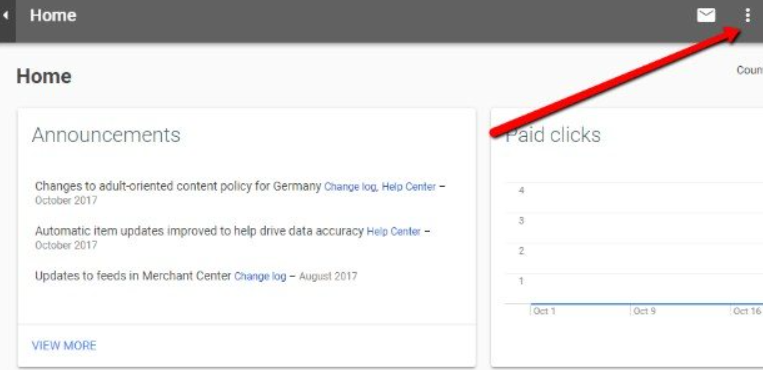 Next, select the Merchant Center Programs option.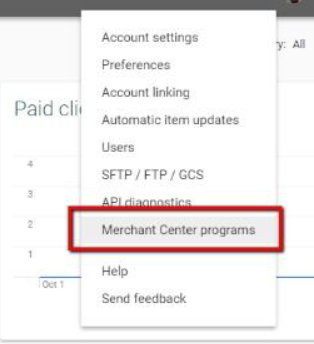 Step 2: Choose Customer Reviews. Besides shopping ads and product reviews, there are also interactive programs for dynamic remarketing, product reviews, etc.
I encourage you to explore all of them.
This tutorial instructs you to enable the Customer Reviews option under the Customer Reviews section.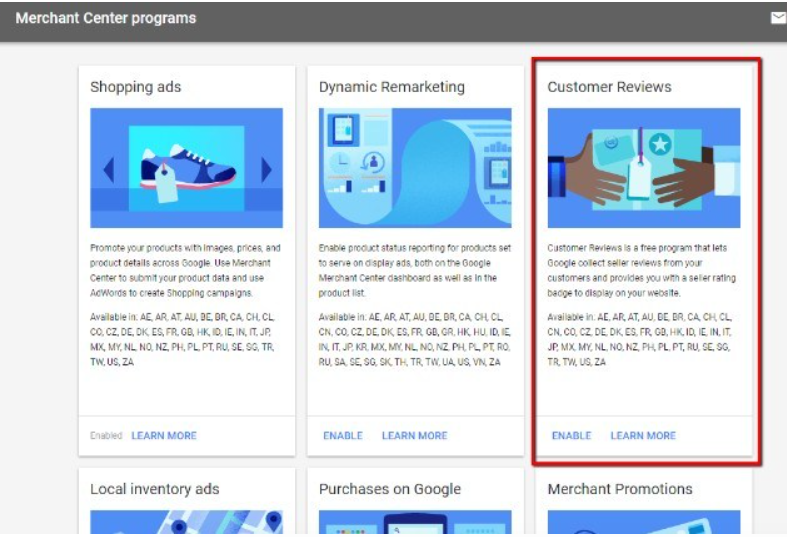 Step 3: Read and Agree. Before moving on, you will see the Customer Reviews agreement. There is a lot of helpful information in it, so be sure to read it.
Select that you have read and agreed to the document. Save and continue by clicking the Save and Continue button.
Step 4: Paste a Survey on Your Website. Afterwards, you'll receive a bit of code to add to your website. As Google guides you through that process, the code reminds potential customers to fill out a survey.
In the same way, as discussed above, this feedback is gathered and used to determine eligibility.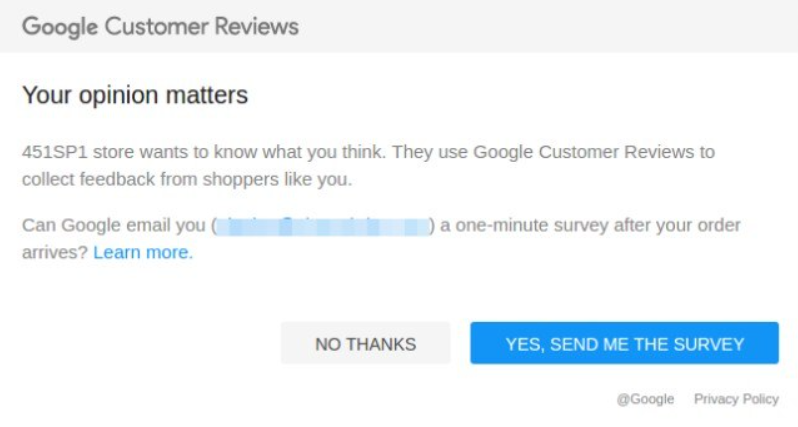 Step 5: Display Your Badge! It may take 60-90 days for the merchant's evaluation process, depending on the circumstances. Eventually, you will get a reply email telling you whether your application was approved or not.
Google provides a Google Customer Reviews badge for your website if you have been accepted.
10. Write Good Meta Descriptions
If you haven't got a clue when it comes to writing a good meta description, I get it! All the jargon can be confusing, especially if you don't come from a marketing background yourself.
However, meta descriptions don't have to be that intimidating.
Before we give you the top tips for writing the BEST meta descriptions for your eCommerce store, here are a few things to explain what they are and why they're so crucial for SEO.
Let's use 'marketing tips' as a search query example. When you type in the query, you'll be presented with the top search results that fit the query.
The blue text at the top is the "Title Tag." It's the page's title. You'll find a description of no more than *160 characters below them which is the meta description.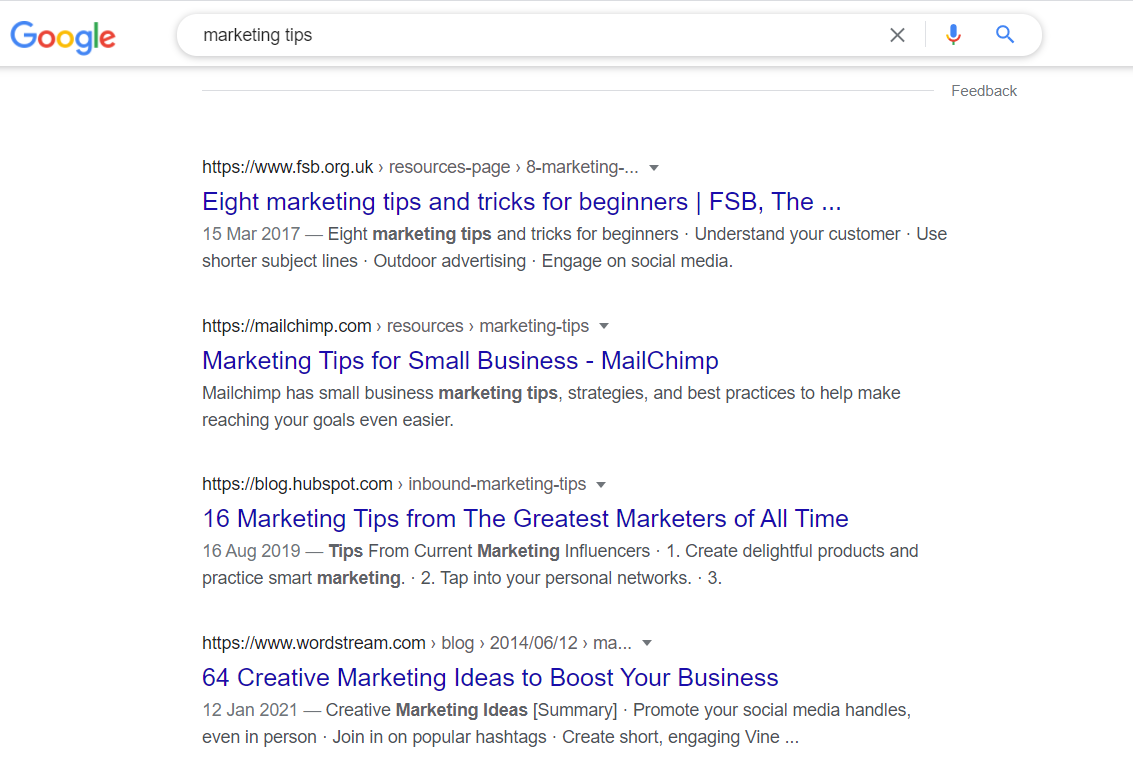 It can be challenging to write a good meta description that doesn't sound bland. After all, you're working with the character limit of a standard tweet!
The description should give you a brief overview of what the page is about, as well as a reason to click the title tag. Searchers may not even realise they have decided because everything happens quickly and painlessly thanks to your content writing.
So, on the next part, here's how to craft not just a good meta description but a brilliant one:
To ensure that your result is the one that is clicked, consider what would encourage a searcher to do so. You need to answer three questions:
What do you have to offer?
What is the benefit of buying from you?
Do you have any unique selling points (and I mean unique here - there's no point regurgitating the USP's your competitors have at this stage)
Describe your business like you would an elevator pitch to people. There will probably be a few drafts to go through.
The way you present your brand is the first time most customers will be exposed to your eCommerce business; therefore, it's essential to get it right. Remember to focus on the customer - how does your product fulfil the needs of your customer?
11. Don't Forget the Smaller SEO Details
If you've managed to incorporate all of the tips above, there will undoubtedly be room for further improvements when it comes to SEO.
For eCommerce business owners that are optimising an existing site, consider the following:
Internal linking - linking to other relevant products that customers can buy from your website. Add a few internal links where you can when optimising your product pages and Google will favour your website and its SEO!
External linking - blogs give you great opportunities to link to other trusted websites and resources. This is excellent if your product has been in the news, for example. Again as part of your SEO strategy, Google will recognise that you have carried out your research and directing your customers to other valuable content.
Rich snippets - rich snippets (Schema) are a type of structured data markup that allows search engines to understand better what information is on a web page. In 2009, Google introduced rich answers to its search engine.
The above SEO tips will make a whole world of difference for your eCommerce SEO performance. It is simple for those using platforms like Magento, WordPress or Shopify to put each of the SEO tips into practice, thanks to how user-friendly each platform is on the backend.
12. Give Customers What They Want
Last but certainly not least, be sure to give your potential buyers what they want!
This includes meeting their needs regarding the product types you stock and display on your site and how easy it is for your site to be navigated.
We know that running an eCommerce site isn't always easy. In fact, it can be challenging at times due to obstacles presenting themselves due to new SEO trends.
Therefore, it's so important to get into your customer's shoes to ensure that you are meeting their needs.
Because if Google changes its algorithms and you find one day that your site may have lost some search visibility/rankings, your customers are what you can rely on.
Start With Design
You likely wouldn't walk into a messy, disorganised shop and come out as a beaming customer, would you? This principle isn't any different for online stores, either. The design of your website matters when it comes to your eCommerce site; focus on wowing your customers and give them that great initial impression.
This doesn't mean filling your website with colour and features, either. Keep it minimal and distraction-free.
Your customer will get their first taste of your brand, its products, and whether it's worth shopping at right away when they land on your homepage.
There is value to be had in every pixel, every picture, and every word. Consider hiring a designer if you can afford it and make design one of your top priorities.
Site Speed
How frustrating is it when a website won't load quickly?
You don't want your customers to be in a negative frame of mind because your website took forever to load (that's if they haven't already left the website because they were fed up with waiting).
Loading pages should only take a few seconds at the most, and your visitors will get their information quicker. This makes it less likely they'll bounce off your website and search elsewhere for their product.
When you navigate the site, it just feels better and puts the customer in a solid position to buy!
Product Navigation
You don't need an enormous selection of products for success. There can sometimes be benefits to limiting your product range:
Provide customers with the ability to locate the information they need quickly.
Prevent customers from becoming paralysed by decision paralysis or choice fatigue.
Reduce the number of checkout clicks to increase conversions naturally.
However, it is vital to ensure that your customers can find the product pages they are looking for easily and quickly.
Most people are quick to make buying decisions and definitely will not want to be navigating your website for a long time to find that new toothbrush they need.
You can provide an excellent search experience by investing both time and money in the following:
Results that match your customers' true intentions.
Results that are clear and easy to read. Use product image thumbnails in your search results.
An optimal number of results. When customers search on your site, they expect the most effective number of results. That number needs to be tested and determined by you.
Results are returned lightning fast. If your search results are slow to load, though, it is effectively useless.
After an Online Purchase
Once someone has placed an online order, the customer journey shouldn't end. You should make an effort to send a friendly, personalised email to your customer alongside their receipt.
Make sure that your receipt contains the order number, contents of the customer order, an email, phone number, and social media links to contact your business if needs be.
This is all helpful information valuable to your customers and makes their lives that whole lot easier!
Summary
Now that you're all clued up on how to improve your product page SEO, it's time to put words into action.
Your eCommerce store will see more success, drive more sales, and retain more loyal customers by following the advice set out above in addition to using an SEO eCommerce strategy.
Make sure that your product pages display all the information that will be valuable to a customer and implement the SEO best practices I've mentioned.
If you're still unsure of how to carry out some of the SEO best practices above, it can be super helpful to watch YouTube videos available to you and follow such tutorials.
While you probably won't become an SEO expert overnight, you can undoubtedly take your SEO to the next level using the SEO tips in this guide.
From optimising individual pages with keywords to ensuring your online store looks the part and runs at a decent speed, start writing that checklist and ticking away!