It wasn't long ago that big media houses like BBC and CNN were predicting the demise of the wristwatch. Many people thought they didn't need a wristwatch because they had a mobile phone. It turned out wristwatches came back stronger than ever after just two bad years. Their sales continue to grow and are projected to rise by 30% by 2021.
Print is no different. With the rise of online and mobile media 40% of professionals predicting that "printed magazines and newspapers will dry up in the next decade". After seven years of negative growth, the global print magazine industry is rising from the ashes and is expected to resume growth this year. Why? Because the generation we know as "digital natives" prefer reading in print.

6 Reasons that Keep Digital Media Growing
As a business owner, you may not be interested in the fate of print media. But you can use it to your advantage because print possesses qualities that other media don't.
1. Unique and Tangible
Print has become a kind of novelty, which is more likely to get noticed. Everyone has a smart-phone these days and people consume tons of digital media, which can dilute the impact of online marketing, especially on social media. The same cannot be said of print media vehicles such as magazines, newspapers, or snail-mail. Print media is physical, hence your potential customers have a more wholesome sensory experience while holding it, leafing through it, or even smelling it (seriously, it's not uncommon for cosmetic companies to perfume their print ads).
2. Affordable
Contrary to what many digital marketers would have you believe, print media need not be a bank-breaker. There are always cheap print media options available. Business cards and stationery, the bare essentials for every business, can be used effectively for offline marketing. The average cost per impression (CPI) for printed media such as pamphlets or flyers is around $0.03, much below the average CPI for online media ($0.07 per impression).
3. Long Life
What are the odds that you will read an online blog post more than a couple of times? No one reads a post or watches a particular video every day. Yet, a magazine that contains your advertorial is still likely to be seen around the house (or office) even months after its publication date. The same is true for your brochures, banners, or other printed materials.
4. Non-Intrusive
Print media does not just pop up to interrupt your audience in the middle of their favourite activity. Hence, print media is often closer to the concept of permission marketing or inbound marketing. The reader can choose when to read it and when to put it away.
5. Targeted
When carefully planned, no media campaign can be as targeted as a print media campaign (other than SEO and search engine advertising, of course). You can control snail-mail to reach only the people you want. You can advertise in industry-related magazines that you know your potential customers read.
6. Loyal Readership
Print publications—dailies, weeklies, monthlies, bi-monthlies, books, etc.—can have a much more loyal following than digital media publications. People subscribe to print publications much more selectively than digital publications. A person who subscribes to your email list may never actually read your emails, but that same person will rarely miss his or her favourite magazine or local newspaper if they subscribe.
5 Powerful Print Media and How to Use Them
It's an unfair world when it comes to marketing your small business. Big brands with deep pockets hold sway over the entire media spectrum, digital or non-digital. It becomes difficult for a small business on a shoestring budget to make a big splash. You'll need to unleash your creativity and do something unconventional. Let's look at the most commonly used print media vehicles and see how you can ride them to success.
1. Magazines
Magazines allow you to print slick, high-quality images of your product and impress your audience. They have a well-defined readership—Maxim and Men's Health are obviously read by males, whereas Better Home and Gardens targets homeowners and families. There are industry-focused B2B magazines that allow you to reach your ideal customers directly. Finally, magazines have a long shelf-life and can be read months or even years after they were published.
Should I Advertise in Magazines
Magazine advertising is suitable for you if you are a local store, fashion brand, food business, or any B2B or B2C seller. You should select magazines that target your audience and have a low CPM (or cost per 1000 impressions).
How to Use Magazines for Marketing
Here are the questions you need to ask before you buy advertising space.
*What is the circulation of the magazine?
*What are the readers' demographics?
*What are the rates and CPM?
*What is the publishing frequency—monthly, weekly, or other?
*What are the distribution channels—newsstands, subscriptions, digital, etc?
*Are the topics and sections planned for the next year relevant to your business?
Pro Tip: Always check the magazine's circulation and other data from the relevant third-party sources in your area. For example, you can use the National Readership Survey or the PPA website if you are in the UK.
2. Newspapers
Newspapers come in a variety of types—local, regional, national, evening, or Sunday editions. They contain different sections that target different readerships, such as sports, business, entertainment, world news, etc. You have a lot of flexibility when it comes to buying ad-space, which starts with classified ads and has sizes ranging up to full- or double-page ads. According to the Ebiquity study, press ads offer an average ROI of £1.48 for every £1 spent.
Should I Use Newspapers?
Newspaper advertising could work best for your business if the majority of your audience is above 35, because the average age of newspaper print audience in the UK ranges from 43 to 61 for different newspapers.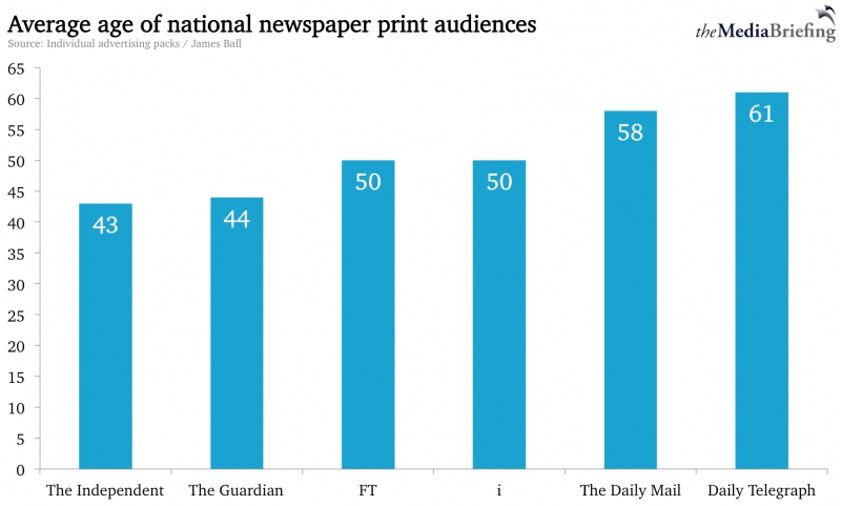 Newspaper advertising is also suitable for you if your business depends on mega-sales or coupons for its revenue, because a newspaper ad can spread the word to a large number of people within the least amount of time.
How to Use Newspapers for Marketing
*Newspaper advertising rates vary depending upon the size and position of your ad—the size is measured in columns-centimeters, where the number of columns represent the width of the ad
*Check the circulation, relevance to your business and audience, CPM, and other things that you would check for magazines
*Plan the size, frequency, timing and position of your ad—premium positions (such as front-page or back-page usually cost extra)
*If you are planning for the whole year, you can book the space in bulk and get some hefty discounts—with most newspaper, you can try bargaining for a discount anyhow
*Network with journalists to get editorial coverage in the relevant section and edition—fashion, sports, books, art, magazine, etc
*If the price of bigger ads sounds formidable, there's no harm in starting small with a classified or single-column window advert
Best Days to Advertise in Newspapers
*Newspaper ads are most likely to get noticed on Mondays and Tuesdays, but the circulation tends to be low—these days are often more suitable for B2B ads, banks, and other businesses that want to reach customers while they're at work
*Wednesdays and Thursdays are perfect for grocery stores or businesses that make most of their sales on Fridays and weekends
*Fridays and Saturdays work best for entertainment and food businesses—and Sunday, with the highest circulation, is the perfect day for coupons
3. Digital Prints
Digital prints can include banners and streamers, business cards, flyers and leaflets, large-format signs, vehicle graphics, etc. Digital prints are affordable, simple, and fast. They are impossible to miss when you hand them out or display them, and can be precisely targeted by geo-location and audience.
Should I Use Digital Prints for Marketing?
Digital prints can work for all sorts of businesses. Most businesses require business cards, envelops, and letterheads, which can all be digitally printed. Retail outlets can use banners or digital displays in-store and outdoors. B2B companies can pull up a few vertical banners during exhibitions and events. Grocers and charities can distribute flyers, and so on.
How to Use Digital Prints
The only critical thing here is the design. Make sure it's worthy of sending into print, to say the least. It should be flawless and attractive, and should deliver the message clearly, within a few second. Get help.
4. Direct Mail
Many major corporations use direct mail to distribute a variety of marketing materials including sales letters, brochures, catalogs, postcards, etc. Why do they go through the hassle of sending out snail-mail when email is so simple and quick? It's because they know direct mail is an effective and profitable way to reach their customers. The physical media delivered via direct mail leaves a deeper footprint on the customers' minds.
Should I use Direct mail for marketing?
Direct mail works well for all types of businesses, big or small, B2B or B2C. It's a surefire way of getting noticed and differentiating yourself from your competitors. The response rate for direct mail to an existing customer averages 4.4%.
How to Use Direct Mail
If you have no idea about direct mail, you can start by a subscribing to as many mailing lists as you can. You might have to go through a lot of mail, which is not actually junk but a source of information for you. Look at the materials coming from your competitors or other similar businesses. Which ones impress you the most? Your research will reveal ideas that you can use for direct marketing.
The design, timing, and targeting of the mails are critical. The design should be stunning and the timing should be convenient for your customers. Your ROI for direct mail can increase if you select your addressees carefully and offer discounts or coupons. Make sure you brush up your knowledge about direct mail marketing before you start burning money.
Pro Tip: Check your local regulations about direct mail. Certain communities may frown upon unsolicited mail. The UK laws prohibit sending a mail to anyone who has asked not to receive direct mails using the Mail Preference Service.
5. 3D Printing
Print media is entering a new dimension with the crazy growth of 3D printing technology. The global 3D printing industry has grown from $3.07 billion in 2013 to more than $21 billion. Companies like Amazon, Staples, UPS, Home Depot, and a host of less well-known companies are already in the race to leverage the continued trend.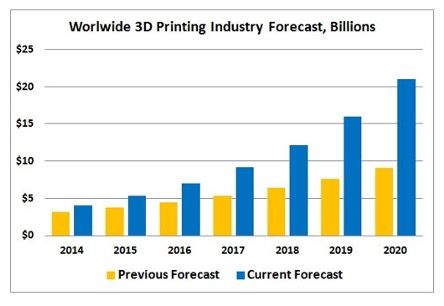 Should I Use 3D Printing in My Marketing Mix?
If you can envision a role for 3D printing in your "value delivery chain," I would encourage you to work on you idea. 3D printing is still a relatively new field and the uses are still largely undiscovered. Amazon, for example, is already offering many 3D printed products that may be sent directly to customers' 3D printers.
How to use 3D printing for business?
Ivan Pope, Founder of Body scanning startup Shapie Me, suggests the following uses in an interview with Econsultancy:
*Give away  unique items
*3D print your brand's logo or character
*Replacements/repair businesses can use it for printing parts
*Invent and print new character or product
*Miniature of your new product for the launch
*Print unique souvenirs, mementos, tokens, coins, or rewards
*Print product samples
*Print 3D free gifts and put them in your packaging as a sales promotion tactic
Other than these, there can be as many uses as people can think of. If you use it right, 3D printing can prove to be your unfair competitive advantage.